Talk about a lousy day. After St. Patrick's (No. 6, ESPN Rise) was banned from the New Jersey state tournament earlier in the day because coach Kevin Boyle attended practices before he was technically allowed to, they lost an absolute heartbreaker, 79-78, to No. 7 Oak Hill when gritty shooting guard Derrick Gordon missed a pair of foul shots with .4 seconds left.
I felt terrible for Gordon, bound for Western Kentucky, who was put in a very difficult situation. Nationally televised Primetime Shootout game, down 1 to the preeminent high school program in the country, all eyes on you. It's a very tough spot for a high school kid, and his nerves showed as he short-armed the first free throw and then had no chance on the second, disappointing a capacity crowd eager for overtime and leaving him crestfallen.
His teammates wouldn't let Gordon feel he completely let them down, as they were quick to console him. But it probably wasn't that easy for him to get to sleep tonight. Luckily, tomorrow is another day – and another game, against No. 29 Rice in Trenton.
Before the inauspicious finish, the fans at Kean University were treated to wonderful theater, as the play on the court matched the college atmosphere and setting.
This was the fourth time I've seen brilliant St. Patrick's lead guard Kyrie Irving live, and he was easily the most explosive I've seen him. Irving has been compared to Jay Williams, and I really saw that tonight with his ability to score inside and out. His creativity on the break means he can get to the rim whenever he wants, and when he's able to fully square up from long distance he won't even graze the rim, as evidenced by two huge threes down the stretch. His vision allowed him to feed the post effectively and set up teammates on the break.
If I have one criticism of Irving's game on Friday, it's that he was actually too unselfish, dishing it to Gordon, who was fatefully fouled, with plenty of time left on the final play. Even Kyrie's father told me he would have been better off taking it himself, but it's difficult to find fault in the way Irving played. And he did, after all, set up a teammate with the chance to shoot for the victory.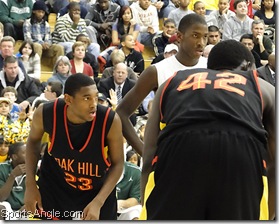 St. Pat's forward Michael Gilchrist – No. 1 ESPNU Junior – didn't have a very impressive first half, and though he was scoring inside on nice feeds from Irving in the second half, we didn't realize just how impressive he was until we looked at the scoreboard and he had 24 points. He matched Irving with 28, and it became apparent that he simply makes the game look effortless enough that you don't realize the impact he's having.
Gilchrist got brilliant position all night and finished well after contact, even dunking over 7-foot-1 Latvian mountain-with-feet Martins Abele. Gilchrist's jumper also was effective; though there was a slight hitch to it, it goes in. It was pointed out to me by St. Pat's aficionado Ryan Biddulph that Gilchrist is forced to play inside to suit St. Patrick's needs, but he has impressive slashing ability that he routinely shows in summer leagues.
Forward Chase Plummer has caught my eye in a few games, but this was easily the best he's played, as he rose to the occasion with 15 points. Biddulph's father, Keith, tells us that Plummer wanted to play at Princeton, where his brother is a student, but he didn't quite have the grades, so he'll play at Maryland-Baltimore County next year. They're getting a solid player who seems to turn it up when the heat is on.
As for Oak Hill, which is always a treat to see live, we were most impressed by the outstanding play of forward Roscoe Smith (ESPNU No. 29 senior), who demonstrated a solid outside shot, outstanding athleticism, shot blocking ability and plenty of passion for the game. SportsAngle architect Terry Rains of TruthBegins thought he'd be a perfect player for UConn, and he's right, but with Duke still in need of both a small forward and more athleticism next season, I can't help but wish as an alum (in hindsight) that they hadn't been so invested in Harrison Barnes so they could have pursued Smith more closely.
Undecided guard Doron Lamb was also solid, though unspectacular to us, and I rather liked Maryland-bound guard Pe'Shon Howard. His jump shot was decent, he's solidly built and had great passion to win. That said, Irving made him look like he was moving in slow motion.
Back to St. Pat's: I've seen Irving after games look despondent – even after wins – as he's particularly hard on himself when he doesn't live up to his own lofty expectations. But he was relaxed after the game, joking with friends and fans in the hallway outside. St. Patrick's played the most decorated program in the country to a standstill; just because the final result wasn't positive doesn't mean it wasn't a positive experience. And though Boyle is reportedly furious his team won't get to play in the states, they obviously have bigger fish to fry nationally.
As for the self-maligned Gordon, we ran into him on the way to our car, complimented his overall game and told him to keep his head up, and the smile he offered in return told us he'd surely be able to do just that.