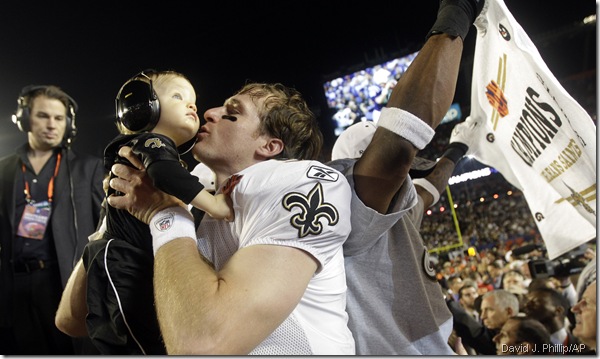 I happen to like Peyton Manning, so I wasn't rooting for the Saints on Sunday. But watching them celebrate on the field, watching the fans celebrate back in New Orleans, it became apparent how much they mean to so many people. And I started to think about what their victory means to me.
Like so many others, I picked the Colts to win the game primarily because of Manning. I thought that in what was likely to be a very evenly matched game between two very good teams – and it was just that, there was only one turnover – that the sheer brilliance of The Great Manning would be the difference.
I guess what I overlooked is just how good Drew Brees is, and how important this was to him. Manning didn't need a second Super Bowl victory to validate his greatness. But Brees needed his first one. I'm not saying Manning wasn't driven, but I believe he ran into a hungrier player.
America got to know Brees on Sunday night for more than just his impact on their fantasy teams, and they liked what they saw. My father, not a football fan, called me glowing about Brees following the game. But there were two lasting images of the Saints' victory – Tracy Porter sprinting downfield with the ball and the Super Bowl title in his grasp, and Brees, at the end of the game, clutching his son with those enormous earphones on.
What could be better than that? To reach the pinnacle of your profession, and then hold your son and remember that it's just one part of the big picture.
And Brees' path to reach that moment was circuitous, as you likely know. After the Chargers drafted Philip Rivers, Brees staked his claim by finally breaking out – and then suffered a catastrophic shoulder injury that had almost everyone doubting his future. Brees set his heart on resurrecting himself in Miami, but the Dolphins were nervous about his shoulder (but not Daunte Culpepper's reconstructed knee), forcing him to head to New Orleans, a city with a less-than-sterling football history that was still depressed after a devastating hurricane.
Anyone who's ever attempted to pull themselves up steadily in anything – maybe it's gaining respect at a job, or building to running a marathon – can respect this end result for Brees. After years of small and big victories intermingled with setbacks, two steps forward and one step back, Brees reached the pinnacle. This wasn't Tom Brady, this wasn't easy. It rarely is in life, even for an NFL quarterback.
Besides Brees, who I identify with greatly, it was obviously wonderful for the city of New Orleans, whose recovery process will likely never fully end. That's what our teams do for us; they give us temporary release. They act as surrogates, allowing us to elevate ourselves for a while regardless of what else is going on in our lives.
And it was great for the franchise – the one which used to have fans with bags on their heads because they were simply that terrible. The team called the "Aints." The team that didn't go over .500 until the 21st season of its existence. The team that gives us all hope as fans.
Because we all want to feel like the people did in the French Quarter on Sunday. I felt it once, when Duke won it all in 2001. It was my senior year, my final chance. I was too young when the Mets won in 1986 to understand it. But when it happened for me in college, it was more even than I had dreamed it would be. I knew all the guys personally. It was my championship.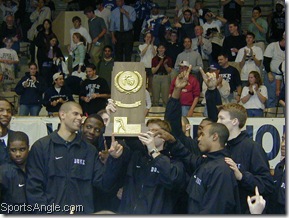 And since getting a taste of that, I've been trying to find that feeling again with sports. I've come close with Duke in 2004 and the Mets in 2006 only to be left with heartache, while last year's Dolphins did give me a wonderful ride. But that top of the world feeling, it really doesn't happen often. I root for two teams that haven't won championships in my lifetime.
As passionate as I am about sports, as much as it has become a part of my life, and even my career, there is nothing I can do to make that happen. It's not like training for a race, where I can affect the outcome. We're intrinsically tied to the teams we root for, left without any control over when – and if – the vicarious euphoria of a championship will enter our lives.
I'm not convinced anything will ever compare to Duke in 2001, but I'm eager to find out.
The Saints give us all hope. Back in 1986, there were fans of the team who wondered if they'd ever see a winning team, much less a Super Bowl champion. And 24 years later, their devotion has at long last been rewarded.
And it gives us all the belief that at some point, our own love will be requited as well.