While watching Roscoe Smith's athleticism and talent help tilt the scales in favor of Oak Hill in their showdown against St. Patrick on Friday night, it was clear to me that what he brings to the table could definitely have helped Duke's team next year.
And I recalled that at one point, Smith wanted very much to go to Duke, and that the feeling was somewhat mutual, though he wasn't their first target – that would be Harrison Barnes, the nation's top recruit who famously and publicly picked North Carolina.
So with Barnes rocking baby blue, why didn't Roscoe end up taking the spot earmarked for his contemporary at Duke, opting instead to commit to the University of Connecticut?
We tracked Smith down before Oak Hill's game against St. Peter's Prep at the Primetime Shootout on Saturday afternoon, and after giving me the business for five minutes about the St. Patrick basketball polo shirt I was wearing – including calling me a "homer," though I explained I also have two Oak Hill jerseys – we got down to business.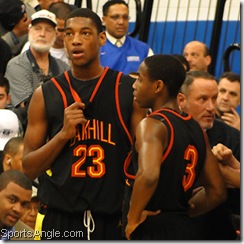 Roscoe confirmed his interest in Duke, but said he "didn't get the attention he needed" – because they were fixated on Barnes – and by the time they came back to him after Barnes Skyped Roy Williams, "it was too late."
I attempted to explain that it was a difficult spot for Duke, which was in the game for the No. 1 player in America and also made that clear to Smith. But Roscoe didn't want to hear that – in particular, it was obvious he didn't want to acknowledge the possibility that he isn't as good as Barnes.
You can see where he's coming from. When someone works as hard as Roscoe Smith does to put himself in position to play for the school he wants to play for, and to make himself a top 25 national recruit give or take, he wouldn't want to hear that he's not that school's first choice, even if it's obvious (and understandable) that he's not.
That said, if he had just waited out the situation – what's the rush? – then he would have gotten what he wanted. He would have had the chance to prove himself against Barnes at least twice a season, while becoming part of a more stable situation and what looks to be a loaded Duke team next season.
After all, there is much uncertainty around the Connecticut basketball program currently, with Jim Calhoun's health very much in question. When you agree to go to a school, a great deal of what you're committing to is actually your relationship with the coach. And considering that Roscoe has only verbaled and hasn't actually signed on the dotted line, is it something he's thinking about?
"Well, I have two more months to figure it out," said Smith, who added that he was relieved to see Calhoun back on the sidelines on Saturday, though UConn lost. He did, however, indicate that he has no real particular insight as to what Calhoun's physical condition actually is going forward.
In Oak Hill's win over St. Patrick on Friday night, Smith's intensity set him aside from the other players on the court. We asked him about it and he said, "I've always been a passionate kid," and that he "has a will to win." And clearly, he has a bit of a chip on his shoulder.
But against St. Peter's, in an upset loss in what was a clear trap game for Oak Hill, Smith blocked some shots but was nearly nonexistent on the offensive end, scoring just six points. And that's been the book on him; he can be great, but can also disappear at times.
That said, I still think he would be an asset for any program and has the tools to become a truly stellar player. I do think Calhoun, who attended Sunday's games in Trenton, will probably end up staying on to coach next season, though by no means is it a sure bet.
But since Roscoe seemingly wouldn't settle for being second-fiddle for anyone – even the top-ranked player in America – regardless of what happens with Calhoun, I don't think you'd see him playing for Duke anytime soon, which is a shame for both parties.