After watching national prep school powerhouse Oak Hill edge star-studded St. Patrick on Friday night by one point, I figured I had seen the premier game of the Primetime Shootout.
As it turned out, I was in for a real surprise on Saturday – as was Oak Hill, which learned two lessons: Never take anything for granted, and never draw blood from St. Peter's Prep star guard Myles Davis.
After St. Patrick's demolition of Rice, we figured we'd stay in Trenton for some of the nightcap between heavy favorite Oak Hill and St. Peter's Prep of Jersey City. With a long drive back up north ahead of us, and having seen Oak Hill already the previous night, we'd see how long Prep could hang in there, and then hit the road.
But a funny thing happened – St. Peter's Prep kept hanging in there. And at halftime, they were up a point on the seventh-ranked team in America. Prep was led by Myles Davis, who we had our eye on because of the jazzified name and because he was clearly the best player on the team.
Meanwhile, Oak Hill was propelled by guard Doron Lamb, who impressed us against St. Patrick, but nothing like this. Lamb quietly but effectively stroked a variety of three-pointers and midrange shots en route to a 26-point first half.
Early in the second half, Davis caught an elbow from an Oak Hill player and went down in a heap, emerging with a split lip and blood everywhere but with no whistle.
"How is there no foul there?" a grinning Davis asked us rhetorically after the game, with his still-bloody lip looking like he'd taken a left hook from Manny Pacquiao. "I mean, hello? I'm bleeding!"
Davis told us how frustrated he was to be confined to the bench for a few minutes, while he champed at the bit to get back in as trainers stopped him from bleeding all over the place.
When this sort of thing happens, a player can head down one of two paths – he can go out of control, emotions running wild. Or he can come back with razor-sharp focus.
Davis took the latter path. For the rest of the game, he simply couldn't miss. Davis finished with 33 points and tied a tournament record with eight three pointers, while the crowd started to pick up that they were watching something special. Even St. Pat's star point guard Kyrie Irving, who stuck around for the game, was hollering his support for the Prep star.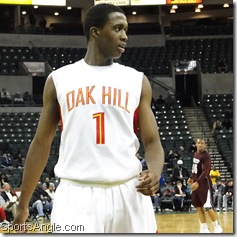 And make no mistake, an animated Davis was letting Oak Hill hear about it.
"After I hit that three-pointer to end the third quarter," Davis told us after the game, "I just wanted to talk smack all game."
After hitting a shot in the fourth quarter, he screamed, "Punch me again!" He was in the zone like my man Billy Hoyle – using his emotions to hone his game, putting on a show.
As good as Davis was, Oak Hill star Lamb's talent was starting to emerge as he turned the game into an O.K. Corral-style duel. Neither player could be stopped, reminiscent of the excellent showdown I witnessed between Irving and Texas-bound St. Ben's point guard Myck Kabongo a few weeks ago.
The other eight players on the court were simply bit players in a two-man drama – for example, personal favorite Roscoe Smith was ineffective and finished with just six points. Except for Lamb, the rest of the Oak Hill team was lulled into a classic trap game after their big win over St. Pat's the night before.
Lamb's final five
Arizona
Connecticut
Kansas
Kentucky
West Virginia
St. Peter's, led by Davis, took a commanding 79-72 lead with 22 seconds left, but the unstoppable Lamb proceeded to hit a trio of three-pointers in a determined effort to bring Oak Hill back. But Davis iced the game with free throws as St. Peter's Prep held on for a wild 82-79 victory, though everyone was in agreement that Lamb probably would have tied the game had he had a few more seconds.
Lamb – who is weighing offers from five big-time programs – finished with 49 points, three shy of the Primetime Shootout record held by Mr. LeBron James in 2003. (I was at that game, one of the most memorable sporting events I've attended)
But the story of the night was Davis, who leaped up on the scoring table, collected his Player of the Game trophy, did some interviews and celebrated with an exuberant cheering section of his fellow students. After playing a Man's Game, when we talked to him later on, the high school junior had sort of become a kid again, relishing in the moment.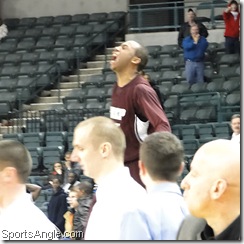 Davis is ranked in the mid-30's of the junior class – not too shabby, but not off the charts. He's about 6-foot-1, which is not ideal size for a shooting guard. That said, he has offers from a good half-dozen schools, including Pittsburgh and Louisville.
On this day, he exemplified what I love about this tournament, and big-time high school ball in general. These kids are set to move on, hopefully to bigger and better things, but whatever he does in college and beyond, Myles Davis will always remember the day he beat Oak Hill. And he'll remember getting to celebrate with his friends and teammates at the game, and the proud look on his parents' faces.
As we continue to get older, facing new challenges and winning new battles every day, all of us have a select collection of memories from our high school years that are still nice to come back to once in a while, like we're turning pages in a scrapbook.
And I think my favorite part of this year's Shootout was watching Myles Davis create one of those moments for himself right before our eyes.