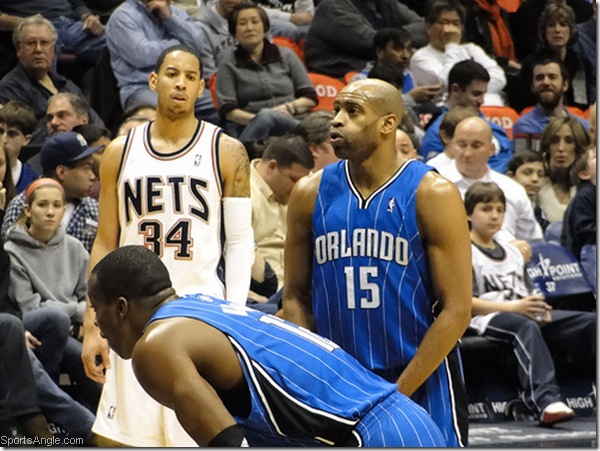 Contrary to what you've heard – or even seen – New Jersey's a pretty great state.
I've been accused of rampant hyperbole about my home state before – correctly – but hear me out. If you get far enough up Route 46, away from the sleazy Teterboro Airport motels and "spas," you find the mountains. And if you get far enough down the Parkway, you find a beautiful shoreline – and not the sort inhabited by "The Situation."
My theory about why people get the idea that Jersey is horrible is that most people only see it when they pass through. If you land at Newark Airport and head up the Turnpike to NYC, you see a Godforsaken stretch of highway and smoke-belching factories. If that's all you see, I can understand thinking it's the worst area in America.
Which brings me to the Nets, who I went to see against the Orlando Magic last night. In my opinion, they can't get out of the Meadowlands soon enough. I can't blame the building entirely for their absurd 6-55 record, but it's not the proper environment for a professional sports team.
About a month ago, I went to see the Knicks play the Raptors at the Garden, and though the Knicks are far from a good time – hell, they lost to the Nets tonight – at least the arena seems legitimate. You saw how it rocked when T-Mac played his first game, and you could see it being like that again.
But you can't see the Izod Center like that. It's like a crypt – and not in a good, Halloween-ish way. It's just a cold, uninviting place to watch a game, or play in one. And the surrounding area is a disgrace at the moment, with construction everywhere and this enormous white elephant structure next to Izod that's intended to be an indoor ski jump connected to a shopping mall, or something to that effect, but may never open.
You could see this on the faces of the Nets. If their terrible record isn't enough to make them want to stay in bed, they have to venture to a lousy stadium in the middle of the swamp, and play in front of a semi-packed crowd mostly there to see the other team. Brook Lopez went through the motions at shootaround looking like he's rather be in a dentist's chair.
And you can see it on the faces of the Magic. Dwight Howard and Co. were just passing through, just having some fun. It was Latin Night, and Dwight spent a good portion of the night flashing that megawatt grin and bopping along with the salsa dancers during time-outs.

Overall, the Magic looked and acted like they were there for a scrimmage. You obviously don't want to lose to the Nets, but Orlando's talent level was so far superior that no urgency was required; they never put the game away but also were never in danger. In particular, Howard's physical dominance made the game look easy, swallowing up 16 rebounds and blocking four shots.
The only connection the fans made last night was with Vince Carter, who averaged 23.6 points during a 4 1/2-year stay with the Nets. Carter has seemed to go through the motions for most of the season after coming to the Magic in a draft-day trade, but Jersey fans starved for excitement and star power, not to mention victories, had no choice but to reminisce about Carter  finishing off alley-oop dunks from Jason Kidd. This was evidenced by the approving, knowing ovation for the PA Announcer describing for old time's sake a "V-C… Three!"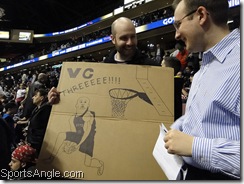 The Magic were obviously impressive – they are, after all, one of the most talented teams in the East – but I'm not quite sure they have the same vibe that last year's NBA Finalists had. I realize Hedo Turkoglu is having a subpar season for the Raptors, but he fit in well with the system that they ran – and for that matter, so did Courtney Lee. Jameer Nelson's around this year, but his knees could go at any time. We'll see how it shakes out, but the Cavaliers strike me as a better team right now.
Sidebar: I was glad to watch personal favorite J.J. Redick, my second time seeing him live in the pros. Though he scored two points, he looked focused and in better shape than I've seen him in the past. I look forward to seeing him in a system that allows him a bit more freedom.
Back on topic, I find it interesting that the Nets are already pushing ticket packages for next season's move to Newark, with the slogan "It's All New," adding, "Uniforms Subject to Change." Translation: "New arena, and hopefully we'll have some good players."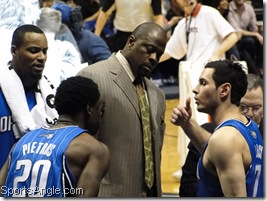 The move certainly can't hurt. I haven't been to the Prudential Center, but my friends who've been there for hockey say it's nice. Nobody has kind things to say about the Izod Center, since it has the feel of an enormous warehouse. And it's impossible to sell tickets when most people simply go for free. (That's why I was there)
It may be difficult to erase the negative feelings of New Jersey fielding one of the worst teams in NBA history, but getting out of the swamp is a good start. There's simply nothing left in the Meadowlands, and truth be told, those Kidd teams couldn't even draw when they were good.
They do have a ton of cap room, and they have a sure-fire future star in Lopez to build around. Understandably, it may be difficult to get players to play in Brick City for the next two years, but after that they'll most likely be in Brooklyn, something virtually everyone finds intriguing. And they have that rich Russian owner.
Like the state they play in, there are actually things to like with the Nets if you look hard enough. But you're not going to see any of them in East Rutherford. I'm not saying that things are definitely going to get better when they're in Newark or Brooklyn. But I guarantee they wouldn't have gotten better in the swamp.