I owe Mike Krzyzewski an apology, as I had months ago written Duke's methods off as archaic, and not viable for building a championship contender.
It turns out that Coach K was playing chess while everyone else was playing checkers.
As a Duke alumni who's followed Krzyzewski for years, I really shouldn't have doubted him, but it didn't look promising for him in November, when he lost No. 1 senior Harrison Barnes, who Duke had recruited longer than any other program, to North Carolina.
At the time, Duke hadn't made it out of the Sweet 16 since 2004. They had endured several other high-profile recruiting misses, including a guy named John Wall – in addition to Patrick Patterson, Brandan Wright and Greg Monroe. Their last tournament team looked as if it was moving in slow motion against Villanova.
And worst of all, there just wasn't much excitement around the program. The style of play and type of players they employed seemed stodgy compared to their neighbors down the road – not to mention the halcyon Duke teams of a decade prior. It seemed like the current era of NCAA basketball had passed Krzyzewski by while he was busy coaching LeBron and Kobe. And at 62 years old, he certainly wasn't getting any younger.
But a funny thing happened while other programs were collecting one-and-done NBA-caliber talent: Krzyzewski stayed the course. And under the radar, his team actually became very good, especially when compared to an NCAA Tournament field reduced to parity by a slew of one-year players.
Duke was in no way as sexy this season as, say, Kentucky. But it's obvious at this point that John Calipari's grand scheme simply didn't work. To take the best hotshot freshmen, throw them together and expect them to emerge as a championship team is a fool's gambit.
Calipari will never again have the opportunity to jump from Memphis and assemble three freshmen with the level of immediate NCAA talent of Wall, DeMarcus Cousins and Eric Bledsoe – not to mention having a junior Patterson. In terms of sheer athletic ability, I'm not sure I've seen a team like Kentucky since Michigan's Fab 5. (Of course, Webber and Co. didn't win it all either, even as sophomores)
But didn't we all suspect in the back of our minds that at some point, Kentucky would run into a team with the wherewithal to take advantage of their inexperience?
Against a tough West Virginia team that played a 1-3-1 zone, Kentucky suddenly couldn't shoot, missing their first 20 three-pointers. Bledsoe couldn't hit a free throw if a lottery pick depended on it. They couldn't defend the three, trailing at halftime to a team that hadn't connected on a two-point basket. Wall's inability to run a team in the halfcourt was magnified, as was UK's utter lack of chemistry. Even before the game, people had started to suggest the players had tuned out Calipari, their focus already straying toward the NBA Draft.
Meanwhile, the common thinking on Krzyzewski was that he could still win his 30 games in the regular season, but critics would surmise – myself included – that Duke would always be athletically inferior in the NCAA's, cracking under the pressure of a full-court press or an aggressive fast-break offense. People scoffed when Krzyzewski correctly assessed before the season that his group would have a definitive size advantage. Doug Gottlieb infamously called them "alarmingly unathletic" – translation: too white – on ESPN during a Preseason NIT that Duke would end up winning.
In actuality, Krzyzewski had stumbled across an NCAA version of Moneyball, in that he's exploiting different ways to win. While everyone else goes for the quick hit, Duke by nature has guys who aren't NBA-caliber right away, but who develop into well-rounded and battle-hardened players as time goes on. Krzyzewski's "Big Three" of Singler, Scheyer and Smith were all high-level recruits who didn't make immediate, Carmelo Anthony-esque impacts, but rather blossomed into solid players who fit the system as time went on.
I think the best example of why Duke's in the position they're in is Brian Zoubek, the 7-foot-1 center from New Jersey who would have fit in better with other schools but dreamed of going to Duke. Zoubek struggled through injuries and subsequently lost his conditioning, couldn't keep up with Duke's uptempo style, drew the ire of impatient fans, and as recently as February looked as if he was an abject failure.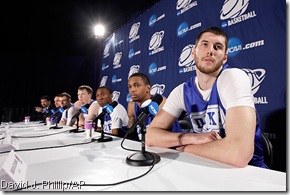 Against Maryland on Valentine's Day Weekend, something clicked after 3 1/2 years. He went for 16 and 17 in 22 minutes, and suddenly a more conditioned, more athletic Zoubek was comfortable in his own skin. He emerged as a pivotal part of the team's new modus operandi – three guys shoot, everyone else crashes the boards – and has won over the most skeptical of fans.
And that's what we forget sometimes with college basketball: Staying a few years and developing as a player is not a crime. We see Wall and Cousins and think that's the be-all and end-all, but as much as the climate has changed, Duke is winning with upperclassmen, toughness, and players that have grown into a team together.
Duke's region may not have been the hardest one out there, but Kansas lost to Northern Iowa. You have to beat whatever team is in front of you.
The best part for Duke is that it's difficult to imitate what they've done. Teams can bring in blue-chippers as quick fixes, but to develop a team the way Krzyzewski has takes patience. Most programs are satisfied simply to chase windmills, the way Georgia Tech did with Derrick Favors. They made the NCAA Tournament, but Favors will leave for the Draft any minute now, leaving them right back where they were before.
There's no question Kentucky's in better shape than they were a year ago, but while they attempt to restock with the next set of 1-and-dones, Duke's Final Four berth seems to validate that they are on the upswing for what may be Coach K's last golden age. Elite point guard Kyrie Irving comes in next season, ubertalented 2011 combo guard Austin Rivers (Doc's son) is intrigued, and recruiting will only pick up if they cut the nets down. In addition, they should continue to have a solid base of upperclassmen to build on.
No matter what happens this weekend, one thing is for sure: As he enters the twilight of his career, Krzyzewski has found a way to rise to the top of the sport yet again – and on his own terms.