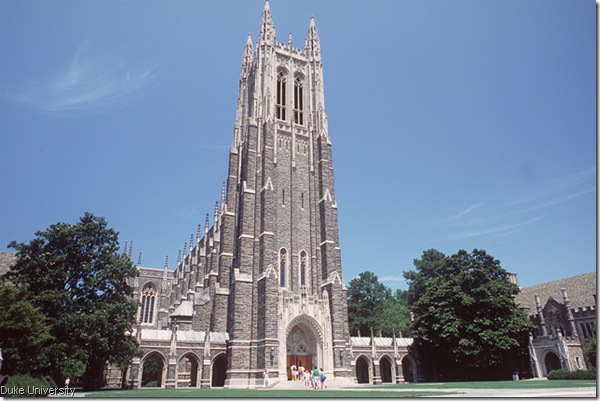 Nine years and five days ago, I stood as a senior in front of the Chapel at Duke University and had a conversation with God, as I often did. Usually, we would talk about the health of my friends and family, or what my future would hold. But on this day, I was there to strike a deal.
The terms were that if He could somehow pitch in to help Duke win the National Title game against Arizona that night, I'd never need one of my teams to win again for the rest of my life.
I know, really short-sighted of me. What can I say? I was 21.
I'm actually in this ad at 0:04. Look close
And I was desperate. Though sports had long been an enormous part of my life, I had never seen one of my teams win a championship. I was too young to understand when the Mets won in 1986. And though Duke had come very close my first three years, they had fallen short.
I believed that I'd never again have a situation as perfect as that one. I loved my school and had personal ties to virtually everyone on the team. I had been in Mike Krzyzewski's house.
Duke did beat Arizona that April night in 2001. The postgame celebration lasted long into the night, the Heineken never tasted sweeter. And it was as great as I dreamed it would be, after all those years of not knowing how that would feel.
*****
From there, as I had signed on for in front of the Chapel, things slid downhill for my favorite teams – the Knicks, Dolphins, Mets and even Duke – and kept sliding.
After Carlos Beltran watched Adam Wainwright's curveball end the Mets' season in 2006, my mom called me and half-joked, "Well, it looks like God's still holding you to your word."
*****
As the years began to add up and I passed 30 years old, I started to wonder when any of my teams would be in position to win it all again. You think it's bound to happen at some point, but tell that to the Cubs fan who's never seen his team win, the Red Sox fan who had to wait 80 years. Nothing's guaranteed in sports, especially when your teams are horribly mismanaged, as mine generally seem to be. And Mike Krzyzewski wasn't getting any younger.
I've taken some time over the years to think about what a championship for one of my teams would actually mean to me today. I actually wasn't sure. Unless I end up working with a team, which I guess I wouldn't rule out, it constitutes living vicariously through a set of accomplishments that I don't really have a whole lot to do with.
We wear our teams on our sleeves, literally and otherwise, and spend hours watching and talking about the teams we end up with. Do we truly need them to win to enhance them as a part of our identity? I always thought being a Red Sox fan was far more poetic before they won in 2004, when there was beauty in the quest itself.
I made that bargain at the Chapel for a reason: I figured nothing would ever top that 2001 title given the personal circumstances.
The two marathons I've trained for and completed, I could control those. Lord knows I can't control, for example, what the Mets do.
*****
And then this March came along. Duke ended up with a solid team in an NCAA landscape with no truly great teams, and then was put in a region that I thought they could win. I viewed it as a tremendous opportunity – for them, and for me. I started to ponder, as always, what it would mean to me if they found a way to win.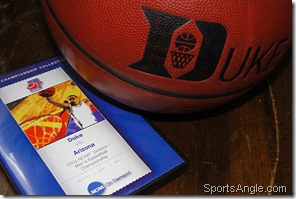 I actually thought I would write today that if they won, it would be terrific for old time's sake, but then you just wake up the next day and get on with your life. It's been nine years since I graduated, and I've been back to Duke just five times since then. It didn't feel like it would be mine anymore – it was a team I liked because I went to school there.
Even the 2001 championship, such a wonderful time in my life, has faded over time. The Duke game ball in my living room has mostly lost its grip. I have a DVD of the two Final Four victories from that year that I bought two years ago. I've never watched it. It just seemed like reliving it would pale in comparison to living it the first time.
Life has taken me in so many directions since my senior year at Duke, when the most important thing in my life truly was whether the basketball team would win it all.
*****
As such, I found myself in a bar on the East Side of New York City on Monday night with one of my best friends, my former radio co-host at Duke, drinking cranberry juice and studying the game as I always do. I wore my West 4th Street "The Cage" hat, just as I did in 2001. (I don't consider myself superstitious, but hey, it can't hurt.)
It didn't hit me until the second half began to wind down just how emotionally invested I was, how much I cared. I began to think about the fact that it had been nine years since any of my teams played for a title. And I began to pour my heart into the game.
Sports is such a big part of my life, and has been for years. I work for a sports web site for a living, and I spend spare time writing about the medium. I look around my apartment now and see sports imagery all around me. I watch as many Duke games as I can with my dad; it's become sort of a bonding experience for us.
A far better "One Shining Moment"
So when Gordon Hayward's final shot bounced off the rim – Sidebar: Coach K missing the second free throw intentionally was a horrible decision in an otherwise brilliant coaching job – I channeled myself nine years ago and remembered what this was supposed to feel like. I hugged total strangers like in the movie "Major League." I answered about a dozen congratulatory text messages. I took a call from my dad. I drank a patented Victory Heineken. I even danced.
I rarely drink. And I never dance.
And I found the moment to be pretty special, and wondered how even a jaded sports fan like myself could have ever thought that it wouldn't have been.
*****
Nothing will feel like that 2001 title for me, or for that matter the marathons I've run. But I have a long history with Duke, and with sports in general. And I came to realize that no matter where my life has taken me, and how much else I have going on, this was the rarest of opportunities to share a moment like that with my friends, with my father, with my school.
And that, in itself, is reason enough to hold on to nights like that for at least a little while. Like every other golden moment in sports, and in life, you just can never take it for granted.
Because you simply never know when, or if, it will happen again.