Note: This is courtesy of SportsAngle executive editor Frank Pepe, also of Trumbull Island. I could not have said this better myself.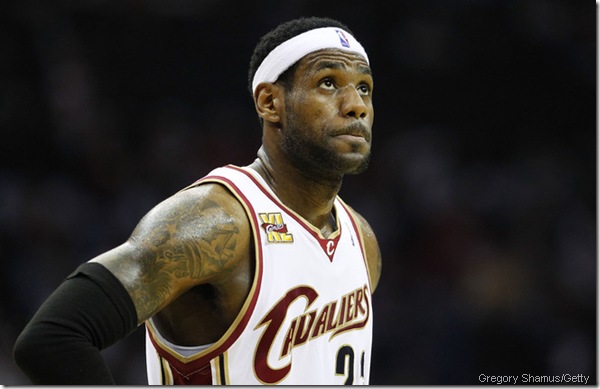 After turning in the worst playoff performance of his career, LeBron James might only have one more game of basketball left this season. Problem is, the most talented and accomplished young player on the planet famously has aspirations beyond athletics.
A celebrity and an outsized personality, the small forward has traditionally been selfish and petulant after his Cleveland teams' eliminations, a fate he's met with since first reaching the playoffs in 2006. Of course, until Tuesday, he's been mostly excellent in these losses. So what happened early this week? Was he injured, defended well, or was he simply thinking about his dinner reservations?
Opinions have been mixed. LeBron, still a 29/8/7 player in the playoffs, went 3-for-14 in Boston's Game 5 pasting, with just seven points on the floor and a handful of boards and assists. On numbers alone, his line was not entirely indistinguishable from the Cavs' 2008 ouster. Indeed, Boston, a frighteningly efficient veteran defensive team, has contained him semi-consistently for his career, a best-case scenario for any club.
But for several writers and fans, Tuesday's performance was beyond the pale. Brian Windhorst, the Cavs beat writer who has covered LeBron since he was in high school, said the King's poor performance threatened to leave a black mark on his career. The terrific Joe Posnanski said Cleveland's "definitive great team" looked like underachievers, largely because of LeBron's play.
Adrian Wojnarowski, Yahoo's fine writer, goes even further. For him, LeBron was distracted and unprofessional, and it all came to a head Tuesday:
LeBron James is on the clock now, and Game 6 in Boston could be for his legacy in Cleveland. … [His brand] is all a mirage. It's all vapor until he does the heavy lifting that comes now, that comes in the shadows of Magic and Larry, Michael and Kobe. This isn't about selling an image to Madison Avenue, about pushing product through all those dazzling plays across the winter months. This is an MVP's time, his calling….
Cleveland fans, of course, booed LeBron off the court in what might have been his last home game as a Cavalier.
But it would be a little short-sighted to say LeBron ruined his legacy with his poor play on Tuesday. Ring or otherwise, whether he leaves or otherwise, LeBron is Cleveland basketball, and the best it could have hoped for.
All he has done since drawing a paycheck is heavy lifting: In 2007, he went to the finals with a lineup whose regulars were Zydrunas Ilgauskas, Anderson Varejao, Drew Gooden and Larry Hughes. The next year, he was within a shot of playing for the finals with Ilgauskas, Boobie Gibson, Devin Brown and Gooden the top-five minute getters. Last season two decent point guards, Mo Williams and Delonte West, were added to the nucleus, but the team was outmatched in the paint and lost the Eastern Conference finals.
Through that time, LeBron ran the point often, guarded the best player on the floor, put up gaudy offensive numbers and, most impressive of all, won games for a front office and coach that gave significant minutes to the likes of like Gooden, Sasha Pavlovic and Donyell Marshall. 
It's no secret that LeBron hasn't had much help, but are the Cavs really that bad? This year's squad might be Cleveland's best team since his draft. Mo Williams is one of the better point guards in the conference with a terrific outside shot. Shaq can be dominant and is bruising, and along with Varejao and Ilgauskas makes up a long and deep front court. J.J. Hickson is terrific and a joy to watch. Delonte West is one of the better bench players out there.
No bad team wins 61 games, and with the defense still steady, the offense has improved to respectable, even elite. Cleveland's offensive rating, a measure of the points produced per 100 possessions, bears this out. The Cavs were sixth in the NBA in 2010, having averaged over 111 points per 100. (The club was 18th in 2007, when it averaged 105.5 per 100, and 20th in 2008, going for 106 per 100. Cleveland was a better offensive team last season, fourth-best in the NBA, having rung up 112.4 points per 100.)
But as solid the roster might be is this year, it's nowhere near as good as the clubs that flanked Wojnarowski's comparables – Magic and Larry, Michael and Kobe. With the exception of Kobe in 2009, each played next to top-50 all-time NBA talent and for a Hall of Fame coach when winning.
Michael had Scottie Pippen, the best perimeter defender of the 90s next to him, the best rebounder in the league in Dennis Rodman, and Phil Jackson making things click. Magic had James Worthy and Kareem-Abdul Jabbar on the floor and Pat Riley calling the shots. Kobe had Shaq in his prime, as unstoppable a force as any in basketball, and in 2009 had Pau Gasol , previously a franchise center for a playoff team and the most complete power forward in the game right now, with wins only coming in Phil Jackson's tenure. Bird's Celtics did not have a Hall of Fame coach, but may have been the most talented of the bunch, with three of the best big men ever in Kevin McHale, Robert Parish and, for a season, Bill Walton off the bench, and point guard Dennis Johnson, a would-be Hall of Famer himself.
Then there's LeBron's Cavs, whose current iteration of borderline All-Stars is the best it gets. The closest LeBron has come to playing with a Hall of Famer was his rookie season with Carlos Boozer, and no one is arguing that Boozer should be anywhere near the Hall of Fame.
The coach, Mike Brown, has struggled with offense, to put it mildly, a failing masked only by LeBron's outsized talent and garish line scores. Brown has not refined LeBron's offensive game as a better coach might have, and indeed may have hindered it with the Cavs' slow pace.
Simply put, the front office has punted on the best-facilitating big man in the history of the game, giving him an All-Star-caliber point guard or two, but no consistent stars. It's frightening to think how dominant Cleveland would be with a legitimate second option, considering the play LeBron teased out of his replacement-level teammates and the distance those teams went. None of the above four reached the finals without their All-Star teammates.
Make no mistake that if LeBron plays Thursday as he did Tuesday – settling for balky outside jumpers, avoiding the paint, hiding on the weak side on offense and defense – the Cavs will lose. In his career, LeBron has put up bad lines, but has rarely played as conspicuously badly as he did Tuesday. Though it might have been an injury – he didn't drive into the paint, was tentative, and his shots all came up short – Wojnarowski and the fans seem confident it was something else. LeBron has penetrated the Boston defense before so injury or otherwise, he will be excoriated for a loss, Cleveland's second straight.
Still, it's hard to say whether one bad game unfurls a legacy, even if it was a terrible game, since the only reason a string of remarkably bad and shallow Cavaliers teams went deep in the playoffs was LeBron James' consistently excellent and historic play.
Now, reasonably hurt on a team with no consistent second option, he's expected – nay, demanded – to do it again, to invite the burden he's shirked. He's expected to stay on a team that has given him nothing, with vindictive fans who expect nothing less than Hall of Fame effort, and what's more, he's not expected to complain.
A man who singlehandedly turned Cleveland into a basketball town and brought respectability to a still-mishandled franchise is getting criticized for not doing more. 
Wojnarowski says teammates are putting up with LeBron's capricious attitudes despite themselves. If anything, LeBron is putting up with more than he should. If the last game he played in Cleveland was a stinker, they deserved it.