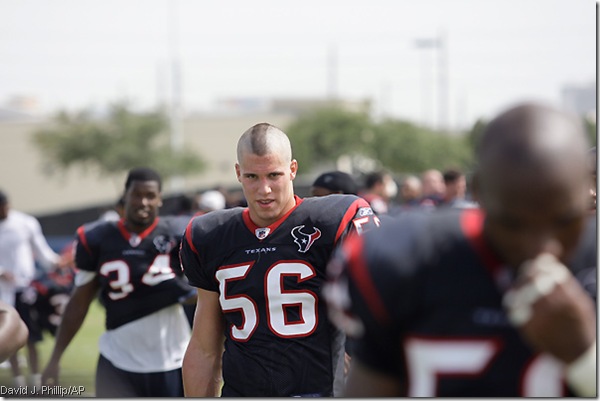 The least shocking sports news in recent memory came across the other day, when NFL Defensive Rookie of the Year Brian Cushing was suspended after testing positive for hCG, which is a female fertility drug that's often used post-cycle to stimulate testosterone levels. It's the same one Manny Ramirez tested positive for.
This was unsurprising for a lot of reasons, but primarily because I've heard explicit stories about Cushing's proclivity for using steroids for quite some time.
Five years, to be exact.
Don't get me wrong, my base of knowledge about Cushing's chemical enhancement is basically hearsay, but I've been running under the assumption that his career is a fabrication for years now, and nothing I've seen lately indicates this isn't true.
I used to go to what you'd call a "juicehead gym" in North Jersey. I was easily the smallest guy in the place, but I appreciated their extensive set of equipment and lack of frills. Plus, I got a kick out of the fact that the owner of the gym did security for the WWE, and that the Undertaker supposedly worked out there, though I never actually saw him.
Cushing, who played at Bergen Catholic in Oradell before heading to USC to be a star linebacker, didn't go to my gym but was well known there, and these were people who knew a thing or two about steroids. (How do I know? I was offered anabolic and testosterone injections on multiple occasions. Somehow, I found it within me to decline)
The guy who was the most animated about Cushing was a young man who was a wide receiver for a rival high school at the time. He had played against Cushing – who at the time was a freshman at USC – knew people at BC who knew him closely, and told me that he'd heard multiple first-hand accounts that Cushing had been using performance-enhancing drugs for years. He called it the "worst-kept secret in Bergen County."
It was admittedly not airtight evidence, but these things don't usually end up coming from nowhere. I figured there was some basis to it, especially when I began following Cushing's career at Southern California.
The shadiness of Cushing's ascent reminded me of Lattimer in the 1993 college football movie "The Program." The Lattimer character was a backup who took steroids in the offseason, gained 30 pounds and earned a starting job at defensive end. He celebrated that accomplishment by slamming his head through car windows.
Cushing started as an unremarkable member of the Bergen Catholic secondary, but then he went from about 165 pounds as a freshman to around 230 before all was said and done. He's now right around 265. By the end of his high school years, he was a physical specimen.
He dislocated his shoulder during his freshman year at USC and was unable to lift, and his body went to hell. He even showed signs of gynecomastia, the enlargement of tissue around the breasts – a telltale sign of steroid abuse if you're no longer lifting. One of the guys who offered me testosterone in the gym said that it was "safe and natural" to use provided you lift at the same time, but if you didn't work out intensely you could potentially "grow breasts."
Regardless, his shoulder healed and he built himself back up to be bigger and stronger than he ever was before. He had a monstrous career at USC, was drafted in the first round by the Houston Texans and won Defensive Player of the Year.
And all along, he just looked to me like some privileged kid from Park Ridge who had some natural ability but not the body, and set out to make sure that he got himself in shape for a starting role at USC and future NFL success at all costs.
Just like Lattimer, Cushing would paint his face while he worked out. And like Lattimer, he was brought in for assault but avoided charges.
But he had a place at the table.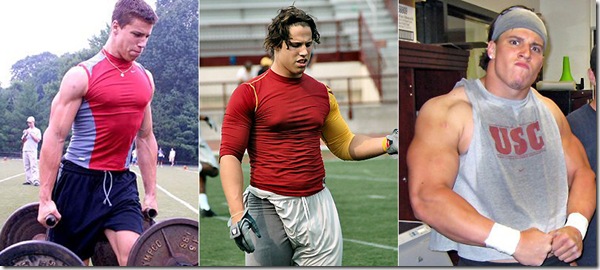 Cushing's Rookie of the Year Award has been stripped, as writers will revote and almost certainly will not award it to him again. But this whole thing hasn't really been a blown-out story. In fact, the day Cushing's positive was announced, NFL.com devoted a side section to it while leading their site with some package on spring quarterback battles. The NBA playoffs led most sports sites; the reactionary level of outrage was not close to its optimum level.
This all brings up something I've long pondered: why steroids are such a big deal in baseball and not in football. It seems like an incredible double standard, especially when it should be the other way around. I mean, you can legitimately kill someone in football if you're artificially big and strong.
Witness that Cushing tested positive in September, but appeals tied it up in red tape, allowing him to put together a Pro Bowl season. Meanwhile, he's crushing people all fall and winter, and there was at least a decent chance he was pumped full of something illegal at the time.
When guys like Alex Rodriguez and Barry Bonds use PED's to hit a baseball farther, it's physically dangerous for the opposing team, but only if they connect just right on a line drive and destroy the pitcher or the third baseman.
With football, the basic definition of the sport is to hit people. When a linebacker is using steroids, some running back that he outweighs by 60 pounds is in serious danger.
And yet, when a Manny Ramirez or David Ortiz tests positive or whatever, it leads every sports site. There's acrimony from every corner. Congress gets involved.
As a coworker pointed out to me, if this wasn't Cushing, if this was Jason Heyward, he'd be scrutinized more closely than the Time Square Bomber.
I understand baseball is a stat-based sport, and that people were outraged that beloved records were falling to people who were basically cheating. I get all that. But is some home run record more important than someone's potential physical well being?
And I understand that a ridiculous amount of baseball players were using steroids – 75-80% maybe? That was obviously an issue that had to be addressed.
But how many football players are juicing? I find it hard to believe all these players get to be as big as they are while maintaining their athleticism through simple nutrition alone. Even linemen, who you just assume are simply overweight by nature, tend to be physical specimens capable of running 4.7 40-yard-dashes.
I think a lot of them are just like Cushing. They know they're good at the sport but they need more size to compete. It's the difference between being a mid-first-round pick and not being drafted at all. Maybe they even have the requisite weight to play tackle but need the strength to push a truck.
(Even veterans look for this edge – 35-year-old Jason Ferguson of the Dolphins was suspended for eight games this past offseason.)
But it seems that just like Shawne Merriman, and just like Bill Romanowski, Cushing's PED use will eventually become just a footnote in the grand societal scheme of things.
Not to Cushing, who could very well end up like Lattimer after the steroids, unable to hold the line. And even if he comes back and really can play clean, his reputation is shot, for what it's worth.
But where's the mainstream coverage? Where's the public outrage? Where's the probe by Congress? I just don't get it, how baseball is held to this ridiculous standard and football isn't.
I guess society is waiting until some jacked-up freak kills someone on the field to start taking steroids in football seriously.
After all, these guys are supposed to be big.