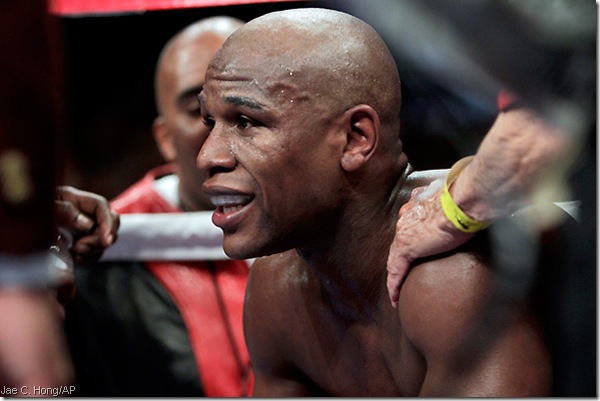 Floyd Mayweather's systematic destruction of Shane Mosley on Saturday night wasn't the most exciting fight, as per usual. But it was a rare chance to see an athlete at the absolute top of his craft, and one who knows perfectly how to market himself at the same time.
The thing that fascinates me about Floyd is that his personality and sheer excellence keeps the mainstream coming back to watch him despite relatively mundane fights. Purists, meanwhile love him; Mayweather is just too good for the game in its current form. And he's not going to give an inch in terms of his style; he wins the way he always does – methodical, surgical, precise.
But Floyd is just so entertaining. The HBO 24/7 series, which Mayweather gleefully takes credit for pioneering, has given us a glimpse of his personality, and we clearly like what they see.
Mayweather is a lot like Chad Ochocinco in this regard – if you feel like you connect with an athlete on a personal level, you'll tune in to see what happens with their athletic pursuits. It's hardly a coincidence that both chose to appear on Dancing With The Stars, putting them in every household in America.
With 24/7, we see the spectacle of Floyd inviting drug testing agents into his home to watch a basketball game (that he gambled on) while they wait for him to hydrate enough to collect a urine sample. We watch him throw his opponent under the bus, in this case alluding to Mosley's history with steroids, and it's endearing primarily because Floyd is hilarious.
When you buy one of Mayweather's fights, you're almost certainly not going to see a classic. His dominating style simply won't allow it. But you like Floyd, so it really doesn't matter. Maybe the fight won't be competitive, but you're going to get his introduction with the O'Jays in the ring, Triple-H in his corner, an ebullient postmatch interview.
I had about nine people over for the fight – some hardcore fight fans, some casual viewers – and the event got rave reviews despite Mosley winning just one round in my opinion. The aficionados appreciated Floyd's brilliance, while everyone enjoyed his quirks, which included shadowboxing before the match while watching himself do that on a big-screen TV.
But Floyd is obviously hardly style over substance. If you pay close attention to the snippets of his training regimen, his workouts are as intense as I've ever seen. I had people ask me whether it's possible to work out so hard that one actually couldn't satisfy a urine test, which happened to Floyd. It's rare, but I have experienced that phenomenon – toward the end of a marathon, not so coincidentally in the dry air of Las Vegas, where PBF trains.
Floyd is a naturally talented athlete, but in addition, nobody matches his conditioning. He beats you before you're even awake, when he's running the streets of Sin City.
It's that dedication combined with preternatural ability that has Mayweather reminding me of Michael Jordan in that he's now an event in himself. The world would watch MJ decimate lesser teams because he was the best in the business. Mayweather can sell fights based on his charisma, and also since you're seeing the best there is, and someone who can still evolve.
Mayweather threw a completely different look at Mosley, adding a devastating offensive attack to his stellar defense. While maintaining his ability to slip punches and counter powerfully, he was beating Shane off the jab every single time and going over the top with a right cross whenever he wanted.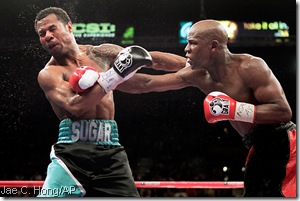 When Mosley landed a pair of powerful right hands, the second of which actually staggered Floyd, it appeared he might be able to give him a run. But I've seen Mayweather staggered before – most notably in a fight I attended against DeMarcus Corley in 2004 that Floyd actually alluded to in his postmatch interview – and if you can't finish him off, he'll hone his focus to answer the challenge.
Mayweather began to let his hands go in the third round, and the difference in conditioning became apparent by the ninth, as Mosley hadn't landed a solid punch since the second round. It was a stark difference from the defensive-minded Mayweather we're used to. He still countered brilliantly, but he also pushed the issue far more frequently.
Floyd finished several rounds with a right-hand feint, and Mosley was so shook that he flinched nearly out of the ring each time. Floyd figuratively cut the head off a very good fighter.
And in fact, if that's what PBF is truly capable of, he may be close to unbeatable right now. I had previously thought that Manny Pacquiao would be able to give Floyd problems, forcing him out of his comfort zone by smothering him and being willing to take a punch. But it's hard not to believe Floyd would cut him into ribbons with straight right counters when Manny tries wild punches from unorthodox angles.
If you believe Mayweather, we may never see that fight since he refuses to compromise on his demand for Pacquiao to be blood-tested. Of course, if the fight happens, Floyd has successfully found a way to stack the deck against the one guy who might have the ability to beat him, a fighter who claims not to want anything to do with giving blood. This makes sense; Mayweather fought both Mosley and Oscar De La Hoya when both were well out of their prime.
That said, I don't think a 28-year-old Mosley beats Mayweather the way he fought on Saturday night. Pacquiao doesn't either, at any age. If Manny won't give his blood, I'd like to see Mayweather go to Middleweight and fight Sergio Martinez, which would be a fascinating clash between two excellent defensive fighters.
But past that, I don't think Floyd has much more left for him. Backing up his postfight comments, he'll draw big for a few more fights because people are conditioned to wanting to see him, and rightfully so.
And at some point soon, whether it be Pacquiao or Martinez in the ring with him, Mayweather will go for one last big payday, and potentially a Jordan-over-Bryon-Russell moment.
Even then, I think Floyd is destined to be a part of our lives long after he's thrown his final punch in the ring. He could obviously be a boxing commentator, or maybe he succeeds in going mainstream where Tiki Barber failed.
Any way you slice it, Money Mayweather has willed himself into so much of a star to never be off our radar going forward.