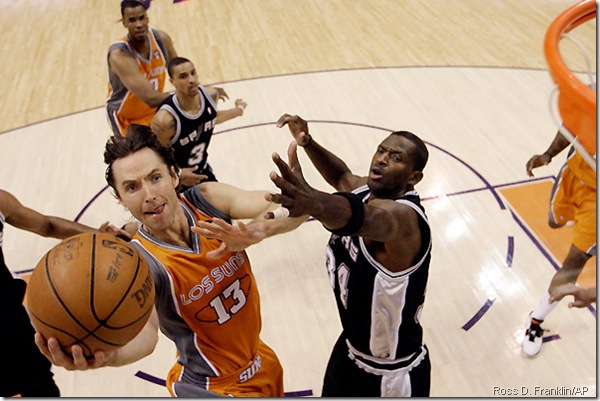 The crazy thing about Steve Nash – who finished eighth in the NBA MVP voting this year – is that he was "overrated" for so long that at some point, he became definitively undervalued.
As far as the NBA world is concerned, the playoffs are all about Kobe and LeBron, the Celtics and the Lakers. Meanwhile, Nash is probably the most impressive player involved for doing what he does with the physical tools he has.
I've long admired Nash for being a consummate winner, and for putting his body through an extreme regimen designed to make him competitive when he's consistently physically overmatched. But somewhere along the line, everyone seemed to lose touch with just how great a player he is.
Despite the fact that he won the MVP twice a few years ago when the Suns were the NBA's favorite toy, Nash has never looked the part. By that I mean, he's white, Canadian and has a tendency to look like a bag of bones on the court. He got lots of heat for not deserving his MVP Awards, presumably in large part for how he looked, and yet how many players in the league are more valuable than Nash is right now?
I'll give you LeBron, he's no question the MVP this year. But I won't agree on a physically declining Kobe, not on that stacked team. Nor will I cosign Dwight Howard; he impacts games, but if I foul him late, who knows if he hits them? He's a specialized player on a very good team. And I won't give you Wade, who's a wonderful individual talent but doesn't elevate his teammates (though I'll admit, I'm not sure how much potential that group has to be elevated).
Carmelo? Dirk? Please.
Kevin Durant? Well, I've made my opinion perfectly clear on Durant — twice. He's done a magnificent job as a 21-year-old team leader, and it doesn't hurt that he won the scoring title. Most impressively, he's given an entire franchise an identity through his brilliance. He's right there with Nash, probably a little above him, and he'll win multiple MVPs – and championships – before all is said and done.
But that's it. Nash finishes no lower than third on my list this year, and could be as high as second. Somehow, nothing has changed from his MVPs 4-5 years ago except his age, including his stat line. Nash's body is held together with masking tape and fishing wire, and yet he continues to play at a high level.
Just ask the Spurs, who played Nash to pass in Game 1 of the West Semis and were shredded for 31 points and 10 assists, a magnificent performance reminiscent of his gems against the Mavericks when they used to attempt the same thing. Nash had a relatively pedestrian but still stellar 19 points and 6 assists in Game 2, pick and rolling the Spurs to death as Phoenix took a 2-0 lead. And in Game 3, you saw his influence on Goran Dragic, who dominated.
The Suns missed the playoffs last season and were said to be trending down, supposedly on their way to trading Amar'e Stoudemire and starting over. But they went 22-5 down the stretch and took the No. 3 seed in the playoffs with what even Nash has described as not their most talented team.
| Year | PPG | APG | FG% | FT% | 3PM |
| --- | --- | --- | --- | --- | --- |
| 04-05* | 15.5 | 11.5 | 0.502 | 0.887 | 94 |
| 05-06* | 18.8 | 10.5 | 0.512 | 0.921 | 150 |
| 09-10 | 16.5 | 11 | 0.507 | 0.938 | 124 |
* — MVP season
It does seem unlikely the Suns could beat the Lakers. Jared Dudley played major minutes in Game 2, the de facto starter at center is one of the Collins twins (I'm not sure off-hand which one), Channing Frye plays a major role and Grant Hill's body could disintegrate at any time. Of course, that could also happen to Nash.
Jack McCallum's excellent book ":07 Seconds or Less" on the 2005-06 Suns detailed the exacting training regimen that Nash – who returned to the Suns at 30 years old – puts his body through just to get his aching back, knees and hips ready to play at a high level. The mental image that stuck with me from the book was that of Nash leaning against the wall while using a urinal after games, unable to support himself. He subjected himself to nightly ice baths after games to reduce myriad inflammation – and that was four years ago.
As someone who's had to modify his workout routine as I get older – primarily incorporating more ice and rest, and some unorthodox treatments – I'm continually awed by Nash for being able to not visibly betray in the least his age and physical limitations. The guy is tough – recall back in 2007 when he collided with Tony Parker, was gushing more blood than a Tarantino movie and still performed at a high level. And of course, there was his aplomb after Robert Horry's cheap shot in the same series.
This isn't to say that there aren't valid criticisms. People say the offense makes Nash, but it's more that he makes the offense. People continue to downplay the magnificent leadership and skills Nash brings. Amar'e should give him commission on that huge contract he's about to sign.
I obviously know Nash isn't a plus defender. Though I value defensive play, it simply doesn't diminish what he does to create wins for his team. Nash is just a winner, despite that shortcoming.
I would have killed to have Nash on the Knicks. He would have made them very good right away, and big-time players would have come out in droves to run with Nash in a D'Antoni offense.
He opted to continue to buy in to what the Suns are doing. Despite that he lives in New York in the offseason, he has more ties to the community in Phoenix and is omnipresent on the charity scene there. And after he let his politics come to the forefront with the immigration issue, he's inextricably tied to the community.
In a league where glitz and glamour are valued over fundamentals, everyone knows who Nash is. But very few fully appreciate him for the excellent player and fascinating person that he has always been.
The next time you watch a Suns game, take some time just to follow Nash alone. You'll see his skills, his drive, his professionalism.
And regardless of whether Nash can finally make the Finals after coming just short three times, you'll see why his value has never been higher.