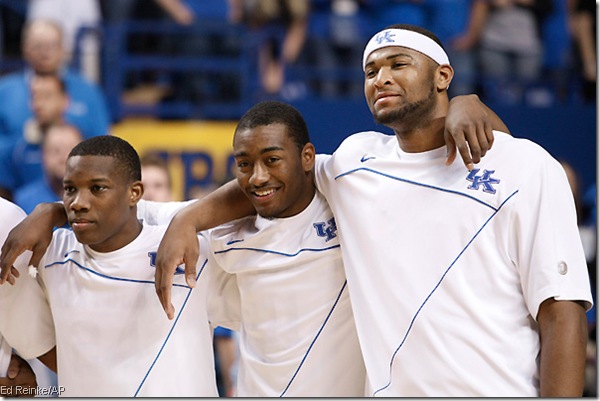 As the NBA Draft is one of my favorite sports events, I spend a lot of time reading about it and following players' workouts and the like. I also watch a great deal of college basketball. By no means does that qualify me to do a mock draft, but that doesn't stop me from projecting the first round every year, for the primary reason that I enjoy doing it. It's sort of a mix of what I think will happen with what I think should happen.
My track record isn't horrible. For example, last year, I nailed eight of the first 12 picks, before proceeding to hit just one of the remaining 18. As such, I should probably just stop with the lottery, but what fun is that?
Note – before you take my picks to Vegas, I don't feel particularly confident with this mock. And I'm not about to foresee Draft Day trades or anything.
Regardless, after the jump, let's get our draft on.
1. Wizards: John Wall, PG, Kentucky – No suspense here. The question is: What are the Wizards actually getting? I think Wall is very good – in a freewheeling offense. He showed me nothing in the halfcourt last year, which is why Kentucky was vulnerable against a disciplined West Virginia club in the Regional Finals. Everything was attack the rim one-on-one, throw a skip pass if he couldn't get there. I think Wall's game is suited to the pros, where he'll have plenty of opportunities to get out on the break. But you could say the same for O.J. Mayo. I do think Wall will be very, very good, but I don't know if he'll be great. Time will tell.
2. 76ers: Evan Turner, SG, Ohio State – The Sixers really need a center, but Turner has to be the second pick – as leaked by their official web site, apparently – and I do feel he's skilled enough to make a real impact in the NBA. Turner scores, rebounds, he started passing this year, he can shoot and he has quick hands. I'd worry a bit about the turnovers – 4.4 per game is a lot for a shooting guard and he had 19 in three Tournament games. But there's no denying his talent.
3. Nets: Derrick Favors, PF, Georgia Tech – I don't believe the Nets for a second that they want Wesley Johnson, a solid player but not nearly the prospect Favors is. I think they're trying to extort a pick from Minnesota to make sure they get Johnson, their only real plan for the Draft. I wasn't a real fan of Favors when I watched him in Atlanta back in January. I just think given his talent and pedigree, he should have been a lot more dominant than he was this season. Maybe I was spoiled by watching lanky forwards like Beasley and Durant kill it in their one year in college.
4. Wolves: Wesley Johnson, SF, Syracuse – Wolves "mastermind" David Kahn killed Favors' conditioning, leaving the door open for the Nets to bluff them into giving something up to get the guy they want. I think the Wolves should just let it play out, since the Nets most likely want Favors and they'd get their guy anyway. But I doubt they'll have the patience or confidence to do that.
5. Kings: DeMarcus Cousins, PF/C, Kentucky – See, this is the guy I think the Nets should take, allowing Brook Lopez to play more of the face-up game he's more comfortable with. John Hollinger, who knows a thing or two about this, ranks him as the top talent in the draft. I couldn't care less about his character concerns or whatever, though granted, I don't have to coach him. But I'd put him and Tyreke Evans out there and watch people bounce off them.
6. Warriors: Ekpe Udoh, PF, Baylor– I loved what I saw of Udoh in the NCAA Tournament, as he was a real problem for Duke in the Regional Final. The Warriors need some athleticism and power down low, and Udoh's stock is going way up as people actually watch him play.
7. Pistons: Greg Monroe, C, Georgetown – I like Monroe's skills, but don't think much of his athleticism. If it's between him and Ed Davis, however, I'd take Monroe in a heartbeat. I like his ability to pass and intelligence on the court.
8. Clippers: Al-Farouq Aminu, SF, Wake Forest – While I thought of Aminu as a freshman the same way I did Cousins this year, he became far more tenacious around the basket as a sophomore, averaging over 10 rebounds. The Clippers need a small forward, and I would imagine they'd covet putting Aminu next to a (hopefully) healthy Blake Griffin to create havoc on the boards.
9. Jazz: Luke Babbitt, SF, Nevada – I think he's slow and doesn't play defense, but if the Jazz are interested in him – which they supposedly are – maybe I'm wrong about him.
10. Pacers: Ed Davis, PF, UNC – They really need a point guard in the worst way, and Gordon Hayward is the hometown boy, but in all honesty they need a little of everything and can't afford to blow this pick. Davis never realized his potential at UNC, but he strikes me as one of those guys who probably does better in the pros than in college.
11. Hornets: Xavier Henry, SF, Kansas – With Peja Stojakovic falling apart daily, I think Henry fits in well with what the Hornets need. "We obviously need some shooters to go with Chris (Paul) and David (West)," new coach Monty Williams said. That's all Henry does.
12. Grizzlies: Paul George, SF, Fresno State – Rudy Gay is a free agent, and they worked George out as a shooting guard. I think it's hilarious that George already puts himself on this team, and has Gay gone. "I could come here and add a lot of depth to this team," George said. "Hopefully, we get Rudy to come back. I wouldn't mind if he leaves. That would be an extra spot. But it would be a good team."
13. Raptors: Cole Aldrich, C, Kansas – If they don't go for a point guard – which would make sense given that Jose Calderon is named in every potential sign-and-trade with Chris Bosh – then I could see them adding Aldrich, which would allow Andrea Bargnani to get out of the middle, where it's harder for him to jack up threes.
14. Rockets: Gordon Hayward, SF, Butler– The Rockets are desperate to move up and get Cousins, but failing that, why not take a chance that Hayward adds strength and becomes the world-beater he looked like when he almost singlehandedly won the national title?
15. Bucks: Larry Sanders, C, Virginia Commonwealth – Though they denied making a promise to him, these things don't come from nowhere. They just acquired Corey Maggette and Chris Douglas-Roberts.
16. Wolves: Patrick Patterson, PF, Kentucky – I've had Patterson all over the board. In my opinion, he didn't improve a whole lot from his freshman to his junior year, killing his buzz. With Al Jefferson probably getting traded, adding a solid rebounder is necessary.
17. Bulls: James Anderson, SG, Oklahoma State – Still trying to replace Ben Gordon, this team needs shooters. He scored double-digits every game his junior year.
18. Thunder: Hassan Whiteside, PF/C, Marshall – If they don't opt for Daniel Orton, who I feel may be a train wreck, maybe they go for Whiteside's potential. Potential is another word for, this guy may never be good.
19. Celtics: Solomon Alabi, C, Florida State – Unpolished but enormous player could serve as Kendrick Perkins insurance. Honestly, they probably trade this pick if they at all can.
20. Spurs: Kevin Seraphin, C, France – Seems like a perfect Spurs pick – some big foreign dude who nobody knows anything about. If not here, I think the Blazers at 22 take him and look to acquire another first-rounder to take Elliot Williams.

21. Thunder: Damion James, SF, Texas – I feel like either this pick or No. 26 get traded after they moved up for the guy they wanted at 18. But if they stay, James reminds me of Jeff Green a little and could be a useful athlete to have around.
22. Blazers: Elliot Williams, SG, Memphis – Apparently, they're enamored with him and want to trade for a pick later in the first round to take him. Failing that, they could just take him right here.
23. Wolves: Avery Bradley, SG, Texas – With Ricky Rubio still a year away, Bradley can play both guard spots.
24. Hawks: Eric Bledsoe, PG, Kentucky – I realize they drafted Jeff Teague last year, but this would hedge their bets as Mike Bibby continues to age rapidly. They could also trade this pick, as I've heard they're attempting to do.
25. Grizzlies: Darington Hobson, SF, New Mexico – Here's the thing: I think they make this pick for the Knicks, who trade up into the first round. They've made no secret of the fact they're fans of Hobson and don't want to risk attempting to wait for him in the second round. They also like Nevada point guard Armon Johnson. I'm just ecstatic to hear the Knicks apparently are fans of personal favorite Brian Zoubek.
26. Thunder: Tibor Pleiss, C, Germany – I admittedly know nothing about this guy. I just figure the Thunder may want to hoard big goons and figure one may work out. His nickname is "The Octopus," which is pretty great.
27. Nets: Tiny Gallon, PF, Oklahoma – The Nets worked him out twice. He weighs like 300 pounds.
28. Grizzlies: Devin Ebanks, SF, West Virginia – Worked out for both the Magic and Grizzlies. Perfect example of how deep this draft is; you'd expect someone as good as him to go in the teens.
29. Magic: Quincy Poindexter, SF, Washington – Terrific college player recently worked out for Orlando – as did Ebanks, Jordan Crawford and Darington Hobson.
30. Wizards: Dominique Jones, SG, South Florida – Dead-eye shooter becomes team's second guard. Grievis Vazquez, hometown hero, would also make sense here.