The NBA Draft is among my five favorite sports days of the year, and I'm not alone: Anybody who appreciates basketball on any level from high school to pro gets something out of it. I've been to three drafts, and it's been great every time. This year, I'm ecstatic to see Kyrie Irving go at the top, having watched him play a half-dozen times in high school for St. Patrick's.
I usually do a mock draft on the site, but this year, I'm proud to present a fresh perspective from friend of SportsAngle Robert Jamis, a Nets fan and one of the most savvy basketball observers I know.
Robert really did a terrific mock — though as anyone who's ever done one of these knows, doing one of these amid all the rumors is like counting grains of sand on the beach, especially after the first few picks. This draft, considered very weak after guys like Terrence Jones, Jared Sullinger and Harrison Barnes stayed in school. But I think he did a fantastic job with it, and his player analysis is superb. I want to go to a Hofstra game next year with his uncles.
Check it out after the jump, and enjoy the draft tonight.
1. Cleveland: Kyrie Irving, PG, Duke — Irving is going to be an instant star in Cleveland, a combination of personality and talent. He can shoot the three, has good court vision, and a sick handle. Questions about experience should be dismissed simply because of the way he stepped right in and dominated the college game. Step two for Cleveland? Finding someone to take Baron Davis off their hands.
2. Minnesota: Derrick Williams, F, Arizona — The Nets were in this position last year and they took the guy in Derrick Favors. Personally, I don't think you pass on Derrick Williams because you have Michael Beasley and Anthony Randolph. Regardless of production, they were both throw ins, and both have far less upside than Derrick Williams, who was one of the most efficient players in college basketball. He reminds me of Beasley, but he's got a better physical profile and by all appearances, his head is on straight. The Wolves don't have any long-term commitment from Kevin Love either, so this pick makes sense for a few reasons. Kahn could stumble upon a franchise player.
3. Jazz: Enes Kanter, C, Kentucky — The Jazz can't possibly dislike Devin Harris and love Brandon Knight, because their games are eerily similar. Kanter has the size to play the center in the NBA and from a pure potential standpoint, a pairing of Kanter and Derrick Favors could be far more dynamic than having Knight. I think the Jazz will wait for a point guard to fall, or worst case scenario, suffer Harris, which isn't that bad.
4. Cleveland: Jonas Valanciunas, C, Lietuvos Rytas — Kyrie Irving or not, the Cavs are going to be a bad team next season. With Enes Kanter off the board, it makes sense for them to take the player with the most upside, whom they preferred to Kanter. Valanciunas is universally praised for his potential and style of play, unlike Euro counterparts Vesely and Motiejunas, and he's seen a lot of high end competition at a very young age. The fat lady hasn't really sung on his buyout agreement, and even if it has, the upside is he'll be playing next season when other rookies won't. I could be wrong, because Dan Gilbert is sitting in the meetings, and that might pressure Cavs management to make a dumb, win-now move.
5. Toronto: Brandon Knight, PG, Kentucky — I really don't get it. Knight is both athletic and intelligent, but he's a volume scorer and not much of a distributor. He'll improve the Raptors' woeful deep game and he has the athleticism to be a good defender, but he needs a lot of work as a point guard. Apparently, they prefer Knight to Kemba Walker.
6. Washington: Jan Vesely, F, Partizan Belgrade — They love Vesely, and I think he'll be an exciting break mate for John Wall. His offensive game stinks right now, but he'll have value as a perimeter defender, weak-side shot blocker, and hustle guy. Currently, not a single player on the Wizards does any of these things.
7. Sacramento: Jimmer Fredette, PG, BYU — The Kings are a bad team desperately in need of a point guard, and it's good that they're seeking out veteran help. Barring a trade, I think they take Fredette, which is not a bad thing. I think a few things are always overlooked in wildly bipolar conversations about Jimmer; Very few players in this draft can match his physical conditioning, his handle, and his quick release. I think he'll use all of these things to keep defenders off balance at the next level, and mitigate any lack of speed he has. The idea of him running the pick and roll with DeMarcus Cousins is pretty cool.
8. Detroit: Bismack Biyombo, C, Baloncesto Fuenlabrada — I think the Pistons really love Tristan Thompson, but if Biyombo should fall here he'd be hard to pass on. He has the athleticism to defend multiple spots for them, and he'd be great next to Greg Monroe. Biyombo and a healthy Jonas Jerebko on the floor together will be frustrating for opposing offenses.
9. Charlotte: Kawhi Leonard, F, San Diego State — Rich Cho was part of the Blazers team that stole Gerald Wallace from the Bobcats, and now he'll get a Wallace like player back.
10. Milwaukee: Klay Thompson, G, Washington State — The Bucks miss out on Valanciunas, and so they upgrade their back court with Thompson. The Bucks shot 34 percent from 3 last season. I like Thompson, who at the very least will be a long-term rotation player and marksman in this league.
11. Golden State: Marcus Morris, F, Kansas — I think this is the perfect pick for a Mark Jackson team. Morris is old school. He uses his body well in the post and has a nice turnaround jumper. He'll probably play the three, but he'll compete on the boards like a 4.
12. Utah: Kemba Walker, PG, UConn — I think Walker's slide stops here. I think the Jazz would be ecstatic if this happened. I'm also hoping that Kemba can resurrect the image of the New York City Point Guard.
13. Phoenix: Tristan Thompson, PF, Texas — I think Thompson will be a good fit for what Phoenix does, and his game as currently constituted is a better fit for a fast paced system.
14. Houston: Nikola Vucevic, C, USC — If he were Nikola Vucevic of Benetton Treviso he'd be a top 5 pick. He has a jumper, he rebounds, and he can play with his back to the basket. Chuck Hayes is a good center, despite being 6-2(?), but Vucevic gives them an offensive dimension they've lacked at the position, assuming they don't make a trade and stockpile guys.
15. Indiana: Marshon Brooks, G, Providence — I hate this pick, but they seem to be higher on him than the talented Alec Burks. Brooks is one of the most overrated players in this draft, and his rise makes me nuts. People are comparing him to Kobe Bryant because they have the same physical profile and haircut. He's more like Nick Young, a volume scorer who will get his every night, win or lose. I think it's dangerous to give a kid like Brooks a major role in your NBA offense too early, but with a hole at the position, that's probably what the Pacers will do.
16. Philadelphia: Donatas Motiejunas, F, Benetton Treviso — Motiejunas is a really skilled big man. He's not a great rebounder, but he has uncanny coordination and fluidity for a guy his size. He's a very good passer and he's got a pretty jumper, and he looks totally different from the skinny kid who's flirted with the draft for the last few years. He's never going to be a great rebounder or defender, but if the Sixers plan on trading Andre Iguodala, who does so many things for them on offense, Motiejunas can help pick up the slack
17. New York Knicks: Chris Singleton, F, Florida State — Singleton is exactly the kind of player a superstar focused team needs. He can defend three positions on the floor, which is nice, considering Billups, Anthony, and Stoudemire can't defend any. Singleton's offensive game, which is limited to spotting up and transition at this point, is a good fit for what the Knicks do offensively. I love this pick for the Knicks because I have a soft spot for supremely athletic guys like Singleton who focus on doing the less glamorous things that are necessary to win basketball games.
18. Washington: Markieff Morris, F, Kansas — Because of need, the less skilled of the Morris brothers comes off the board. Markieff gives the Wizards a physical post defender who will be tenacious on the boards. I kept trying to dislike the Morris twins but their old school approach to the game is refreshing. Markieff will never be a star, but he'll be a max effort contributor on a good team. He's the opposite of Andray Blatche.
19. Charlotte: Alec Burks, G, Colorado — Burks has the potential to be the best player out of this draft. He's got prototypical size and the ability to create his own shot, which he uses to get to the charity stripe frequently. His shooting has been questioned, but I think those concerns are overblown. At Colorado, he had a tendency to force off-balance shots. If Paul Silas can get him to cut down on that, he could provide the Bobcats with an upper echelon scoring wing.
20. Minnesota: Iman Shumpert, G, Georgia Tech — I really don't know what this team will do. God, they're awful. They have a lot of wings, but none of them are really good defenders. Shumpert can guard three positions, and his game fits the run and gun style that David Kahn seems to want to play.
21. Portland: Kenneth Faried, PF, Morehead State — There are some reports that the Blazers, or someone, has promised BC point guard Reggie Jackson. I don't see it. They've got Patty Mills, Armon Johnson, and Petteri Koponen. In the post? Besides Greg Oden's uncertain future, they've got an elderly, miraculously effective Marcus Camby who can't play like this forever(right?), journeyman Earl Barron, and beanpole Chris Johnson. They ranked 27th in the league in rebounding last season. This is a no brainer.
22. Denver: Tobias Harris, F, Tennessee — Harris' offensive game reminds me of Carmelo's. He likes the midrange jumper and he likes to post; unlike Melo, he likes to pass. Going back to his prep days, he's always wanted to play a point forward role, which fits into what the Nuggets did post-Melo.
23. Houston: Jordan Hamilton, F, Texas — Hamilton stays in Texas. I think this is a little early for Jeremy Tyler, and I think Houston will address their big man situation via a trade or free agency. Like I said, they need someone who can play immediately. Assuming they trade Courtney Lee or Terrence Williams to acquire that big man, Hamilton can back up the two and three spot. I think he's another undervalued player in this draft.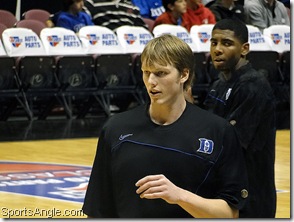 24. Oklahoma City: Kyle Singler, SF, Duke — I think this pick makes sense for the Thunder. They don't have a competent shot maker behind Kevin Durant, and they have the luxury of picking purely to stock a playoff roster on the cusp. Singler's deep game is overrated and he'll probably only be capable of defending adequately in a zone situation, but he's got a great mid-range game. I think Sam Presti realizes he has enough flash on his front line, and guys like Nick Collison and Eric Maynor make me think he wants smart, unspectacular backups who just play the game the right way.
25. Boston: Jeremy Tyler, F, Tokyo Apache — I think landing in a situation like Boston is the only chance Tyler has to ensure that his gifts will be developed. He could learn a lot from the Celtics vets as they prepare for the post Big 3 Era, and they'll put him in a position to be successful. The Celtics desperately need his youth and athleticism.
26. Dallas: Davis Bertans, F, Union Olimpija Ljubljana, International — This is the kind of luxury pick you can make when you get a banner. I'm assuming that the Mavs won't let JJ Barea walk, and Jason Kidd is under contract for another year, so I see them passing on a point guard here to take Bertans.
27. New Jersey Nets: Chandler Parsons, F, Florida — I have a feeling this is the pick because this is the guy the Nets reporters haven't mentioned. Forgive me if I don't see them taking a point guard first with Jordan Farmar and Sundiata Gaines already locked up and well compensated for next season. The Nets had the worst small forward production in the league last year, and it was largely because no one at that spot possessed a basketball IQ suitable for either end. Parsons leads this draft in basketball IQ. For him to be SEC Player of the Year despite a pedestrian scoring average is a testament to how much better he made his teammates.
28. Chicago: Tyler Honeycutt, F, UCLA — Tom Thibodeau, if he's as creepy a defensive guru as Bill Belichick, might dream of adding Honeycutt's wingspan and athleticism to a defense that already includes Luol Deng and Joakim Noah. If this kid ever fills out, he could be really special.
29. San Antonio: Nikola Mirotic, Real Madrid International — The Spurs are a great franchise because they balance drafting depth guys who can help them immediately with international players who have great upside. If Mirotic can fill out his frame like Donatas Motiejunas did, he has the highest upside of any Euro player in this draft.
30. Chicago: Charles Jenkins, G, Hofstra — Jenkins is my favorite player in this draft because I've seen nearly every one of his home games with my embarrassing, Hofstra fanatic uncles. While they heckled former Hofstra coach Tom Pecora mercilessly, I watched Jenkins develop from a raw, handle challenged, head-of-steam scoring guard to one of the most efficient players in the country. People who question Jenkins simply because the CAA is a mid-major fail should understand how bad the rest of Hofstra's roster was, even by CAA standards. Despite that, he scored and dished with maximum efficiency every night. I think Jenkins is a good fit for the Bulls, either backing up or playing alongside Derrick Rose. He reminds me a lot of Marcus Thornton.