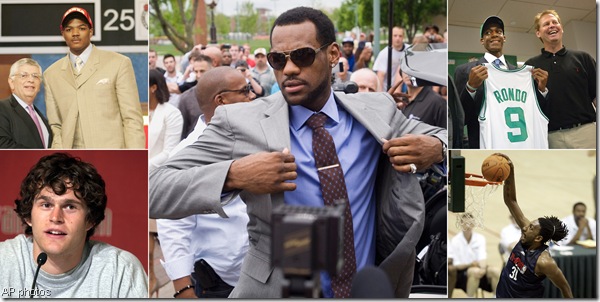 As recently alluded to here, The NBA Draft is one of my favorite events of the year for a variety of reasons, most notably that I'm fascinated by the thought process that goes into shaping teams for the future. And despite all the snap judgments made right after it happens, it's impossible to know without a few years of perspective who truly wins and loses a draft.
But just as a team can set themselves up for success down the road, a simple mistake can come back to haunt a team years down the road.
Now the Cavaliers could very well re-sign LeBron James, and the Knicks could lure him to New York, as Stephen A. Smith feels they might. Those are probably his two most likely destinations for 2010-11. But if either or both misses out, they'll probably have to look at early parts of this decade and understand that one crucial mistake each cost them big-time.
(Sidebar: I'm aware that writing about LeBron not too long after lamenting the endless circus-like coverage of his free agency makes me a hypocrite of the highest level. I remember reading some discussion on the excellent TheKnicksBlog.com that touched on this, but I'd like to look a little deeper into it. )
Cavaliers in 2004
Much has been made of the fact that LeBron's meteoric ascent into prominence ironically limited the Cavs' ability to build around him, as they were an NBA powerhouse within two years and restricted to picking at the very bottom of the draft. But they did pick 10th in 2004, one year after LeBron fell into their laps.
LeBron is as magnificent an individual talent as there is in the league. But it's become obvious that he needs a teammate that can at least approach his level while complementing his game.
Jordan had Pippen and Grant/Rodman; Shaq and Kobe had each other, and Kobe started winning again when the Lakers basically got Pau Gasol for free. When he won, Dwyane Wade had the last version of Shaq that meant anything. Garnett needed Ray Allen and Paul Pierce.
And with the 10th pick of the 2004 draft, the Cavs took the immortal Luke Jackson, the Oregon swingman who was overrated in the Adam Morrison vein, and who would be out of the league within three years.
The Cavs obviously thought Jackson would be a solid role player and outside shooter instead of the colossal bust he became, but there were other talents on the table that would have made more sense.
They did fall one pick short for Andre Iguodala – a perfect candidate athletically to play the Pippen role – and obviously can't be faulted for that.
But Al Jefferson – oft-injured, but all things considered, the perfect low-post complement to LeBron – went 15th to Minnesota. And Josh Smith – a maddeningly flawed but physically dominant player – went 17th to Atlanta.
Both players made the leap right from high school and would have required patience, but both were considered remarkable athletes and near sure-fire NBA contributors and likely stars at some point. LeBron had played one season and was 19 years old. The Cavs had time to strategically position themselves for a run a couple years down the road, when he would be completely ready to win it all.
The high-priced talents they subsequently imported at various times to be LeBron's running mate fell short in a variety of ways. Mo Williams is good but not definitively impactful and certainly not a deserving All-Star, Antawn Jamison is past his prime and above-average at best, Shaquille is on his last legs, and Larry Hughes was, well, Larry Hughes.
The Cavs were desperate to win quick (and to keep James beyond his rookie deal), but if they had realized that they could have set themselves up for long-term success by drafting Smith or Jefferson, they'd have had a far better chance of winning a championship the past few years, and would at least have a stronger supporting cast to present to James this summer.
Knicks in 2006
Meanwhile, everyone knows the Knicks of the past decade have made more mistakes in judgment than Lindsay Lohan. For example, Eddy Curry is an enormous walking error, and of course, there's the entire oeuvre of Stephon Marbury. Taking soft Arizona forward Jordan Hill over future star Brandon Jennings obviously has not produced a favorable outcome.
But one stings worse than the others: the decision to take Renaldo Balkman in the 2006 Draft, while Rajon Rondo went one pick later to the Suns – and coach Mike D'Antoni – who then traded him to the Celtics.
I was at that draft, and most of the crowd wanted the Knicks to take UConn point guard Marcus Williams, even chanting his name – New York is Big East country, for better or for worse. Even that would have probably been a better pick than Balkman, although Rondo was the obvious value there.
Ironically, conspiracy theories existed at the time that Thomas took Balkman and Mardy Collins with New York's two first-round picks because both were represented by Leon Rose, LeBron's agent, in some sort of misguided attempt to get LeBron to jump ship after his rookie contract ended that summer. While that seems far-fetched and naive, I wouldn't put anything past Isiah Thomas, especially if stupidity is involved.
Regardless, anyone who saw Rondo at Kentucky knew he was an off-the charts athletic talent who was held back by two factors: He couldn't shoot, and that team was lousy. If Rondo had played for a higher-profile team, which UK wasn't at the time, he probably would have been a top 10 pick, especially since he was considered a strong defender.
The true disappointment is that presumably a former point guard with as much playing ability as Isiah had should have been able to identify the talent in Rondo. The one discernible skill that Isiah had was identifying undervalued talent in the draft, and yet he completely whiffed when he had his biggest chance to get a franchise-changing player.
Not only would the Knicks of recent vintage, flawed as they are, likely have been a playoff team with Rondo at the point, but they'd be able to point to him as a serious building block for LeBron this summer. Though not quite the ideal point guard to pair with the King – you'd prefer if his outside shot was better, though it has improved – there's no denying that James and Rondo together would be a magnificent start to a championship team.
Of course, nothing is for certain. Maybe if Isiah had taken Rondo, he ends up still hanging around. In that case, the Knicks' cap room would likely be decimated and LeBron would be out of the question anyway. And who the hell would want to willingly sign on to play for Isiah? Of course, I tend to think he would have found a way to botch everything and exile himself regardless, perhaps with a further emboldened attempt at sexual harassment.
But Rondo has proved to be a special enough talent that you can universally say that regardless of other outcomes, picking him over Balkman would have put them in better shape at this point.
*****
Outside of the absolute upper echelon talents, it's impossible to truly know how a player will end up performing in the NBA when he's picked in the draft. But the ramifications of wasting an opportunity can extend far beyond that draft itself.
That's why I watch the whole draft every year. Down the road, I want to know where teams hit it big or went off the tracks.
As the Cavs and Knicks may find out, 4-6 years later, you may wake up and find that a busted pick like Luke Jackson or Renaldo Balkman has cost you a chance at keeping or securing a once-in-a-generation player.