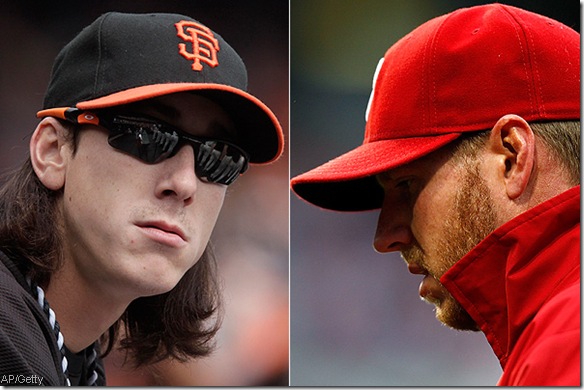 For a guy who highly prefers a masterful pitching performance over an inartistic slugfest – and who has a pair of Tim Lincecum jerseys in his closet – the first two days of the baseball playoffs were truly a treat.
Between Cliff Lee's gem to kick off the playoffs, Roy Halladay's no-hitter, and Lincecum's two-hit masterpiece on Thursday, it was a wonderful collection of games for anyone who enjoys watching pitchers working at the absolute top of their game. It's no surprise that three teams with serious World Series aspirations have guys like this leading their rotations.
Part of the reason I prefer basketball to baseball is that there's more room for artistry and creativity in the sport. Michael Jordan is a flawed person, but on the court, he was a textbook example of the boundless possibilities of the human body in motion, a paradigm of beauty and strength. LeBron James is much the same way, "The Decision" or not.
Sidebar: Perhaps this personal preference can explain why my playoff picks were so off for a guy who watches baseball for a living. The Twins – what the hell was I thinking?           
Regardless, I don't look at many hitters in such a fashion; though there's still a great deal of technique involved, I feel it's aesthetically overshadowed by reflex and strength. However, it's far more palatable to watch a pitcher shape an outing over a period of a few hours.
That's not to say there wasn't something sublime about watching Barry Bonds' complete ownership of home plate and the smooth swing of a mid-90's Griffey Jr. – and of course, my personal favorite, the Mets-era Darryl Strawberry's high leg kick. Nowadays, I'll drop everything to watch Pujols or Ichiro.
But watching a true master on the mound designing a game plan pitch-by-pitch, as if constructing a temple brick-by-brick, I'll take that any day.
Lincecum, in particular, has enthralled me since his arrival in the Majors a few years back. Like Pedro Martinez, he's relatively diminutive for how hard he throws, which comes from his mechanics, which can best be described as a whirling dervish of arms and legs that make it seem as if he's about to tumble off the mound. It's like a Rube Goldberg design.
Oddly, people are just now realizing he looks like the kid from Dazed and Confused, and appropriately has marijuana possession charges on his record. But that adds to his charm; he'd appear far more likely to be a Dickensian street urchin or your friendly neighborhood stoner than what he actually is, a two-time Cy Young Award winner.
His two-hit shutout of the Braves on Thursday perfectly illustrated why Lincecum is so marvelous at what he does. Just a few years into his career, he throws his fastball less frequently, 3 mph slower and with less effectiveness than when he first came up. But his changeup is one of the best in the game, and when he has everything working, it's magic.
Lincecum allowed just one line drive Thursday, which seems a combination of just how good he was and the quality of his opponent. The Braves had no chance, but they're also one of the weaker-hitting teams in the playoffs – though extremely resilient, as evidenced by their rally on Friday night against Brian Wilson when it looked as if they were dead in the water.
As such, despite the fact that Bill James' "game score" claims that Lincecum's outing was better than Halladay's, it simply wasn't, which is to take nothing away from Lincecum. It's just that instead of the shaky-hitting Braves, Halladay no-hit the Reds, who led the National League in batting average, home runs and runs scored.
Halladay's command was out of this world, with cut fastballs breaking late in either direction, and I saw almost nothing resembling a good swing against him. He didn't strike out 14, as Lincecum did, so more balls were put into play that could have gone for hits, but it made him no less dominant in terms of the pop flies and weak grounders that he was inducing.
I'm a Mets fan, so I guess I'm supposed to dislike Halladay by virtue of his being on the Phillies, but I absolutely love the guy. I owned him on a fantasy team way back in 2002, and in an era when nobody was finishing games anymore, it was a rarity when he didn't. It dawned on me he was going to throw a perfect game back in May after two batters.
For years, I've admired Halladay for what I've heard to be unparalleled work ethic and dedication to his craft. He looks almost tortured on the mound, impossibly demanding of himself – nothing is ever good enough – something I can relate to with my own work. I would imagine that even in his perfect game, he found flaws: a rare hanging pitch he got away with.
I also appreciate that despite playing for terrible Blue Jays teams for most of his career, he never seemed to let down. Honestly, he deserves to be in the position he's in now.
The much-clichéd "Year of the Pitcher" – which nobody can really explain, though you often hear it attributed to increased testing for steroids and amphetamines – was tiresome. Seemingly every night, someone was either throwing a no-hitter or taking one deep into a game, regardless of whether their level of skill would dictate that to be possible. (Luke French? Dallas Braden? Broken-down Rich Harden?)
But whatever the reason for the change in the game's climate, if the needle has tilted away from four-hour 10-7 drudgery and toward the best pitchers in baseball doing what they do best, you won't ever hear a complaint from me.