Here are my weekly thoughts on the game of football, with my standard disclaimer that I don't profess to know a whole lot about the sport. Apologies for its lateness – baseball, some Halloween activities and hanging out with Larry Johnson (post forthcoming) got in the way a bit.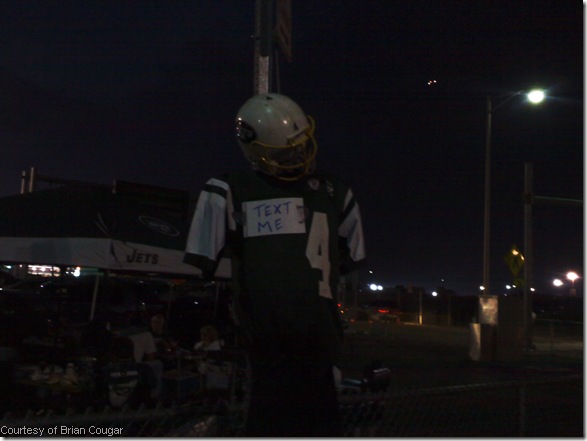 It's amazing to see the fall of Brett Favre, considering the heights he came from.
Don't get me wrong, I'm certainly not an enormous fan of Favre's apparent heavy-handed attempt at simultaneous sexual harassment and adultery.
But the visceral jubilation I've seen for the destruction of Favre's legacy is baffling to me. It seems to stem from a deep-rooted dislike of Favre that has grown over the years, and one that seems somewhat outsized.
I mean, if you took out of context the euphoria on Twitter after Favre threw an interception on Monday night against the Jets, you'd have thought we caught Osama Bin Laden.
Friend of SportsAngle Brian Cougar went to the Jets game and sent along a picture indicating that Favre was actually hung in effigy in the parking lot (above). I guess Jets fans have reason not to love the guy, considering the end of his tenure there resembled the last game Tom Glavine pitched for the Mets. But isn't that a whole lot of energy spent on hatred for a guy who really didn't do a lot to constitute a capital offense?
I guess Favre's annual waffling over his retirement is the primary thing that turned most people against him in recent years, primarily with ESPN and other major sports media chasing the story and fawning over him. But the fact that Favre likes attention should not be a surprise, and neither should ESPN's breathless coverage of one of the last true connections to the golden era of quarterbacks – Elway, Marino, Montana… Favre.
But is it Favre's fault that ESPN follows his every move? It's not as if he forces them to.
It's kind of like it is with LeBron James, another guy with a pretty low Q rating right now. Even before the run-up to The Decision, the seeds of discontent were already being harvested by the public's LeBron overload. He was everywhere, and ESPN covered his every move.
Then he decided not to play for your favorite team, and all Hell broke loose.
The thing is, if you're complaining about ESPN's coverage of Favre or LeBron or whomever, you're the reason they do it. People who profess to hate Favre do an awful lot of talking about Favre, which keeps the cycle going. To me, all you really have to do is ignore him and he effectively goes away, like how Nancy vanquished Freddy Krueger in Nightmare on Elm Street. (Humor me)
I just don't get what all the hatred is about, nor do I understand what it does for people's lives. People grumble about the attention Favre gets, giving him more attention in the process, then celebrate like it's Mardi Gras when bad stuff happens to the guy.
And then what?
I guess you just go on with your business.
Besides, not only is it hardly a shock that Favre is a dirtbag – most professional athletes seem to be – but it's really not a cause for celebration given the glass houses we all live in.
You a Mets fan? We have Johan on the golf course. You bleed Jets green? Your golden-boy QB had a sexual assault rap at college – though God bless him, he wasn't charged. The Giants' best player ever inexplicably hangs out with underage hookers (and occasionally refuses to talk to his fans). Don't get me started on A-Rod.
I guess the whole thing's a little sad to me. I was never a humongous Brett Favre fan, but I remember watching him win his lone Super Bowl back when I was a senior in high school. My friend Rob came over, we ordered pizzas and buffalo wings, and we watched Favre's utter joy after hitting Andre Rison for a long touchdown early in the game. It was great.
Who could have seen this enormous fall from grace coming back then? I would imagine a good number of the people who curse Favre now, who made the same Simpsons reference as everyone else when he got hit by a football in practice the other day, at one point enjoyed watching him play. That gunslinger meme everyone curses now was probably dutifully recited.
If someone sticks around long enough, they're going to take a fall. The media loves to build people up, but more so than that, they thrive on tearing them down. If they stick around long enough and win enough, they get built back up – a la Michael Vick – but Favre probably doesn't have that many throws left in him.
What it comes down to for me is that there's a lot of people who strongly dislike Favre without good reason, perhaps because everyone else does. They don't know Favre, he's never done anything to them, and their vitriol is irrational.
I'm certainly not saying you shouldn't look down on Favre for being a fake family man, trading on a phony image the way Tiger Woods, Michael Phelps and so many others have.
I'm just saying there are so many emotions more worthwhile than pure hatred, particularly when there's no legitimate reason anyone can give for harboring it.
*****
As I said, our good friend Brian Cougar, who previously collaborated with us on our misbegotten Super Bowl prediction, attended the Jets' win over the Vikings in the Meadowlands on Monday night. Brian e-mailed me at the ungodly hour of 2:54 that night, right after he got home, citing a delayed start because of horrible rainy conditions. I live in New Jersey, and we were pelted by a biblical storm combining hail, rain, thunder and lightning. As Daily News columnist Bob Raissman said that night, if they can't start on time in early October, what's going to happen in February 2014, when the Super Bowl is to be played in the swamps? The game will either be on Feb. 2, or Feb. 10 or 16 if they extend the NFL regular season. The average high on Feb. 2 is 39 degrees, while the low is 25, and since the game will be at night, you have to assume it'd be closer to the low. If it's on Feb. 10, this year on that date, we got 13 inches of snow. It always seems to snow a lot right around that time in this area. The Jets' game in the Meadowlands this past year on the last night of the regular season, when they beat the Bengals to make it into the playoffs, it was bitterly cold. Essentially, you wouldn't catch me dead out there. My beloved Dolphins could play in the game and you could give me free tickets, and there's still no way in hell I'd sit in the cold for that long, much less deal with the possibility of a blizzard. I understand the NFL loves the idea of a New York (area) Super Bowl, but I wonder if scalpers will get record-low prices for the tickets since it's so completely undesirable to sit out there. The Stadium cost $1.7 billion. God forbid that also buys a retractable roof? Maybe if they hadn't spent $2.2 billion on the Xanadu white elephant, it could have.
Chris Johnson was back to having a huge game last Sunday, putting up 131 yards on an economical 19 carries against the Cowboys. His workload is still enormous, while Adrian Peterson's has been slowed only by the fact that the Vikings had a bye, something we need to monitor as they get closer to the 170-carry mark that ends running backs' careers. But obviously, with Vince Young showing the ability to have a decent game when a team focuses on Johnson – and carrying a 95.1 quarterback rating for the season – and with the Vikings acquiring Randy Moss, both of these guys should have some room to run.
| Player | Att. | Yds. | TD | Y/C | Pace |
| --- | --- | --- | --- | --- | --- |
| Chris Johnson | 113 | 485 | 6 | 4.3 | 361.6 |
| Adrian Peterson | 88 | 480 | 3 | 5.5 | 352 |
Here's my personal Top 10 this week.
1. Jets (4-1) (LW: 1) – Withstands Favre without Sanchez TD, but no picks either.
2. Steelers (3-1) (LW: 2) – Big Ben back; Mendenhall will score first rushing TD vs. Browns.
3. Ravens (4-1) (LW: 3) – Was winning even before Ray Rice got it going.
4. Falcons (4-1) (LW: 4) – Not impressive in win over Browns, but still lots of talent.
5. Colts (3-2) (LW: 7) – Downed the previously unbeaten Chiefs; fine when they get healthy.
6. Giants (3-2) (LW: NR) – I don't trust them, but pass rush is fierce. Nicks, Smith explosive.
7. Saints (3-2) (LW: 5) – Not the same vibe. Desperately need run game to get healthy.
8. Packers (3-2) (LW: 6) – Rodgers concussion a scare. Need to get a run game.
9. Patriots (3-1) (LW: 9) – Trade of Moss, lousy defense caps this team's upside to me.
10. Bears (4-1) (LW: NR) – Won despite horrible Todd Collins game. Not sold yet.
*****
Here are 3 picks for Week 6. LW: 2-1 (Hit on Lions, Falcons; missed Texans) Season: 8-4.
1. Rams +8 vs. Chargers – Good home team vs. group that just lost to Raiders.
2. Cowboys (+1.5) vs. Vikings – Desperate home dogs against sore-elbow Favre.
3. Titans (-3) at Jaguars – CJ alert: Jags tied for worst in NFL, allowing 6 rushing TDs.