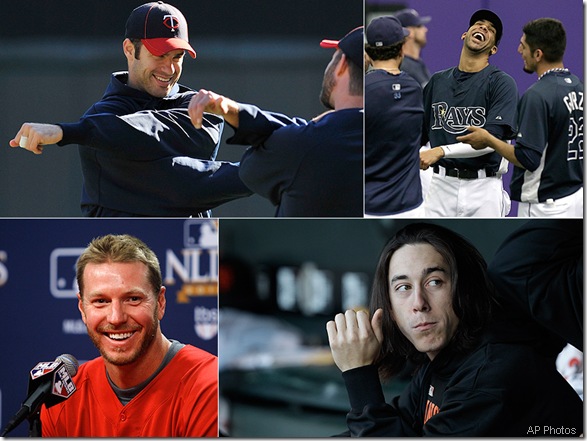 I don't write about baseball very often here, which I admit is strange, since my day job requires me to watch what I estimate to be about 250-300 games a year. I figure, leave the analysis up to experts like Tom Tango, who have the time and energy to invent new statistics and stuff. Plus, I prefer other sports, such as high school basketball, boxing and Jay-Z.
Besides, I can't stand the amount of nonsense analysis that goes into something like the baseball playoffs. You get stories that go position-by-position and determine who has an edge, as if it matters somehow that Alex Rodriguez is better than Danny Valencia in particular. You want a page devoted entirely to Ross Gload's October exploits? Well, here you go.
Baseball, more than other sports, seems to lend itself to throwing loads of information out there indiscriminately. Why take the time to decide what's actually important when you can lump it in with a bunch of other junk? I have no idea who's reading all this stuff, but if you checked out the Gload page before I linked it here, you need to get out even more than I do. You're officially invited to join me at a St. Patrick-St. Benedict's game at Kean College.
One relevant statistic I saw out there, by the way, came from Tom Verducci, who points out that the winner of Game 1 in the Division Series is 12-0 in the last three postseasons, and 21-3 since 2004. Which, well, does make sense in a five-game series.
Regardless, here are some quick – emphasis on quick – thoughts on the division series:
*****
I like the Twins in five over the Yankees, despite losing three division series to them since 2003. One reason is that I think Minnesota is just really solid in all areas. They're the sort of team that can lose a Justin Morneau and not miss a beat, putting up the best second-half record in the Majors. This is not the most talented Twins team we've seen recently – no Torii Hunter, no Morneau, no Santana, no Joe Nathan. But it's never easy playing them. There was a period in late August and early September where the White Sox won 10 of 13. They picked up exactly one game in that stretch. And then the Twins swept them out of contention.
I also just don't get a good feel from this Yankees team. I think it's possible to lose a bunch of games going into the playoffs and do well, it's just that they more resemble the disappointing, stale Yankees clubs of the mid-90's, particularly with their pitching staff, which is lousy. The lineup is still strong, but Jeter and Teixeira are beat up. I think the Twins can win a tight Game 5 at home with their strong bullpen holding down the fort at the end.
And for that matter, I actually think the Twins will win the World Series. They're never going to have one of those games where they just don't show up. Of course, I could be way off there.
*****
Speaking of which, the Rays are funny, in that they have all this talent and yet sometimes don't show up for games – for example, getting no-hit twice. I still like the Rays in five games over the Rangers. To me it makes a difference that Texas hasn't been in the playoffs in 11 years, while just two years ago, Tampa was in the World Series. I'd say the two teams are comparable in offensive talent, and the Rays can at the very least throw David Price up against Cliff Lee.
I think the rest of the Tampa Bay rotation is superior; I'm fine with James Shields, who was far better than his numbers showed and is battle-tested, in Game 2. I think the fact that Josh Hamilton is probably not totally healthy is a factor, and in a tight game, I don't think the Rays' speed on the basepaths can be discounted.
*****
Though the Phillies are definitely more beat up than they have been the past three Octobers, they're deep, talented and ready to beat the Reds. I like the Phillies in four games. Dominant starting pitchers are such a valuable asset in the playoffs, and the Phillies have three of them. The Reds are starting Edinson Volquez in Game 1, which tells you all you need to know. Roy Halladay will win Game 1, and it'll go downhill from there. Aroldis Chapman is a weapon, but he doesn't start games. Joey Votto is awesome, but he's just one man.
The Phillies nearly won the World Series last year with no Halladay and with Cole Hamels weirdly a non-factor, though they did have Cliff Lee. Halladay, Hamels and Roy Oswalt ranked No. 1, 11 and 12 in the Majors in xFIP. Oswalt is 7-1 with a 1.74 ERA as a Phillie. Hamels had a 2.23 ERA in the second half. No need to overthink this one.
*****
If we're going by the first-game win theory, the Giants have a huge advantage over the Braves with Tim Lincecum bouncing back from a 7.82 ERA in August with a 1.94 September. I like the rest of their rotation too, and despite the Braves putting up a solid group with Hudson, Hanson and a resurgent Derek Lowe, I don't think they hit enough to prevent San Francisco winning in four. Atlanta went 14-16 in September and October with something to play for. The Giants finished strong in series after series of division opponents, two of whom were also contenders.
Jason Heyward's a phenomenal talent, but San Francisco has added enough offense to get by, in my opinion. And Buster Posey has completely transformed this team. Lowe or Hanson will find a way to win a game – probably Lowe against Jonathan Sanchez – and I feel as if Madison Bumgarner, who had a superb 1.13 September ERA, can get the job done in Game 4 if need be. Otherwise, Lincecum's there to finish it off.
*****
And if I'm wrong about all this stuff, which is certainly possible (or probable)? I'll just go back to my niche: Amar'e Stoudemire's Judaism. Or his… interesting ESPN Magazine cover.