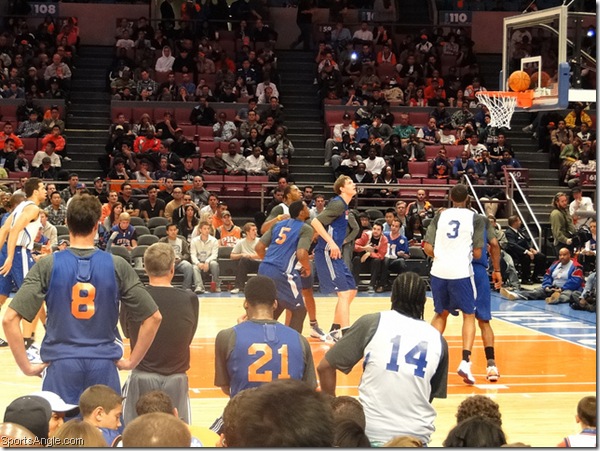 Sitting in Madison Square Garden during last Sunday's open practice, it was obvious to me just how much the Knicks want to reconnect with their fans.
And it's just as clear how badly the fans, myself included, want to reconnect with the Knicks.
New York is foremost a basketball city, with its ubiquitous playground courts a manifestation of hip-hop culture and blue collar sensibility. A ticket for the Garden is no more affordable than a trip to the Ivory Tower in the Bronx, but basketball itself is more accessible to everyday life. You can go outside and hoop at the drop of a hat.
The Knicks' horrible mismanagement and uninspiring play have created a rift with the fan base in recent years. Scott Layden bored everyone to death with his mediocre veterans, and then Isiah Thomas and Stephon Marbury humiliated us in any number of ways. Meanwhile, Knicks fans just want a team we can get behind.
The fact is, we remember a time when the Knicks were highly relevant, and not even close to a punchline. The Yankees obviously have come to stand as a symbol of the city, almost by default since they win all the time. But back in the mid-90's, spring was Patrick Ewing's time, to say nothing of the halcyon 1970's of Clyde and Earl the Pearl.
Those 90's teams weren't particularly skilled – Anthony Mason and Charles Oakley weren't exactly Pete Maravich and John Havlicek – but they were tough. They were gritty. They were like John Starks used to pound on his chest after nailing an ill-advised wild three – Noo Yawk.
Knicks fans miss that. Basketball fans miss that. You better believe David Stern misses that.
Not that very many pine for the grind-it-out style Pat Riley brought to the team, which even I admit set the game back quite a few years, but the league lacks the big-game atmosphere that accompanied a trip to the Garden. It used to be a stop teams and fans would circle on the calendar, but it gets harder to recall the feeling of that the more the years peel away.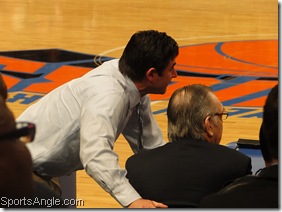 We now have mere glimpses of what once was. When LeBron James came to the Garden for his odd, misbegotten courtship last year, his near triple-double could be equated to a poor man's Jordan double-nickel. Even when Tracy McGrady played his first home game in the Garden, the fans elevated their game, and a brittle T-Mac somehow did the same.
That sort of thing used to be a nightly occurrence. De-fense chants used to actually mean something.
The Knicks meant something.
And as beaten down as we all have been by this team, the hope remains that the Knicks can mean something again.
That's why you saw a pretty significant turnout for an open practice at 11:30 on a Sunday morning, when all the Knicks would be doing would be short scrimmages and drills. They gave out tickets to season-ticket holders and such. I got four pretty good seats for $10 and was ecstatic, considering how much it would cost to sit there for a game.
It wasn't a "practice" in the conventional sense. Mike D'Antoni watched his charges run back and forth doing fast-break drills, and Donnie Walsh sat like a sentinel at the scorer's table studying the team he put together, hoping – as we all were – to see glimpses of greatness.
The atmosphere was one of vague curiosity, with people split in their attention depending on who they were most interested in following. There was a lot to take in, but most were fixated on Stoudemire, wondering if he's truly up to the task of being the heart and soul of the Knicks.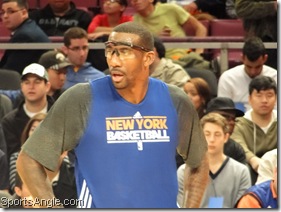 Every once in a while during the scrimmages, we'd see something to pique our interest – a Danilo Gallinari three, an Anthony Randolph block, Timofey Mozgov just doing anything – and whichever patches of the crowd were paying attention at the time would give a hopeful burst of applause.
At one point, Stoudemire rocketed to the rim for a spectacular slam and gestured to the crowd underneath the basket, which gave a healthy cheer as if he had just dunked over Chris Bosh.
Knicks fans were conditioned to expect a new start this season, and that feeling is still there, even with no LeBron, though many still hold out hope for Carmelo Anthony joining the team next year.
That said, that fresh-start feeling seems to be there every year. Through a cocktail of nostalgia and blind optimism, we continue to wait for a team that summons us back to the night we watched the Knicks play in the Finals while O.J.'s white Bronco streaked through L.A.
*****
As for me?
Well, I remember the O.J. night well. It was the night before a class trip to Hershey Park, and we were split 50/50 talking about the Knicks and O.J. on the bus the next day.
I also recall a sunny but chilly day in January my senior year of high school, when I went to Cowan's Sporting Goods on Main Street in Hackensack to get an Allan Houston jersey to wear while watching the Knicks play the Bulls on television that night. (They lost)
There was the time I wore an LJ jersey my first day back at high school after spending a week in the hospital with salmonella.
My dad surprised me once by mailing me a Knicks hat at college to celebrate the start of the season, and he had a Marcus Camby jersey waiting for me when I got home for the summer.
Houston hitting front-rim, backboard, net. Camby putting it down on Mutombo. LJ's four-point play. Spree running around like a madman waving a Knicks towel after they made the Finals.
My uncle teaching me how to play hoops in my backyard with a Patrick Ewing model ball.
*****
Sitting there in the Garden watching this year's version of the Knicks run drills, I just had to hope that someday this franchise will once again give me the memories that past iterations did. That's why we have favorite teams: Once in a while, they offer us something we're proud to take with us.
At the end of practice, the Knicks came to center court for a team huddle, and Amar'e took the microphone and thanked the fans for coming.
I look forward to a time when we can once again be the ones thanking them.
___________________
Here are some of my favorite images and videos from the practice: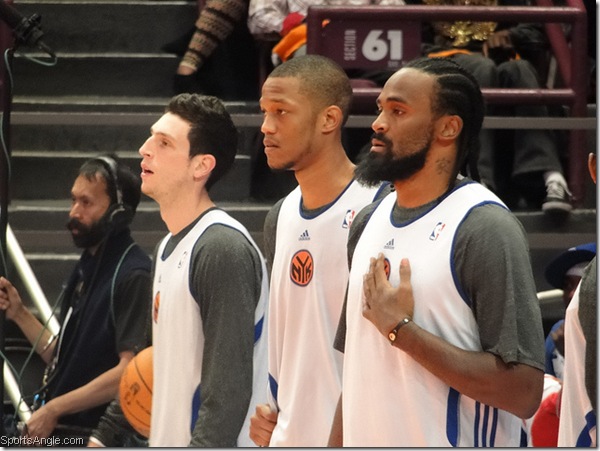 Motley crew: Andy Rautins, Anthony Randolph and Ronnie Turiaf.
Mike D'Antoni talks things over with Allan Houston, who did a solid, albeit awkward, job as the emcee for the practice. Imagine if Houston in his prime had played in a D'Antoni offense…
Sideways glance from Coach D'Antoni.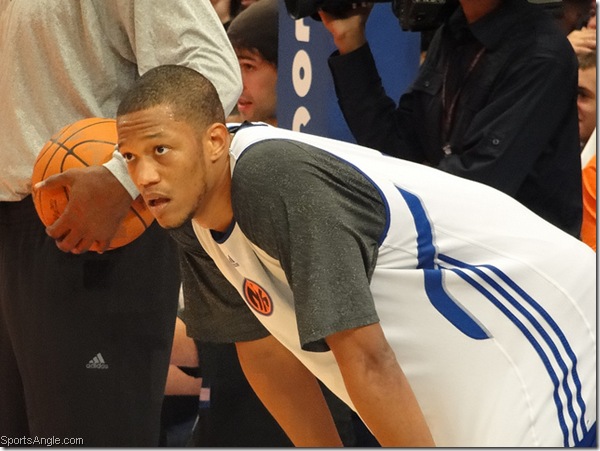 I was a huge fan of the trade that brought Anthony Randolph from Golden State in exchange for David Lee. Randolph has all the athletic talent in the world and simply needs to harness it. He's clearly trying too hard right now to impress his new coach and teammates, but he averaged 2.4 blocks as a starter last year. Anyone who can block eight shots in a game can find a spot on my team. Give him time.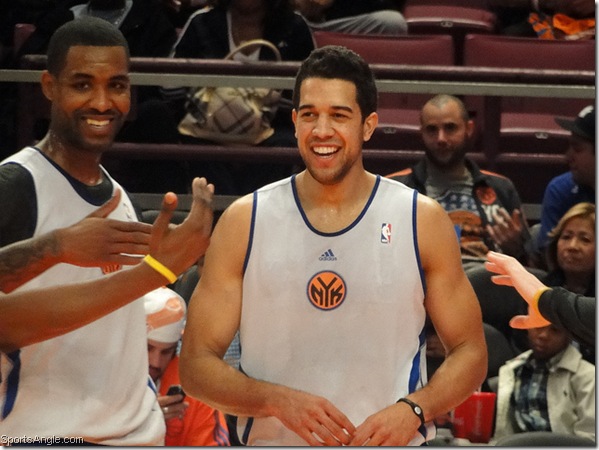 When the Knicks drafted Landry Fields, I really thought they took a guy from Friday Night Lights. It turns out that's Landry Clark. This Landry has athleticism and legitimate potential, and seems like a sneaky-good under-the-radar pick, kind of like Wilson Chandler.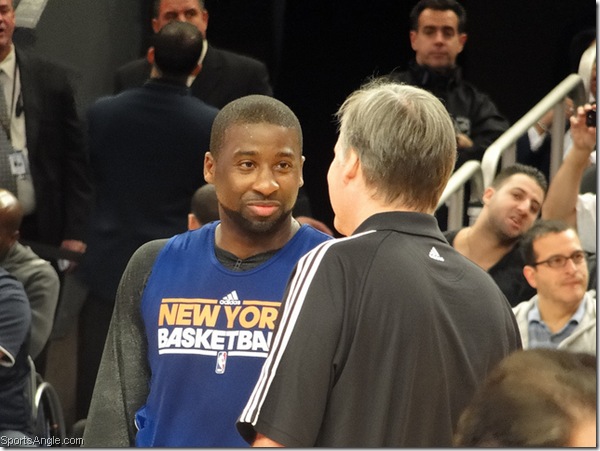 Coach D'Antoni shares a light moment with new point guard Ray Felton. I liked the move to sign Felton, especially on just a two-year deal, but considering he's replacing Chris Duhon, his UNC background, and the fact that I went to Duke, he's getting a short rope from me.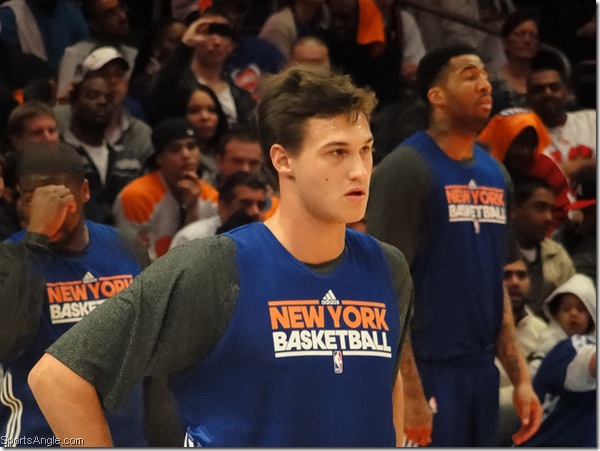 I share a birthday with Danilo Gallinari, whom I'm quite fond of. He's looked really lousy in the preseason, but I'm hoping it's "just one of those things."
New Russian center Timofey Mozgov drinking what appears to be a one-ounce thing of Powerade or something. I'm an enormous Mozgov fan, and I've converted SportsAngle associate editor Frank Pepe, who joined me at the practice. I'm not sure if Mozgov's actually going to be good, but either he has no problem fouling people going in for layups, or he has no ability or desire not to. Either way, I'll take one of him over 100 Jerome Jameses.
I had the pleasure of meeting Patrick Ewing Jr. at the Jordan Classic, though he was overshadowed slightly by the presence of LeBron James. (And Chris Paul, for that matter) He really is a good guy, and he was part of the most cathartic trade in Knicks history, when they acquired him in exchange for the rights to Frederic Weis.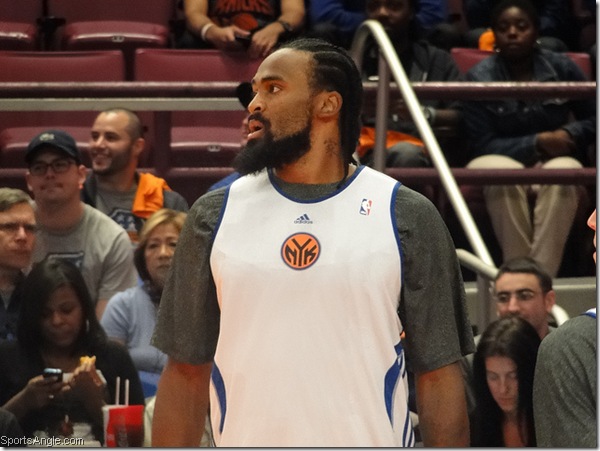 After a Duke-Gonzaga game a couple years back, I saw Ronnie Turiaf come out of the Garden and was the only guy to notice him, so I yelled, "Do it, Turiaf!" He glared at me and walked away. Probably just having a bad day.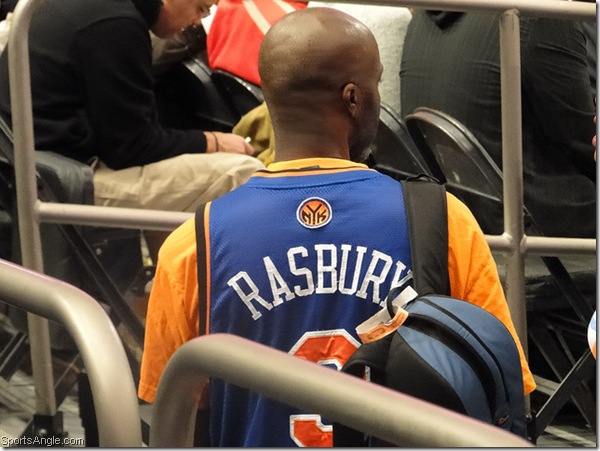 As in my Opening Day at Citi post, I like seeing what kind of random jerseys people wear to games. If anyone's aware that this has any particular significance besides simply changing Stephon Marbury's name to a phonetic spelling of raspberry, please drop me a line.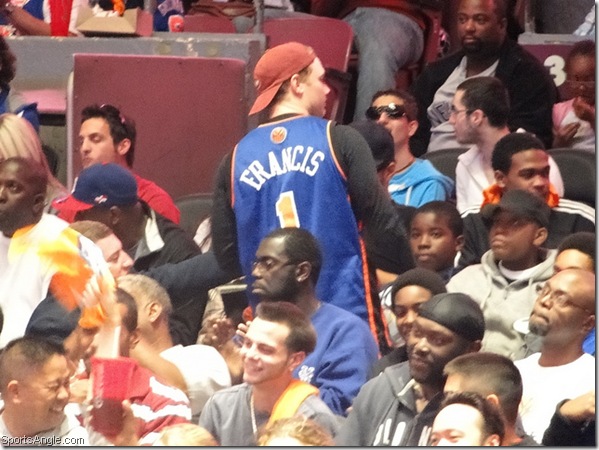 The only guy in history with a Steve Francis Knicks jersey besides Turtle on Entourage. I'm all about wearing random jerseys, but Francis? You might as well wear an Isiah jersey. In all seriousness, I'm sure this guy either got this on sale after the fact and thought it was funny, or got all excited for some reason and sprung for this after that horrible trade and wants to get his money's worth. I can't throw stones from my glass house considering I owned a Glen Rice Knicks joint.
They were selling Ray Felton jerseys. It seems pretty ridiculous that they put him between Amar'e and Gallinari, probably the two most high-profile guys on the team. Honestly, it's sort of ridiculous they sell it at all. I mean no offense, but who the hell buys a Felton jersey?
Some video clips – here's an Amar'e dunk, with Pepe and I making plans to take in a Kings-Nets or Kings-Knicks game to see Omri Casspi do his thing. (Tyreke Evans too, I guess)
Some back and forth action, including an Andy Rautins three-pointer.
Finish by Mozgov. Commentary by Pepe, though not about what's happening on the court.
Felton feeds Gallinari. I muse about my career, which you can feel free to ignore.
Amar'e shoots around a bit post-practice. Video includes our blunt assessment of the Knicks' shooting.