Larry Johnson is the epitome of a New York success story, and while laughing and joking with his fans at a Fila event on Thursday, it was obvious he was in his element.
Johnson, who lives in his college stomping grounds in Las Vegas, hit sneaker boutique Packer Shoes in Teaneck, N.J. – a must-visit if you're in the area – to meet fans and celebrate the re-release of the Fila FX-100 on Thursday.
(Most remember LJ's Converse React Juice kicks from his Hornets days, with the Grandmama ads and the Family Matters episode, but he wore Fila as a Knick, and the FX-100 was what he used his first year in New York. I'm a Nike guy, but I liked these so much I picked up a pair on Thursday.)
Ten years after he threw up his final Big L sign, fans flocked to meet him at Packer, even those no doubt too young to have seen the four-point play in person.
There was a party atmosphere in the store; after getting their posters and sneakers signed, people hung out listening to Jay-Z, checked out sneakers and drank bottles of LJ's new drink, Grand Ma Ma's Sweet Southern Tea, which recently hit 7-11's around New York and California.
Meanwhile, LJ cracked jokes as if he had known everyone in the room for years, and signed Grand Ma Ma's Tea posters and sneakers, all the while still looking as if he could strap on the FX-100 and drop 20 on the Heat tomorrow.
Johnson's lasting popularity is a perfect example of what it can do for one's legacy to hit it big in the Big Apple, which LJ says he imparted to Amar'e Stoudemire when he was considering signing with the Knicks.
When they were going after Amar'e and he signed, I was able to talk to him. It was 2, 3, 4 minutes, but I was trying to tell Amar'e, 'Man, you come from Phoenix – great city, great state. But to play in New York City? To win in New York City, Amar'e? You've never seen anything like it.'

And I was trying to explain to him, and he's so young – but he ended up signing! – I was trying to explain to him, 'If you come here and win, everyone from around the world will understand you and know your name.' So if they were to win here and for them to bring that success back? New York deserves that.
So LeBron made a big mistake not coming to New York, right?
No. He did what was right for him.

I would have loved for him to have come here, I was campaigning for him to come here, because I believe he's a New York type of basketball player. I mean, that tenacity and that swagger he has, that's here. And it'd have been great for him, but maybe he didn't think so.

And I'll tell you this, I think LeBron liked that Dwyane Wade and Chris Bosh were over in Miami, instead of just Amar'e over here. So I think that two of that combination – I think LeBron didn't care whether it was Miami, I think he didn't care whether it was New York, he wanted to win and he thought he could win there.
I suspect the Knicks were far better off with the charismatic Johnson serving as an ambassador to Amar'e than they would have been with Isiah Thomas, whose alleged role in the proceedings was eventually debunked.
After all, if anyone exemplifies the benefits of embracing what New York has to offer, it's LJ. A career-threatening back injury in 1994 made the explosive phenom of UNLV and his early Hornets years a thing of the past. But the player the Knicks acquired for Anthony Mason in 1996 had savvy post moves, was a solid shooter and perimeter defender, and above all, proved to be a fantastic teammate.
Johnson became universally respected as a high-effort performer and team leader, with the pièce de résistance the infamous four-point play against the Pacers, which I'd imagine he doesn't go an hour without having someone ask about – including myself, and LJ's family.
"I have four sons and I catch them so-called doing homework, and they have that on [YouTube], absolutely."
The four-point play was such an amazing moment in time, and I've long wondered what it's like to have something like that as part of your personal history. How does it make LJ feel when he sees it?
It makes you smile. Right now I'm talking to you, or I go out on the street – I was in the Garden last night [for a Knicks-Celtics preseason game], they throw it up [on the big screen] and I say, 'Wow. I did that.' You put yourself outside of that to say, 'Man, that was unbelievable.'

But in the midst of the heat of the game, you're just playing ball. It's 10 years after I did that, and I'm more amazed now about it than I was then. Then, I was just going through the motions and trying to win a ballgame.
I'll never forget how the Garden sounded when that shot went down – positively electric. And I'll always respect the aplomb LJ showed, calming himself down after the three-pointer and sinking the pivotal free throw in a pressure-packed situation.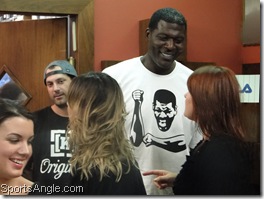 Full disclosure: I was an enormous LJ fan growing up. He just had that cool factor, with the gold tooth and the Grand Ma Ma ads and crazy dunks. I had his Hornets jersey, and when he was traded to the Knicks, that was essentially the equivalent for me of what it would have been like this summer if LeBron had come to New York.
And on top of being proud of what he was able to accomplish here as a player, it makes it even more gratifying to see that an athlete I spent so much time rooting for is simply a terrific guy. I'd met him once before about a dozen years ago, and came away with the same sentiment. He loves people, and he's wonderful with his fans.
Thankfully, in addition to his endeavors with his beverage company and sneaker companies, Johnson is still involved with the Knicks to a degree, working at youth camps and making speaking engagements, raising the organization's level of class.
LJ is a walking, talking embodiment of how adopting New York City as your own can enhance your legacy. And to be certain, it couldn't have happened to a better guy.
Man, New York is really the entertainment capital of the world, and it was unbelievable for me to play here. I tell people that all the time. LA's trying, Kobe and those guys are winning championships, but they're not NYC. I don't care how hard you try, New York is special compared to any one of the cities in the world.

And for me to play here, it was simply unbelievable.
Not to mention unforgettable – and not just for LJ.