Something new we're trying here – college football. Personally, I don't know very much about college football, though I watch it casually. Luckily, I've been put in touch with Nick, who appears to be somewhat of a gambling expert and picks the games by an e-mail newsletter every week. He's been doing this all season, but we're jumping on board now. I've been reading his stuff and like it, and his record's pretty decent, so here goes. We'll try to get him a permanent posting name and such soon, I found this in my e-mail when I woke up today so I'm kind of working on the fly.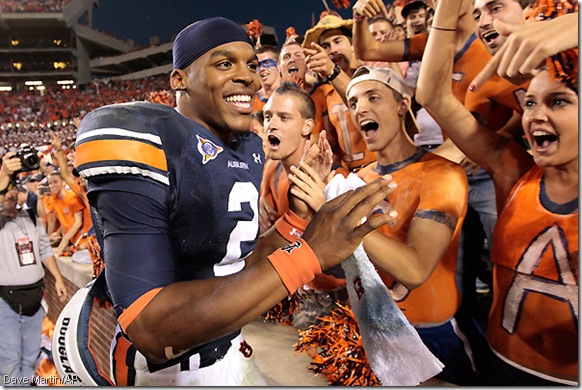 It took more time than we expected, but we're grooving heading into Week 8.  Our second consecutive winning week in a row still leaves us under .500 for the season, but gives us a renewed sense of optimism for the stretch run. 
The best move of our season so far has been jumping on the Michigan State bandwagon. Sparty was all tied with the Zookers at the half, but dominated the second half en route to a 26-6 win, taking control of their Big Ten destiny in the process. 
Our second winner of the week was Kentucky's exciting win against South Carolina. Gamecocks QB Stephen Garcia was predictably inconsistent, throwing an inexplicable interception with ten seconds remaining with his team within field goal range. 
The ugliest performance of the day comes from Lincoln, where Texas beat Nebraska outright. The Longhorns defense sent now former Heisman Trophy candidate to the bench during the second half amidst an awful showing.  The path back to respectability continues with the Week 8 picks…  
Last Week: 2-1
Season: 12-16
All-Time: 132-121-6
LSU at Auburn (-5.5), 3:30pm
We clearly don't believe in this LSU team.  They have major deficiencies that will eventually catch up with them and this is the week that it's going to happen.  As The Weekly advised much, much earlier in the season, Auburn QB Cam Newton is a special player.  The Florida transfer is currently at the top of almost every Heisman leaderboard while leading his Tigers to a perfect 7-0 start.  This LSU defense will provide the stiffest test for Newton this season, but Newton is currently the most dominant player in all of college football.  LSU CB Patrick Peterson is the best in the business at his position, but Auburn won't need to win this game through the air.  Auburn's fake-heavy run game includes a myriad of read-option and misdirection that will really challenge the LSU defense.  All Newton has to do is keep the LSU defense honest in the passing game.  The bottom line here is that LSU's lack of production from the quarterback position will not allow them to keep up with Newton and the Auburn offense.  Factor in the frenzied crowd at Jordan-Hare Stadium and we're looking at an 8-0 Auburn team.  Auburn 31-LSU 16.
Air Force at TCU (-18.5), 8pm
How is it possible that TCU is flying under the radar right now?  Their last three games: TCU 103 – Opponents 3.  That would be one field goal allowed in the past three games.  Air Force's one dimensional offense isn't a good match up for Gary Patterson's defense.  Add in the fact that starting FB Jared Tew, a vital cog in the triple option attack, is out with a broken leg and it might be a long day for the Falcons.  Let's not dismiss the other side of the ball because the Air Force defense has gotten progressively worse, while the TCU offense has been nothing short of prolific.  Air Force has allowed over 200 yards rushing each of the past three weeks, while the Horned Frogs' running game is pumping out an average of 254 yards per game. Look for TCU to hang another 35+ point effort as the Horned Frogs continue to cruise in the Mountain West Conference.
Kansas State at Baylor (-6.5), 3:30pm
We've been waiting for a spot to take Baylor all year, and they look ripe for the pickin' right now.  The Kansas State defense looked woefully slow against Taylor Martinez and the Nebraska offense, which bodes well for the Bears. QB Robert Griffin is a tremendous playmaker with lightning speed, while WR Kendall Wright is an absolute burner on the outside. The Wildcats are coming off a blowout win on the road against in-state rival Kansas.  College teams on the back end of back-to-back road games and teams coming off of wins against rivals are always prime candidates for let downs.  Look for Baylor's speed to be too much for a lethargic Kansas State defense.
Georgia at Kentucky (+4.5), 7:30pm
The Bulldogs have been a true Jekyll and Hyde story this season.  Between The Hedges they're 3-1 and outscored Vandy and Tennessee 84-14 over the past two weeks.  On the road though?  Different story.  No wins, three losses.  This Kentucky offense is really dangerous. QB Mike Hartline is a decent triggerman; he can be elusive in the pocket and has been completing almost 70% of his passes.  But the guy to really keep your eye on is WR Chris Matthews.  He went wild last weekend, making 12 catches for 117 and a touchdown.  At 6'5", 220 pounds he is an impressive athlete, one that can cause a defense lots of matchup problems.  Look for Georgia's Mr. Hyde to show up again, as they'll continue their poor play on the road.  We love our home dogs and as first year head coach Joker Phillips continues to move the Wildcats in the right direction Kentucky will pull off their second straight upset win.
Four winners and we're right back at .500… Let's do work.
As always, till next week…
Many Hundos.
-Nick