Here are my usual layman's thoughts on football. As always, I'll offer the disclaimer that I'm hardly an authority on the sport.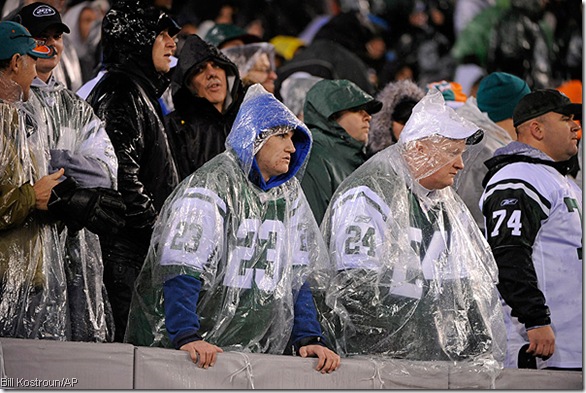 I went with some friends to a New York City barbecue joint on Sunday to watch the Dolphins-Jets game. When the final seconds ticked off the clock, I high-fived and celebrated with two fellow Dolphins fans, because even though the game was one of the worst in recorded history and our team's probably not going anywhere, you'd still rather see your team win than lose.
And, frankly, none of us have any love lost for the Jets, though don't get me wrong, that head coach of theirs is a real peach.
At that moment, some young socialite resplendent in a pink button-down shirt got up with his family to leave the restaurant. As he walked by us, he turned and spat out, "Well, they're not going to make the playoffs, anyway." Obviously, he was a scorned Jets fan.
We got a good laugh out of this – I mean, a pink button-down shirt? – but a little later, I started to wonder: When exactly do we lose our ability to forget the big picture and simply love our teams?
I'll admit to being prone to this myself. After figuring out a few weeks back that the Dolphins probably weren't going to go anywhere this season, I stopped investing myself quite as much. I've still been watching their games and following the team, but it was hard for me to justify putting as much passion as I usually do into a team that most likely isn't a contender.
It wasn't always like this. My senior year of high school was Jimmy Johnson's first season at the helm of the Dolphins, and I lived and died with every game, even after it was obvious that they weren't making the playoffs (they finished 8-8). I loved Jimmy, loved Dan Marino, loved rookies Zach Thomas and Karim Abdul-Jabbar.
When Thomas ran back an interception to beat the Titans, I went berserk. Never mind that they had improved to 6-5 and lost their next three games. And when I got Zach's autograph a few weeks later when I happened to be hanging out at the Dolphins' team hotel, it was like meeting the pope.
Every Sunday was like my own personal Super Bowl. I had a team, I loved that team, and hey – maybe they'd make the playoffs next year.
Now? Fourteen years later, I find myself shaking my head with disdain while watching a clearly befuddled Chad Henne throw another errant pass. Would I have backed Henne unconditionally as a high school senior? Most likely.
Is it really progress that I'm unable to do that now due to an influx of knowledge, more access to information and a dose of age-enhanced cynicism?
I remember a time when I used to make it a point to watch the Mets' last game of every season, simply because I wouldn't have the opportunity to watch another game for about six months. (Without getting too in detail about the job I have now, the offseason can't possibly last long enough anymore.) And once in a while, I'd be rewarded with a 19-strikeout game from David Cone.
Where does that impetus go?
It's not such a bad thing that I have much more going on in my life now, making my sports teams less crucial in my day-to-day affairs, but I long on occasion for the sheer wonderment of it all, back when a Dolphins victory would actually make me proud and way before I fully understood that a lot of these guys were scumbags.
But I guess that's the natural order of things. At some point along the way, the Spider-man and Batman action figures that long captivated my interest failed to anymore, replaced by video games, and then by the Internet. You can't pinpoint exactly when that happens, it just does. You'll always love the hobbies and interests you've loved, but as time goes on, you often love them pretty much solely in retrospect.
I'm still a Dolphins fan, and I still enjoy watching them on Sundays, just not as intently.
And if there's something to take from this, maybe the fact that I don't have quite the affinity I once did only serves to remind me about the great experiences I had back when I did. And I guess in the grand scheme of things, as we continue to press forward, a healthy dose of nostalgia creates a very reasonable facsimile of how things used to be.
*****
Having lived in North Jersey virtually all of my life, I've long been fascinated by the Jets' yearly collapses. Despite not possessing the same moral compass, I identify with Jets fans, given the self-loathing and nihilism instilled in me by the two New York teams I root for. It's just incredible that like clockwork, the good never stays good for the Jets. Part of that is that after years of habitual failure, the roof caves in faster than ever. Other teams can lose games, and it's not the end of the world. With the Jets, their losses are rather spectacular, and they don't recover well. Don't get me wrong, I never bought into this team in full, mainly because I don't think Mark Sanchez is the sort of player that wins championships. Sanchez has talent, but drafting a SoCal guy to play in Giants Stadium even seemed like a shaky idea at the time, much less now. The Jets needed someone like Ben Roethlisberger – at least on the field, rather than someone like Joey Harrington. Regardless, they never had a shot at beating the Patriots two weeks ago, but they should have beaten the Dolphins. They have a real good shot at losing to both Pittsburgh and Chicago on the road, which would make them 9-6. It's tough to imagine rooting for a team that no matter how good things are, you're constantly waiting for the other shoe to drop, but that's how the Jets are. Jets fans looking for catharsis get confident, almost cocky, when things are going right. If I were a fan, I'd be damned if I didn't simply wait and see how things work out, no matter how things happen to look at a given time.
I have to admit that I joined the chorus who didn't understand the rationale behind the Patriots trading Randy Moss midseason, but as usual, Bill Belichick was playing chess while the rest of us were playing checkers. We all saw in black and white that Tom Brady was losing what had to be his most dangerous target. What we failed to recognize is that Moss is an aging malcontent, and that the difference in the Patriots' offensive mindset is palpable. Without Moss sucking up targets and attention, taking up space even when he's a decoy, Brady is free to pick teams apart over the middle, waiting for quick cuts from Wes Welker, Danny Woodhead and Deion Branch. It's obvious Branch is solely a system guy, but there's nothing wrong with that provided he's in the right system. I probably shouldn't, but I admire both Brady and Belichick, and getting far better results after trading a Hall of Fame receiver when everyone else thought that was nuts is the reason why.
As a Michael Vick fantasy owner, it's obviously been a great ride. He's already won me and my partner $400, with the potential for much more as we're in the semifinals of the playoffs. But I fear an Aaron Rodgers situation coming on. Vick took three massive hits in the first half alone this week, and the Cowboys don't exactly bring the pressure that the Giants will. The Giants had left a string of battered quarterbacks in their wake, and given the Eagles' line and Vick's penchant for taking punishment, I fear his ability to finish Sunday's game, much less win it.
*****
Here's my personal Top 10 this week. Only really four or five teams I like a lot.
1. Patriots (11-2) (LW: 1) – Without elite defense, still looking like the best.
2. Falcons (11-2) (LW: 2) – I love Jake Long. But imagine if the Dolphins took Matt Ryan…
3. Steelers (10-3) (LW: 5) – Here's the problem: Mendenhall looks shot. RBs are fragile.
4. Saints (10-3) (LW: 6) – Six straight, and should do well against weird Ravens team.
5. Giants (9-4) LW: NR) – Run game, pass rush should set tone vs. Eagles. Should.
6. Ravens (9-4) (LW: 8 ) – Held off a furious Texans rally. Flacco not that impressive to me.
7. Eagles (9-4) (LW: NR) – Defense not as good as advertised, but offense is dynamic.
8. Jaguars (8-5) (LW: NR) – Garrard is weak to me, but running game could down Colts.
9. Bears (9-4) (LW: 9) – Here for their record, but flimsy at best.
10. Jets (9-4) (LW: 3) – Possibility remains they stop the bleeding, but not looking good.
*****
Here are 3 picks for Week 15.
LW: 2-1 (Hit Falcons, Bears; missed Bills)
Season: 20-12-1.
1. Texans +1.5 at Titans – Andre's going to want to destroy that Cortland Finnegan clown.
2. Falcons (-6) at Seahawks – Lot of points to lay on road, but Seattle got smacked by 49ers.
3. Cardinals (+2.5) at Panthers – Arizona just scored over 40, which is good enough for me.