Due to a day trip to Sugar Loaf, N.Y., I missed The Weekly until just now. You'll have to take my word for it that this came in before the Army-Navy game, especially since Nick just about nailed the score on the nose. Looking forward to his bowl predictions!
In terms of "The Afternoon After/Before," the Winter Meetings (day job) and Kyrie Irving's toe injury torpedoed that this week. Look for it early next week after this weekend's games.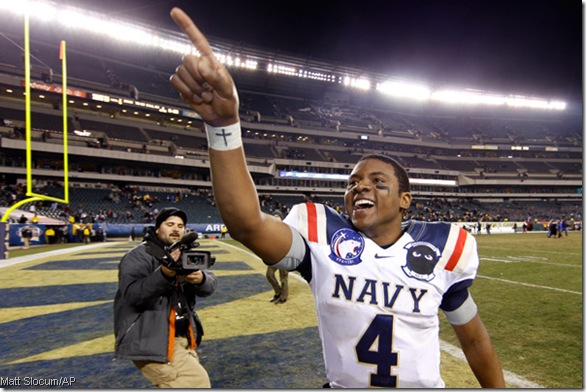 The two-week hiatus was apparently just what the doctor ordered.
West Virginia beat Rutgers for the 16th straight season behind 352 yards passing from QB Geno Smith.  A 21-point second-half effort from the WVU offense put us on the right side of the half-point hook.
Now, all the Mountaineers needed for a BCS bowl berth was a South Florida win over Connecticut. Unfortunately for West Virginia, The Weekly had Connecticut and we weren't going to be denied. The Huskies claimed their first-ever BCS bowl with a 52-yard field goal in the waning seconds in Tampa, giving us another win. 
Rounding out the 3-0 week was Oregon's BCS Title Game clincher at Oregon State.  The three wins put us on the doorstep of a profitable season — something that seemed unlikely at the midway point.  On to our traditional Army-Navy pick…
Last Week: 3-0
SportsAngle record: 11-5
Season: 23-21
All-Time: 143-126-6
Navy (-7.5) vs. Army, Philadelphia, Pennsylvania, 2:30pm
Army has had something of a renaissance season, but don't let their record fool you. The Black Knights' signature win this season is over 5-7 Kent State, not exactly something to write home about. 
Meanwhile, Navy has rolled off their seventh straight season of eight or more wins. With a couple of bounces here and there, the Midshipmen could actually be 11-0. Their three losses have come by a combined total of 14 points.
Since losing to Air Force on October 2nd, the Naval Academy's offense has been on fire. They've scored at least 28 points in each of their past seven games and at least 31 in their past five contests. Mix in a 76-point outburst in their win over East Carolina and you're looking at a scary offense. After not playing two weeks ago, senior QB Ricky Dobbs had a great game last week against Arkansas State, carrying the ball 31 times for 154 yards.
Look for this Midshipmen offense to continue to click as they go on to beat Army for the ninth straight season.  Navy 38 – Army 17.
Heisman ballot and Top 12 still to come…
-Nick