After a brief reprieve, Nick Benvenuto and The Weekly are back with a vengeance. Considering the nothing I know about college football, I'm glad to have him back.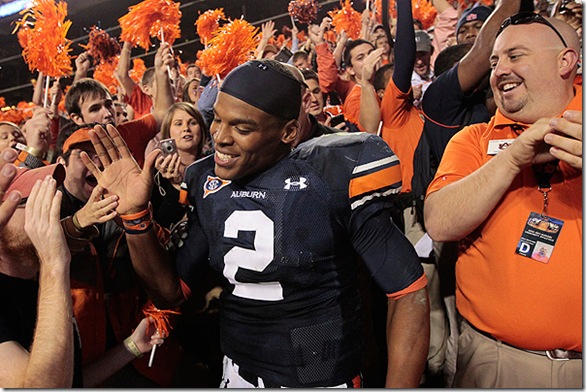 Thanks to a pair of unexpected weekend scenarios, The Weekly took a bit of a hiatus.  As I've said in the past: no article is better than a half-assed article.  But don't worry, we're back for the stretch run. 
It's amazing how things can change in two weeks, but the college football landscape isn't the same as we left it. Boise State's improbable run to a National Championship has been derailed by two shanked chip shot field goals.
Top ranked Auburn's Heisman-leading quarterback Cam Newton was declared ineligible. The notoriously slow moving NCAA miraculously found a way to overturn the Newton decision in just one day, furthering the idea that the NCAA does not want TCU to play in the National Championship game. 
Speaking of the Horned Frogs, they were a member of the Mountain West Conference when we left you, now they're the newest member of the Big East.  There's a new twist every week in this sport, and we don't think Championship Week will be any different.  On to the picks…
Last week: 1-2
SportsAngle record: 8-5
Season: 20-21
All-time: 140-126-6
Rutgers at West Virginia (-20.5), noon ET
Oh, what happened? Rutgers stinks. On top of the fact that the Scarlet Knights have returned to its pre-2006 levels, West Virginia has absolutely owned Rutgers. It literally took 10 minutes of searching the internet to find the last time Rutgers actually beat West Virginia — try 1994. 
And it's not like they discontinued the game after that either. The Mountaineers have beaten Rutgers in 15 consecutive seasons, and many of those were blowouts. Even in the Mountaineers' worst seasons they pounded on Rutgers. In WVU's 3-7 campaign during the 2001 season, they beat Rutgers, 80-7. 
Over their past two games, Rutgers has allowed 109 points. They completely mailed in the Louisville game, allowing 40 points – and that's only because Louisville was merciful. Rutgers is 2-9 against the spread, losing their last five in a row. When Rutgers has the ball, look for the nation's No. 3 defense to feast on one of the worst offensive lines in the country. West Virginia's speed in the offensive backfield and on the edges will create lots of big plays as they lead the Mountaineers to another blowout of Rutgers. 
West Virginia 49 – Rutgers 13
*****
Connecticut (+2.5) at South Florida, 8 p.m.
UConn is a win away from a BCS game. (That sentence was painful to write, TCU can't get here soon enough.) The Huskies' ground game has turned it on during the stretch run. Junior RB Jordan Todman has run for at least 100 yards in nine of the 10 games he's played in this season. His past three games have been outstanding, going for 222 yards against Pitt and another 175 yards last week against Cincy, putting the Huskies on the doorstep of their first Big East championship. 
On the other hand, South Florida has really struggled moving the football recently.  They haven't amassed 300 yards of offense in any of their past three games and starting QB BJ Daniels is officially listed as questionable.  Look for the Bulls to continue to have offensive difficulties, while the Huskies' running game moves them into the Orange Bowl. 
Connecticut 23 – South Florida 16
*****
Oregon (-16) at Oregon State, 3:30 p.m.
This Oregon team is on another level right now. They average 541 yards of offense per game. They score 50 points per game.  They allow just 15 points per game. There's no evidence to support the idea that Oregon State can put up a legitimate fight here. This is a team that allowed Washington State to win a Pac-10 game for the first time in a couple of years, and they're coming off a 38-0 blitzing at the hands of Stanford.
Don't be surprised if the Beavers come out guns blazing and make it a competitive first half, but Oregon is going to wear them down. The Ducks have scored 256 second-half points during their 11 games, which is nothing short of amazing. This group of Ducks are poised to win a National Championship, and Oregon State simply isn't equipped to hung in for all 60 minutes with them. 
Oregon 47 – Oregon State 20
*****
We'll be back next week for our favorite column of the season – the Army-Navy pick, The Weekly's final Top 12 and Heisman ballot.
After next week, I'll be posting periodic bowl picks on www.sportsangle.com … Hopefully you'll follow us all the way through the National Championship game!
As always, till next week…
Many Hundos.
-Nick