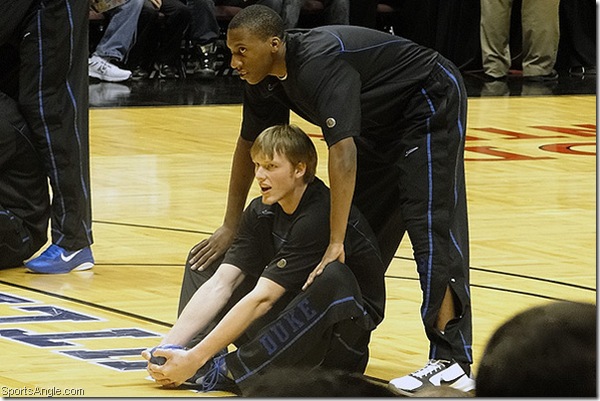 Four years ago, following Duke basketball's weakest season since I enrolled there in 1997, my dad and I got really excited about the potential of the team's incoming freshman class.
In late 2007, right after my second marathon, my dad — who isn't really a sports fan, but got into Duke basketball when I started there — surprised me with Beckett-graded basketball cards he had won on eBay of Nolan Smith, Kyle Singler and Taylor King in McDonald's All-American jerseys. We arranged the cards under the glass of my coffee table with some other Duke cards we've collected over the years, a sort of makeshift micro-Hall of Fame.
And we began to follow their careers together.
I think Mike Krzyzewski put it best last night that the toughest thing about the NCAA Tournament is that all but one team is going to lose their last game of the season.
It makes it even tougher to swallow when a kid you've watched grow as a player is graduating, which of course has become rarer and rarer.
One minute, you're rooting hard for a guy you've loved and developed a vicarious relationship during his formative years. The next, it dawns on you — and even worse, on him — that it's the last time he'll be playing in your school's uniform.
*****
I'd seen Smith play in high school, talked to him a little, liked him a lot. When I met him, he was a junior on a powerhouse Oak Hill team overshadowed by, among others, brash and outspoken senior Ty Lawson. Nolan, by comparison, was soft-spoken with a shy smile, not yet the outgoing and outspoken social media maven and fan favorite he would later become.
After adoring his game in high school, I remember having such high hopes for Nolan during his first two years at Duke, which were tough for him and on him, even to the point of considering a transfer. That made it all the more gratifying when he blossomed into such a magnificent player the past two years, winning a national title in the same city his late father did.
An equally soft-spoken Singler was one of those freshmen who was really good right away, belying his lack of experience with a sweet jump shot, a great court sense and a world of toughness. I still remember him as a freshman going right at Tyler Hansbrough in Chapel Hill, putting him on his hip with a slick spin move to the basket.
Singler was one of those guys who never took the leap to college superstardom, merely being very good for four years. He did, of course, win Most Outstanding Player at last year's Final Four, playing magnificently when it mattered the very most.
Things obviously haven't gone as well for King, who didn't play much his freshman year, transferred to Villanova, flamed out there, and hasn't gotten his feet under him. For a kid who originally verbaled to UCLA as a high school freshman, it seems it was too much, too soon.
But my father and I watched Smith and Singler become two of the most successful players in Duke history.
You always want to see them have that storybook ending, which in reality they did, just a year before they graduated. But last night's blowout loss to Arizona, in which Singler was solid but Smith just couldn't get going, doesn't seem fitting for the curtain to fall on either kid.
That's the great thing about the Tournament, and also the brutal thing. You (and the players) get all fired up for a game that might very well be the final one of the season.
I wanted Singler and Smith to go out like Jon Scheyer did last year. My dad still gives me chills recalling how after Duke won the ACC Tournament, some reporter asked Scheyer if it was the highlight of his Duke career, and he cryptically responded, "It hasn't happened yet."
But it obviously doesn't always work like that, and I'd seen this before with the Jason Williams team in 2002. It's extremely tough to win it all once, and near impossible to repeat. You need just the right mix of talent, exactly the right chemistry. And just maybe, the fire just doesn't burn quite as hot on the second try.
*****
With the exception of Derrick Williams, I don't think Duke was necessarily defeated by a more talented team in Arizona. That said, Williams was stupendous, Momo Jones was nails, and after taking Duke's best shot and hanging in there in the first half, Arizona just blew them away in terms of intensity in the second half.
I think Duke was shook after playing an excellent first half, and yet only having a marginal lead. Mike Krzyzewski admitted as much during a rare halftime interview, when he called Williams "the difference in the game," despite the fact that Duke had a six-point advantage.
It happens. They just got beat. And outside of Duke, my teams lose all the damn time. It's safe to say I'm used to it by now.
It's far more bittersweet to watch Singler and Smith come to the end of the line than to watch the loss itself. It's not that I'd want them to stay in college forever, but it sort of crystallizes in my mentality the true nature of the passage of time.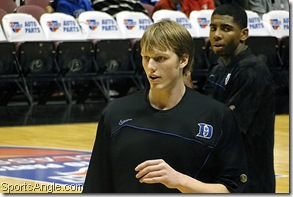 I've said this before here: One of the great ironies in life is that the older you get, the more you want to hold on to the sand in the hourglass, and yet it slips through your fingers that much faster. It feels like a very long time ago that I watched Singler get to the rim against Hansbrough — but then, there's still that feeling of, "Where did the time go?"
As my college years continue to fade in the rearview mirror, getting in on the ground floor with Singler and Smith represented a connection I was still able to make with a school that had once been a very big part of me.
And through these past four years, I watched a lot of those games with my dad, or called him to discuss them afterward if I watched them at work. Our interests are quite different; lord knows I don't hunt or fish, and my job has me focused on a sport other than basketball much of the time. But as we both grow older — I'm 31, he'll turn 69 in June — I honestly think I still care as much about Duke as I do in large part because he does, and because it's something we can share.
When I look back on this four-year chapter for Duke basketball, I'll remember Singler diving over Dick Vitale last year, and Nolan Smith slapping five with Krzyzewski after draining a three against Baylor.
But moreso, I'll take with me so many nights spent watching the two of them play relatively ordinary games against Miami or Wake Forest or whoever — sitting on the couch with my dad.
I really think that's pretty much what life's about. We constantly go in search of new challenges, in the name of creating new moments and memories, a Quixotic and yet totally worthwhile quest.
And we forever cherish the moments and memories we've already made.
Best of luck, Nolan and Kyle.