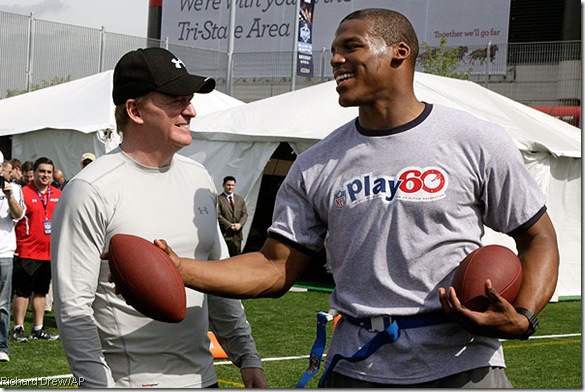 I got a call today from Sig, a longtime friend of SportsAngle, who offered up his NFL mock draft services for the site. I wasn't planning to run a mock draft here since I don't really watch a whole lot of college football — and there are always so many trades and such, I think it's impossible — but I saw no downside to using Sig's first-round mock. Conversely, the upside is he gets a decent amount of these right and it looks like we know what we're doing here.
What qualifies Sig to be SportsAngle's version of Mel Kiper? Well, he watches a ton of both college football and the NFL. That's basically the equivalent of the qualifications I consider myself to have in order to do NBA mock drafts, so that's good enough for me.
Plus, he gave my beloved Dolphins another guy named Mark Ingram, and they did pretty well with the first one. I'll be honest, I don't know a whole lot of the guys he listed down there, but provided Miami doesn't draft Pat White again, I think I'm okay with whatever they do.
Note: We didn't have time to put together any commentary on the picks, but I'll keep tabs on how he does, and I'll try to get his opinions on things after the draft. And let this serve as a reminder that I gladly take guest submissions on SportsAngle, especially when it's about something I have little to no knowledge about.
Sig's picks after the jump:
1. Carolina Panthers — Cam Newton, QB, Auburn
2. Denver Broncos — Marcell Dareus, DT, Alabama
3. Buffalo Bills — Von Miller, LB, Texas A&M
4. Cincinnati Bengals — Blaine Gabbert, QB, Missouri
5. Arizona Cardonals — Patrick Peterson, CB, LSU
6. Cleveland Browns — A.J. Green, WR, Georgia
7. San Francisco 49ers — Robert Quinn, DE, North Carolina
8. Tennessee Titans — Nick Fairley, DT, Auburn
9. Dallas Cowboys — Prince Amukamara, CB, Nebraska
10. Washington Redskins — Jake Locker, QB, Washington
11. Houston Texans — J.J. Watt, DE, Wisconsin
12. Minnesota Vikings — Corey Liuget, DT, Illinois
13. Detroit Lions — Anthony Castonzo, T, Boston College
14. St. Louis Rams — Julio Jones, WR, Alabama
15. Miami Dolphins — Mark Ingram, RB, Alabama
16. Jacksonville Jaguars — Aldon Smith, DE, Missouri
17. New England Patriots — Ryan Kerrigan, DE, Purdue
18. San Diego Chargers — Cameron Jordan, DE, Cal
19. New York Giants — Tyron Smith, T, USC
20. Tampa Bay Buccaneers — Da'Quan Bowers, DE, Clemson
21. Kansas City Chiefs — Nate Solder, T, Colorado
22. Indianapolis Colts — Gabe Carimi, T, Wisconsin
23. Philadelphia Eagles — Jimmy Smith, CB, Colorado
24. New Orleans Saints — Adrian Clayborn, DE, Iowa
25. Seattle Seahawks — Derrek Sherrod, T, Mississippi State
26. Baltimore Ravens — Aaron Williams, CB, Texas
27. Atlanta Falcons — Mike Pouncey, OL, Florida
28. New England Patriots — Brooks Reed, LB, Arizona
29. Chicago Bears — Marvin Austin, DT, North Carolina
30. New York Jets — Phil Taylor, NT, Baylor
31. Pittsburgh Steelers — Brandon Harris, CB, Miami
32. Green Bay Packers — Cam Heyward, DE, Ohio State