When I heard about the Angels attempting to get into the Guinness Book of World Records for most assembled people wearing Mexican-style wrestling masks earlier this month, I was unsurprisingly mystified. After all, such a night combines quite a few things I'm into: Masks, wrestling and wackjob baseball promotional nights.
Prior to this, I'd only known one person who'd worn a Mexican wrestling mask at a baseball game: my friend Tommy. A few years back, a bunch of us went to a Mets-Dodgers game at good old Shea Stadium on Sunday Night Baseball, and Tommy happened to have the mask with him for some reason. In an effort to get on camera, we coerced him to wear it for the majority of the game.
It was pretty great, but we didn't get on camera. The only other thing I remember from the game is that David Wells improbably bunted for a base hit.
*****
Anyway, I couldn't go to Angels Stadium myself, since I live in New Jersey. But I was intrigued — though not quite surprised — to hear that living 2,400 miles away wasn't an issue for my friend, baseball aficionado Rick Gold, who had been planning a trip out there to attend a bunch of games.
Rick usually just goes to games on the East Coast — last season, he had to be the only New Jersey resident in history to possess an Orioles miniplan — but he hails from California and is a diehard A's fan. He went out West to see his favorite team a half-dozen times or so, but if you happen to be in the state when they have Mexican Wrestling Mask Night at Angels Stadium, it's pretty much your obligation to go.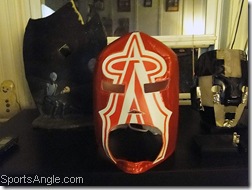 When I found out Rick was actually going to attend this blessed event, I started bugging him to bring me back an Angels wrestling mask. When I was in Mexico, I ended up doubling their GNP with the various skulls and stuff I bought, but the one thing I somehow didn't elect to bring back was a wrestling mask, despite a wide assortment in every store.
In Mexico, they had masks designed to look like Spider-man or Batman, and masks that exactly mimicked the ones Rey Mysterio wears. And they also had masks adorned with American sports team logos. I could picture some Angels executive taking a trip to Mexico, seeing one of these things after enjoying some tequila and perhaps some peyote, and bringing it up in some boardroom.
My ardor intensified when I watched the broadcast of the Angels world record game from my desk at work, and sure enough, there were thousands of red-blooded Americans taking advantage of their God-given right to wear a Mexican wrestling mask at a baseball game.
*****
Rick did end up getting me a mask, which only led to me asking him a ton of questions.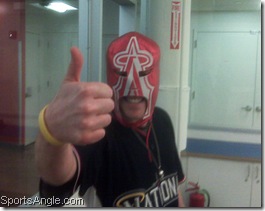 Such as… did he wear it?
"I did not put the mask on," Rick said. "The deal for the world record was people had to wear the mask for 10 minutes. If we only had to put it on for 30 seconds between innings, I would have humored them and put it on. But I was there to watch the game. I wasn't wearing that mask while the game was happening."
Rick, obviously, is a baseball purist. But I get where he's coming from, having (immediately) tried on the mask; they don't really design these things for maximum visibility. Conversely, I have to think someone like Rey Mysterio will make sure that the eye holes are sufficient enough for him to not do a backflip into a bunch of folding chairs, unless it's intentional.
The mask itself is fire engine red with a huge Angels logo emblazoned over the face, kind of like how you see hockey goalies integrate the team's logo into the helmet.
The promotion was sponsored by a Hispanic Cheese company called "Cacique," who bought the right to have their logo on the back of the mask. The mask had the traditional shoelaces to keep the back of the mask tied, and seemed to be made out of a material one step more substantial than shiny gift-wrapping paper.
The design honestly ended up looking sort of cool, while still quite easily managing to be totally ridiculous.
*****
In what likely won't be a shock, I've taken part in a similarly bizarre Guinness World Record.
Last October, I participated in the world's largest gathering of zombies on the boardwalk in Asbury Park. I think it's self-explanatory, but in case it's not — or even if it is — you should really check out the NJ Zombie Walk web site.
I think the coolest thing about doing something like that is looking around you and seeing a ton of people doing something just a little wacky, something you wouldn't normally see on a boardwalk — or obviously, at a baseball stadium.
"I've never been to a game with a promotion like this," Rick said. "The A's do some clever things, but it's usually baseball related in some way. Like my Bobby Kielty troll doll and throwback A's alarm clock on my desk, and once they gave away orange baseballs as a tribute to Charlie Finley. They also do a Root Beer Float Day once a year with players and celebrities serving the root beer floats for fans, with tips going to charity.
"Of course, the A's are also doing an MC Hammer bobblehead this year. So that should be interesting."
I found this whole thing great, because I've long lamented that teams are so afraid of criticism in a Twitter society that they've become highly sterilized, especially in New York. The Yankees wouldn't do something like this because it would potentially constitute fun. And the Mets… well, they have other concerns at the moment.
I've seen people criticize Angels Wrestling Mask Night as conformist and banal. I mean, it can't possibly be nearly as conformist as sitting stiffly at Yankee Stadium in a suit and half-hearted Yankees hat, rooting for the baseball equivalent of Microsoft.
But I digress… though Rick didn't participate, he enjoyed the spectacle. And even for a guy who goes to a whole lot of baseball games, it was a treat to experience something new.
"It definitely was a sight seeing so many people in the masks," Rick said. "I wasn't the only one abstaining. In my section and the couple sections next to me, there were probably a dozen people not wearing them. But it was enough people that it looked like some kind of alien invasion with all the identical masks in the stands."
Any time you can go to a baseball game, stumble into the middle of a Guinness World Record and an alien invasion breaks out?
I would consider that evening an unqualified success.