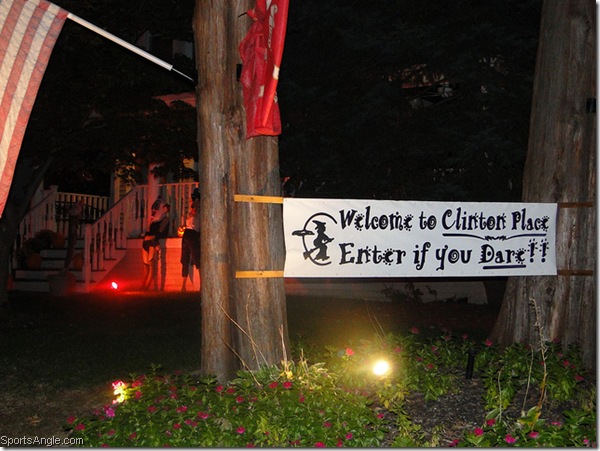 As you may remember from last year, when we talked horror movies, Halloween is a special time around here. Honestly, it's the only holiday I truly like. (New Year's is okay.)
But I don't really get into the drunken nonsense this holiday has become for most people. Most parties are just an excuse to get hammered, which to me, isn't really what the holiday is about. I think it's the one time of year it's totally acceptable to enjoy the macabre and become something different from what you actually are. (Or let your true colors show. I generally transform myself into some weird vampire with a Freddy glove)
In that spirit, if you're in the New York/New Jersey area, I highly endorse that you check out Clinton Place in Hackensack, N.J., about 10 minutes from the George Washington Bridge. Put it in your GPS and take Route 4 West over to the old Bergen Mall, it's a few blocks from that.
After all, New York City is just a mess. I was in the City last year, and every fourth dude was dressed as Alex Rodriguez and acting like complete meatheads. This year, they'll all be that Situation guy. And at the risk of sounding like A.C. Green, I don't really get into women dressing like harlots for the sake of doing that. I prefer women who truly get into the spirit of the holiday, not ones who put on some bunny ears or something and that's it.
So if you're looking to get into the spirit of the holiday, or are looking for a family outing, hit up Clinton this weekend. It stands up to virtually any pricey haunted house, but it's free. Every house on the block decorates for Halloween – I mean, hardcore. These people have coffins and guillotines – but there's also family-friendly fare such as houses themed as the Wizard of Oz, Finding Nemo and my personal favorite, Little Shop of Horrors.
You can go during the day, but it's far better at night when everything's lit up. But either way, this is something you can do for not a whole lot of money to get in the spirit of Halloween, it's safe, and it doesn't contribute to the bastardization of the holiday – the way most holidays are treated at this point. Some images are below, but you really need to see it in person.
And with that, I'm off to a Zombie Walk. (It's what it sounds like)
To all our friends, have a Happy Halloween and play it safe out there.