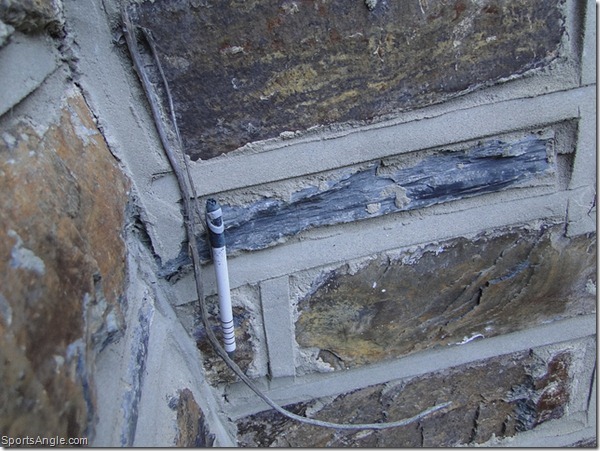 Right before Christmas, I flew down to North Carolina to visit Duke, something I'd previously done five times since I graduated in 2001. Though a lot remains unchanged in my life since my last trip three years ago – same job, same apartment, same obsessive sneaker collection – I've since met my future wife, which qualifies as a very significant positive change.
When we stopped for a snack at the general store adjacent to my freshman year dorm, a couple of wide-eyed freshmen, still shell-shocked from their first final exams, asked me what had changed about Duke in the thousand years since I'd been a student, and it got me to thinking.
Most of what jumped out at me was cosmetic. The big stone walkway to the student center now features various sets of furniture; when I was there, it was simply a walkway and nothing else. Mike Krzyzewski also apparently commissioned an entire museum attached to Cameron Indoor Stadium, which looked remarkably similar in décor to his home office.
But for the most part, as I gave my fiancée a tour of the landmarks that defined my college years, not a whole lot seemed different. The enormous and beautiful chapel still loomed regally, while my old dorms looked pretty much the same. The radio station at which I conducted interviews with Elton Brand and Shane Battier looked frozen in time, down to the "Nas is coming" sticker on the door to the studio to promote 1996's It Was Written.
We also attended my first basketball game since I was a student, a run-of-the-mill exam break blowout of UNC Greensboro which served dual purpose: I interviewed Austin Rivers for Dime, and my most recent game in Cameron was no longer a Senior Night debacle against Maryland in which Carlos Boozer broke his foot.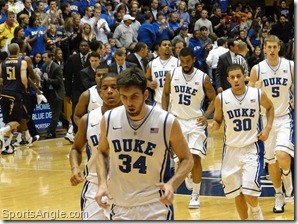 Certain things about Cameron had changed, and not necessarily for the better. A trumped-up Knicks-style introduction on the new video board was subtraction by addition, as was the loud music blaring on the PA. Of course, I couldn't have expected things to remain as they were when I was a student, back when I was still a good two years from sending my first text message.
And when it came down to it, Cameron hadn't changed all that much. The 2001 championship banner I watched unfurl from directly beneath it in the upper deck was still right where I left it. Coach K walks out the same entrance he always did. The band plays on.
Walking through Clocktower Quad toward Cameron Indoor that night, I could vividly picture making that exact walk countless times as a student, never believing for a second that those weren't the best years of my life, and swearing that I would never let myself take them for granted.
*****
I've noticed that the groupthink on nostalgia has rendered it somewhat taboo. I often see nostalgia referred to as a dirty word, a sign of weakness – not something you explore, but something you lapse into.
I obviously don't ascribe to that all or nothing theory. I branch into nostalgia here from time to time, looking back on cherished things or experiences in my life, and I've never figured that for a character flaw or anything.
I do understand the reticence toward sentimentality, since as a general practice, living in the past is a dangerous concept. We all know people who continue to pine for a lost love way too long after that flame was snuffed out, at the expense of healing and progress, who haven't learned from their past painful experiences.
Admittedly, if we live through them long enough, our memories become excessively lionized. To believe that one point in time was as good as it gets is to dismiss the reality that life simply gets sweeter as we age. As Incubus wryly put it, "There's no such thing as the good old days. The older we all get, the better we all were."
Yet, I don't find anything wrong with taking a few minutes to look back on the wonderful things we leave in our wake as we unflinchingly head toward where we end up. Our experiences and memories don't just dissipate a la Memento. They're forever a part of us that we can and should draw upon when we need to, or when we want to.
Incubus: Still totally awesome
This is why we do things – not just for the experience at the time, but for the knowledge that we've done them.
I consider it a golden opportunity when I can revisit my old stomping grounds and visualize the person I was back then, primarily for a base of comparison. College life was idyllic, a truly amazing time for me; I nonetheless unequivocally prefer where I'm at now.
In a similar vein, I truly enjoyed showing my fiancée around Duke, and it was a blast to watch some wrestling with the newest member of one of my best college friend's families.
But after four days, I was more than ready to head north to resume exploring new horizons.
*****
When I was a junior and senior, I did the majority of my studying in a building they called "Old Chemistry." They'd long since built a state-of-the-art chemistry building, leaving this relic to house the German and statistics departments, stuff like that. Nobody else ever came there and the couches in the lobby were comfortable, so I'd set up shop and read in peace.
One night, the pen I was using ran out of ink. I'm not quite sure what thought process went into this, but I decided to clip it to a vine attached to the building outside a second-story bathroom window. When I graduated a few months later, it was still there.
With a bit of trepidation, I went to check two weeks ago. Sure enough, despite all the rain and wind over the past 10 years, the pen – now completely drained of color – still clung to that vine. I instinctively reached out and touched it, and when I did, the vine crumbled and the pen fell into my hand.
I found it incredible that the pen was still right where I left it, somehow hanging on to that vine after all that time. But a decade later, I guess it was finally time to let go.