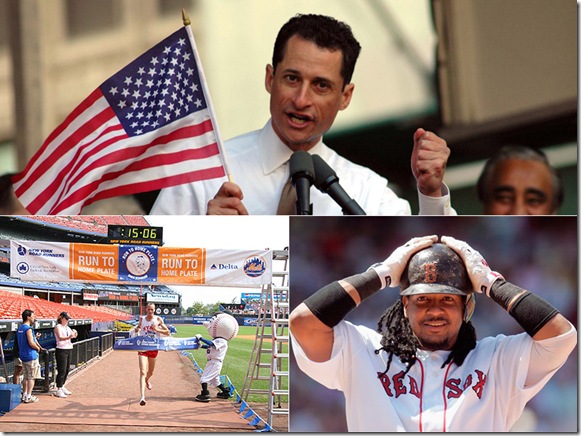 The one time I met Anthony Weiner in person was in the Shea Stadium parking lot the morning before the Trade Deadline in July 2005. At the time, he was stumping for a mayoral bid.
"It's true," Weiner said with an air of certitude to a group of constituents. "The Mets have traded for Manny Ramirez, and they're going to have a press conference at noon."
Obviously, Rep. Weiner is about as reliable with baseball news as he is with his dalliances on the internet.
*****
I'm getting ahead of myself a bit, though.
Hearing about Weiner's travails brought me back to that summer of 2005, when I met him while pursuing a longtime goal of running my first marathon. I set my sights on the 2006 New York Marathon, and I had to run nine races the year before to qualify.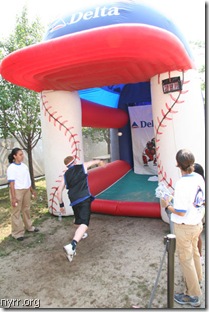 New York Road Runners held these qualifiers on Saturday mornings at like 8 a.m., and I had a primarily late-night job at a sports web site, so that wasn't an ideal arrangement. I'd work until 3 or 4 a.m., crash for literally a couple hours at a friend's place in the city, run a race (most were in Central Park), eat, nap for an hour or two, and go back to work.
I followed that routine four weekends in a row that July. I did end up qualifying for the marathon, which was probably more of a challenge than actually running the damn thing.
The last of those four qualifiers was the highly anticipated "Run to Home Plate 5K" at Shea Stadium. The course ran from the Shea parking lot down to where Arthur Ashe Stadium and the World's Fair globe are. You ran into Shea the same way a reliever might while running to the mound, continued along the warning track, and the finish line was behind home plate.
After the race, they had some activities sprinkled around the stadium. The only one I actually remember in particular was a radar gun to test your arm. (I threw about 60 mph, then 5 mph slower for each subsequent throw.)
Honestly, it was pretty awesome. I had never been on the field at a big league baseball stadium, and after finishing the race with a flourish by leaping into Mr. Met's arms — I can only assume he was horrified, though his facial expression didn't change — I got acquainted with Shea from a perspective I hadn't enjoyed before.
I knelt in the outfield grass. I rubbed some of the warning track dirt between my fingers. I leaped up and stuck my glove up over the left-field wall as if I was robbing a home run.
And I looked up from the field at the mezzanine just to the right of home plate, where I sat for my first game back in September 1989.
As the third year of Citi Field grinds on, I've mostly come to grips with the demise of Shea, with all those memories I had there. But thinking back to that morning, and how cool it was to have free reign over the place and get back in touch with the ghosts of defining moments past, I wonder if I'll ever feel the same about Citi as I did about good old dilapidated Shea Stadium.
At this moment, I can't possibly imagine I will, though you never know.
For the time being, though? I wouldn't mind if they brought back the "Run to Home Plate." I'd like the chance to get acquainted with the Mets' new home from the best perspective there is.
Besides, Subway was the main sponsor, and I miss those free sandwiches.
*****
With the Trade Deadline looming that weekend, there were indeed unfounded rumors flying all around that the Mets had acquired Manny from the Red Sox, or were about to.
The worst culprit here was the odious Michael Kay, who claimed during a Yankees game that a certain website was reporting that the trade had gone down. Considering he was citing the website I worked for, and that we were not in fact reporting that, it was another in a long line of egregious — some might say fireable — offenses by Kay.
Upon showing up at Shea and hearing Weiner's false gospel the next morning, I assumed that's where he got his information from. Maybe one of his staffers watched the Yankees game the night before and heard Kay's inexplicable erroneous report, and told his boss that he could be the bearer of good news to early-to-bed Mets fans.
I didn't think Weiner would want to purposefully lie about this, since exactly one day later, the bloom would be off the rose when the Mets showed up to play without Manny Ramirez. I just figured he got some bad intel.
As such, on two hours of sleep on a brutally hot morning, I somehow thought it to be a good idea to set the record straight. I blurted out, "With all due respect, Mr. Weiner, that's not true."
I proceeded to tell him where I worked, detail how closely we had been following the story, and explain that if the Mets had acquired Manny, it would have had to be between the hours of 5 and 8 a.m.
Though he was indeed dead wrong, Weiner was visibly and understandably not thrilled to be corrected in front of a bunch of people, much less by some clown in a Mr. Met headband.
But we talked a little more and hit it off a bit. Honestly, I thought Weiner was a pretty likable guy — and that's from someone who used to work in politics and actively disliked the majority of people I met, even from my own party. I followed his career a bit after that, as he started popping up on seemingly every cable news show.
Weiner had a weird name and didn't really have "the look" or anything, and yet I thought he'd go far. He had chutzpah.
Unfortunately, he also would end up with some very weird skeletons in his closet. And I guess he never quite figured out when to cut his losses and come clean.
*****
Nothing is able to stand the test of time without changing in at least some way, and sometimes in quite significant ways.
Six years later, Shea Stadium is a wonderful but fading memory.
Manny Ramirez never did find his way to the Mets, and like the messenger that inaccurately trumpeted his arrival in the Shea parking lot, it seems he had his own issues with truthfulness.
And of course, the world is no longer Anthony Weiner's oyster.
Career-wise, running-wise and otherwise, the Mets 5K came during a very interesting period in my life. I'm happy with where I'm at now, but I do like once in a while to think back on how different things in my life were just six years ago.
I'd imagine Mr. Weiner feels exactly the same way.