As I explained last week, I've expanded my weekly football thoughts to include some non-football stuff, primarily since I don't have an enormous breadth of knowledge about the sport and don't always get to watch games. That won't stop me from offering up some picks, but if you place bets based on them, I'd be forced to characterize you as foolhardy.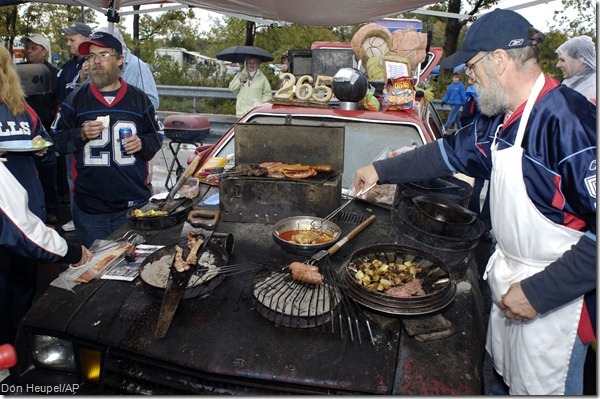 I've made no secret of the fact that football doesn't rank particularly high on my sports hierarchy, placing behind pretty much every other major sport besides hockey, which I never got into. That said? It's good to have football back, primarily because it's woven into what I believe to be the best time of year.
Summer gets more hype, and spring brings hope and baseball, but Autumn is just such a wonderful season in all respects. It's not sweltering anymore, but it's not freezing yet. The air is more crisp, and apples taste better. I defy you to find me a beer tastier than Buffalo Bill's Pumpkin Ale. And Halloween is without a question the most worthwhile holiday we have.
Football Sundays in North Jersey mingles seamlessly with all of that. If I had to assign a particular smell to Sunday in Autumn, it'd be a mixture of barbecue chicken, scented pumpkin candles, chimney smoke and hot apple cider. The arrival of the football season always brings me back to my high school years, when I'd eat buffalo wings at the "Jersey Sports Café" while watching the Dolphins, then come home to enjoy a mug of hot chocolate with extra marshmallows on the couch.
One of my favorite Marino masterpieces
That romanticized depiction doesn't wash away the less positive aspects, of course. Football can result in a sensory overload; if I attempt to watch straight from the 1 p.m. games through the late-afternoon session, I'll invariably end up with a sizable headache. I rarely go out to watch anymore, since my tolerance for shouting is far below what it used to be. Dolphins-wise, Dan Marino ain't walking through that door. And though I do enjoy following my fantasy football teams, it gets tiresome constantly hearing about everyone else's. (Sorry, but it does.)
But you still figure out ways to make it work for you. I wake up pretty close to the start of the early slate on Sunday, and it always gives me a bit of a visceral thrill to realize there's a full buffet of games to pick and choose from. Unlike most other sports, it seems like even the least significant football game is eminently watchable, and I also really like football on the radio.
The sport has evolved, as has the ways we consume it, but so much about football around here is basically the same as when I was younger. Much like it has on the airwaves of WFAN, time seems to have frozen in the mid-90s. On the rare occasions I do go somewhere to watch games, I see pretty much the same people, wearing pretty much the same sweatshirts, drinking the same beers, saying pretty much the same things. Despite the changes in my own life, or maybe because of them, there's something comforting about that.
Way back when a prolonged lockout was still possible, I was pretty curious what Sundays would be like around here. As it turns out, I've discovered I'm glad I didn't have to find out.
*****
After Michael Vick's wildly successful 2010 season, he's unquestionably become the main narrative of this NFL season. Last year, I was fascinated with how the whole thing was playing out. But that's exactly what's happened: It's totally played out.
I think William Leitch is a good writer, but his piece on Vick in GQ left me wanting more. Leitch indicates that he doesn't believe Vick is reformed, that he's merely suppressing his native personality to placate everyone and right his financial ship. I happen to agree, but I mean, we're not exactly solving a supreme mystery here. Everyone gets a whole lot more pious when they get caught, especially when there's money on the line.
Likewise, ESPN devoted the majority of its magazine's football preview to Vick. Some of it was interesting, like a detailed account of his life in prison, but for the most part, it was just a whole lot of overkill. They got the most attention for their laughable photoshop of Vick as a white guy, while the author – Toure, who I communicate with on Twitter periodically – indicated that the magazine's editors missed his whole point.
The main problem is that while the culture of football is bulletproof, the sport is surprisingly light on intrigue. Roger Goodell had to have been ecstatic about his part in orchestrating Vick's vindication or whatever, since Vick instantly became the most interesting thing about a mostly stodgy league. Vick has flipped the script with his dynamic play and his persona, that of an ambiguously reformed villain.
That's all well and good, I'm just sick of it. Is it really that tough to figure Vick out? I mean, is it even possible to go from all the stuff Vick was doing conscience-free with dogs and to them — to arguing before Congress for enhanced laws against dogfighting? Almost certainly not, though his involvement can't only help that cause.
I know this is just the beginning of the hype, especially if the Eagles are as good as they're made out to be, and it sure seems like they are. This is the way the media works now: They're going to squeeze every last drop out of him, overanalyzing something long after it doesn't need to be analyzed anymore.
Vick has always had that certain it factor, and it's more true now than ever. I still enjoy watching him play. Just be prepared to get very tired of hearing about him.
*****
If you ever get the chance to see Incubus live, I endorse that you do so. I went to see them at PNC Arts Center on Sunday, I very much enjoyed the show and I was glad to introduce my fiancée to their music.
I got really into incubus in college when "Drive" was huge, and I gained a whole new appreciation for them when I went to a show two years ago – also at PNC – the night before I turned 30. I love outdoor venues, and there's nothing like seeing a band you like play on a warm summer night. It was a bit tiresome that literally everyone else there was drunk, but nothing I couldn't deal with.
Courtesy of Tiffydigs on YouTube
One thing I like about Incubus is that as they've grown, every album has been quite different. They started as essentially a metal band on S.C.I.E.N.C.E., delved into Asian and Indian music on Morning View, and evolved into a breezy, mature sound on If Not Now, When? All the while, Brandon Boyd has kept his crisp, clear voice and the band is still powerful.
Perhaps I've grown along with them; I've heard their latest CD panned for not possessing the intensity of their earlier offerings, but I rather like the relaxed, contemplative vibe. They've been together for 20 years, and you're not going to sound the same at 35 as you did at 15.
You're also not going to like the same music you used to. And I would think the fact that I enjoy Incubus — no pun intended — about as much as I did back in college, just for different reasons, speaks volumes.
*****
Last year, I went 21-14-1, and I also won a weekly pick league. This obviously means I'm probably going to be horrible this year, but let's see how it works out.
Week 1 picks:
1. Detroit +2 at Tampa Bay – Everyone knows Stafford can play, but their D is nasty.
2. Arizona -7 vs. Carolina – The Panthers' line is beat up, and Kolb is a big improvement.
3. Pittsburgh +2.5 at Baltimore – I'll take the Steelers over an overrated Ravens defense.