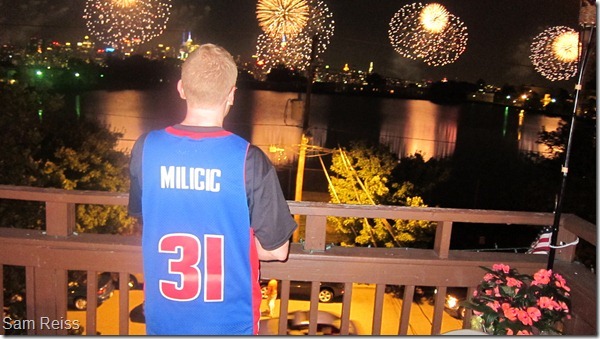 Back on July 4, I stood on a balcony in Union City and watched the fireworks over the Hudson with my friend Sam Reiss. I had gotten engaged to a wonderful girl four days ago, the possibilities seemed endless, and life was good.
Five months later, I'm typing this while lying in bed with my fiancée, resting up before we ring in the New Year on our couch. On our bedroom television, the Real Housewives of Orange County are screeching at each other at decibel levels that could drown out a jet engine.
And I absolutely couldn't be happier.
*****
As I've said here many times, with the exception of Halloween, I don't have a use for most holidays, but I do very much like New Year's Eve. It's one of those rare times when you remember to stop and take inventory, to consider how far you've come and where you'd like to go next.
I've always been a bit of a loner, so to look back at 2011 as the year I got engaged to be married is weird, wild and wonderful. Honestly, Montana is one of the best things that ever could have happened to me. She's beautiful, fun, smart and driven. She recently passed the bar exam in both New Jersey and New York. She's also an excellent cook, and I would starve within days without her.
Despite all that, she patiently puts up with the fact that at 32, I remain fixated on LeBron James, Freddy Krueger, Air Jordans, Ghostface Killah and Spider-man. Lord knows what I did to deserve her.
Obviously, my life is changing, in a very good way. But you find that your priorities change as well. Cooking a quiet dinner at home minus the Internet or televised sports becomes a coveted event; a movie and beer in bed is a blessing.
It does, of course, mean that things aren't quite the way they used to be. For one, I've definitely been less prolific in recent months in terms of posting at SportsAngle.
Truth be told, the majority of my posts here over the past few years have been written between the hours of midnight and 4 a.m., which isn't always preferable for me at this point.
In addition, I've started doing some writing for Dime Magazine, which is sort of a full circle thing for me. A decade ago, Dime was the first publication to actually take a chance and let me write for them, back when I had no idea what the hell I was doing. I always appreciated that, and with a little more experience under my belt, it's good to be a part of their team again.
Between all of that and a job that makes plenty of demands on me, it definitely took me away from SportsAngle, especially the past couple of months. But you know, I think that's okay. It doesn't mean I've lost one bit of my passion for expressing myself here, it's just that there are only so many ways I can stretch myself before it's too thin, and doing a weekly football post (for example) is no longer one of those ways.
Rest assured, I still have plenty to say. When my good friend Terry Rains helped me bring this site back after about a four-year hiatus, it was to give me a creative outlet I lacked. I think at times this year, like back in the spring, I was doing some of the best writing I've done anywhere. I have no plans to stop doing that, just maybe not quite as often.
And honestly, I really did get around this year.
I got to interview Penny Hardaway, Bryce Harper, Austin Rivers, Elton Brand – and sentimental favorite Oliver Perez. I saw Justin Verlander pitch in Cleveland in a pennant race.
I watched Jay-Z and Kanye West in Baltimore, and Incubus at the Jersey Shore.
I got to write about Mike Krzyzewski's 903rd victory. I attended my first Duke game in Cameron in over a decade, and got to show my fiancée my old stomping grounds.
I drove through Western Pennsylvania thinking how glad I was that I wasn't sitting in traffic trying to get to work, and sat on the beach in Cozumel thinking how glad I was that I wasn't at a desk.
Essentially, though I've struggled at times with the idea of not having the time or energy to bring to fruition some of the ideas I've had these past few months, I've come to realize that real life getting in the way isn't even close to a bad thing.
SportsAngle has long been a big part of who I am, and I love writing here. But one thing I've learned is that life is way too short to dwell on the things I'm not doing, while overlooking the things I am.
*****
In two hours, my fiancée and I will watch the ball drop on television and toast with a rare true splurge: a bottle of Dom Perignon.
Why Dom P over, say, Korbel? I find I have more than ever to celebrate. We'll toast to Montana passing the bar, to all we've accomplished over the past year and all the experiences we've had, and to the arrival of a year in which we're going to get married to our respective best friends.
Even as our lives change, it's all part of becoming the people we're meant to be. And though life seems to speed up a little more every year, I think that's because we just become more and more aware of how sweet it is to wake up every day, take a breath and feel alive.
My best to all of you for a prosperous, healthy and happy New Year. God bless.