I'm not about to tell you it's entirely possible to make decisive empirical conclusions based on watching someone, particularly a high schooler, play exactly one game. With that disclaimer, I think it is possible to frame an idea of what a player's strengths and weaknesses are. It's one of my favorite pastimes at high school tourneys: trying to figure out what a player is going to be like on the next level.
I caught most of the games on Sunday and all of them on Monday, and here are some thoughts on some of the significant players I saw last weekend at Hoophall.
Shabazz Muhammad, Bishop Gorman: Jay Williams pointed out to me a couple things Muhammad needs to work on, namely that he can't go left and can't finish with his left hand. When I watched the game again at home, he was right on the money with both assessments.
Some highlights of Shabazz and Allen
That doesn't mean Muhammad isn't a very good player. Having never seen him live, I was surprised at just how solidly built he is. He really did look very much like a man amongst boys while scoring 37 points in a rout of a very good Dematha team, and it seemed as if he was simply outworking everyone to go along with his talent advantage. I don't think his athleticism jumps off the charts, especially since he appeared winded at times. But I have no doubt that as he continues to improve his jump shot and conditioning, Shabazz is the sort of player you can build a program around.
Jeremi Grant, Dematha: Harvey Grant's son couldn't really slow down Muhammad, but that doesn't say much. I thought Grant was a stupendous offensive player with a ridiculous vertical leap and a tendency to be right in the middle of the action. Grant went 5-for-6 from the field for 12 points and would have scored more if not for 2-for-7 free-throw shooting. Grant is on his way to Syracuse next year, and to use an uncreative but potentially accurate comparison, he reminds me of Hakim Warrick. I really like his chances of being an impact player.
Rosco Allen, Bishop Gorman: A perfect Stanford player, heady and leverages his 6-foot-9 frame well. I see why Carolina wanted him, he kind of reminds me of Tyler Zeller. He really needs to fill out more, but on this level, who doesn't? A perfect indication of what he brings: On a fast break late in the game, he tapped it back perfectly for a crazy windmill dunk by Muhammad. Shabazz got the attention, but the play told me far more about Allen.
Shouldn't be a problem picking out Noel here
Nerlens Noel, Tilton: My favorite player I saw at Hoophall next to Muhammad, Noel had 22 points, seven rebounds and an outstanding seven blocks. A legit center with room to fill out, I think he's potentially the most transformative player on the next level, an Anthony Davis-level defensive weapon. As a Duke grad, I'd kill to have him anchor their front line for a year or two.
Mitch McGary, Brewster Academy: McGary was completely immolated by Noel. He shot 1-for-8 for three points, and though he had 12 rebounds, he looked very ordinary for someone as big and physical as he is. I've long wondered whether McGary skyrocketing to become a Top 5 player was more a function of his crazy dunk over the summer, when he shattered the backboard and came up bloody in a cool visual. His performance didn't exactly allay those concerns.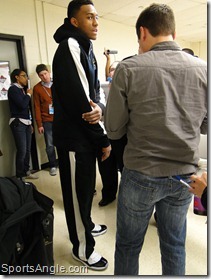 Jabari Parker, Simeon: I think I caught the No. 1 player in the Class of 2013 on an off day, and he was still obviously a very good player. Simeon got swamped by a Findlay team that features talent at all five spots and threw waves of players at Parker. (They did the same thing to Muhammad later that week.) Parker still went 24-12, he just didn't look comfortable doing it, floating a bit. I want to see him again against good competition.
Kyle Anderson, St. Anthony: What a difference a year makes. I somewhat liked his game last year, but Anderson has gotten a lot stronger, picking apart Miller Grove. I still don't see Anderson as much of a point guard, but if you put him in the high post, he'll control the entire tempo of the game from there. If I'm Muhammad, I could do far worse than going to UCLA and benefiting from Anderson's playmaking abilities. Consider me a big fan, at least as a college-level player.
Sidebar: One of my favorite moments from the tournament came postgame, when ESPN was interviewing Anderson, delaying the traditional team picture. Bob Hurley just stood there glaring at them, attempting to mind-meld Anderson into wrapping it up so they could get on with it and he could get the hell off the court.
Tony Parker, Miller Grove: Coach K would die for this guy, and I get why Miller is coveted, since he's enormous. But as much as he physically looks like Elton Brand, his game needs a ton of work. Against the disciplined St. Anthony, Miller Grove didn't stand a chance, specifically Parker, who was bodied out by guys not even close to his size. I hear effort level is an issue, but I wouldn't think that would dissuade anyone from wanting his services.
Noah Vonleh, New Hampton Prep: The No. 2 sophomore, Vonleh resembles Harrison Barnes in body type and facial features. I absolutely loved his game and the way he carried himself. Vonleh scored seven points and had nine rebounds in a loss to Notre Dame Prep, missing all three of his three-point tries and turning it over eight times. The key number was the 30 minutes he played as a sophomore. Make no mistake, he's going to be a stud and he's ranked as such.
Steven Adams, Notre Dame Prep: Committed to Pitt, the New Zealander is a top 5 player in the Class of 2012. I didn't see much of him – he missed most of the first half with foul trouble and a head injury and didn't really distinguish himself – but he's certainly enormous. He also seems to have a dry wit and a charming accent, for what that is worth.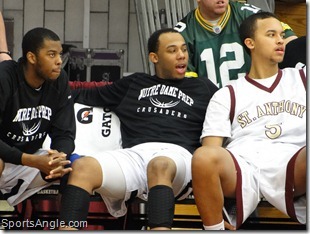 Myles Davis, Notre Dame Prep: I originally saw Myles singlehandedly lead St. Peter's Prep past Oak Hill two years ago at the Primetime Shootout in Trenton, stealing the show with big shot after big shot. I was selfishly disappointed when he transferred to Notre Dame, since I'd see him play less, but it's worked out well for him. Davis scored 24 in ND Prep's win over New Hampton, and told me after the game that he relished the opportunity to be a leader of a talented group. (He also told me he does listen to some jazz music, because I mean, come on. If your name was George Lucas, you'd watch the Star Wars movies at least once even if you didn't care for them.) He's headed to Xavier next year, and I expect him to be a good college player at the very least.
Sam Cassell Jr., Notre Dame Prep: I don't recall much about Cassell's game; he had eight points in 29 minutes. Luckily, he isn't the spitting image of his father. And if you want to feel really old, I'd prescribe watching Sam Cassell's kid play high school ball.