Make no mistake, I'm used to being in weird environments. Last year, I helped set the Guinness Record for participating in the largest gathering of zombies. But from a sports perspective, sitting at the Hoophall Classic last week, I couldn't help but think the whole thing was pretty perverse.
Most people think this is at least a little weird, but big-time high school basketball is one of my favorite things. The passion is real, the competition is generally pretty fierce, and I love getting in on the ground floor with players before they become household names. (Michael Kidd-Gilchrist, for one, has been a personal favorite for two years now.)
But at the same time, at its highest level, the whole scene is pretty out there. Last week at Springfield College, Coach K sat to my left under the basket, with John Calipari looming a few seats to his right. I sat next to the guy who runs NBADraft.net, comparing our views on Brad Beal's NBA prospects. And every eye in the building was fixated on 18-year-old wunderkind Shabazz Muhammad, who overpowered a bunch of overmatched teenagers en route to a dunk-heavy 37 points.
For the most part, regardless of talent or status, the players carried themselves like the would-be LeBrons they would have you believe they are. Wearing the requisite outfit of Dr. Dre headphones, a sweatsuit bearing their high school team nickname and retro Jordans that originally dropped around the time they were born, lanky adolescents strutted their stuff while casting sideways glances at Coach K. They all then told the media that had descended on frigid Springfield that they model their games after Kobe Bryant.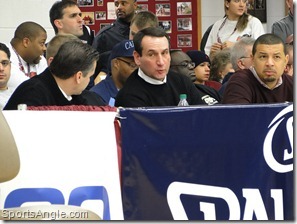 Speaking of which, attending my first Hoophall, I found Springfield to be an interesting location for the tournament. I'd only been up there twice: a trip to Six Flags New England about a decade ago, and a solo journey to the Holyoke Mall back in 2005 because they had literally the only Best Buy in America with a Michael Jordan brand MP3 player. (That's a story for another day.)
Springfield doesn't really have a ton going on. Obviously, there's the Hall of Fame a couple miles away. My Comfort Inn in West Springfield had a Hooters across the highway, which came in handy for a late-night dinner after a long day of games. (I'm probably the only person in Hooters history to get the grilled chicken salad, and definitely the first to order take-out. Like I said, long day.) Google Maps told me there was allegedly a Dr. Seuss exhibit or something like that right around there; I never saw it. On top of all that, it was literally seven degrees.
But while driving 150 miles of notably non-scenic landscape in Connecticut – excepting the kitschy thrill of passing WWE headquarters about an hour before Monday Night Raw – it became apparent that the pre-eminent high school tournament was basically in the middle of nowhere. That seemed to make perfect sense; I got a kick out of the idea of Mike Krzyzewski flying on a private plane into nondescript and beaten-down Hartford, known as the "Insurance Capital of the World" according to Wikipedia.
The whole thing was weird and wonderful, and brought to mind for me its various geneses. There was that night in Trenton I watched LeBron return from his throwback jersey suspension to score 52. The dunk-and-crossover YouTube highlight tapes of today were preceded by the And 1 Mixtape I eagerly jammed into my dorm room VCR. The former exceeded even my outlandish expectations, while the latter was a disappointing reminder that a constant stream of crossover dribbles and windmill dunks minus any exposition or rising action is actually kind of boring.
Shabazz on ESPN after his game
I've railed on the narrative-starved media judging 17- and 18-year-olds as if they were finished projects, a la Austin Rivers. And yet, how else could it possibly be when high school games are treated like it's the Final Four, complete with Jay Williams calling the action?
You reap what you sow. As a fan, I loved LeBron on the cover of SI at 16, loved when ESPN began running high school basketball during the LeBron era at St. Vincent-St. Mary's. That all has led to where we're at now, with recruiting becoming mainstream. We used to read about commitments on shadowy bulletin boards; players now get air time on ESPN to sit at a table with five hats.
Not that any of that is necessarily bad. In an information age where anybody who deigns can communicate with these players on Twitter – which is mutual, as they retweet every last mention – this is manifest destiny. As probably the last Luddite in the United States to get a smart phone before I caved in November, I'm obviously a bit reticent to change, but I'm not so naïve as to cower in fear at the thought.
That said, watching literally a dozen reporters chase Muhammad in a futile attempt to pry clues about his college decision process, I couldn't help but shake my head a bit.
And then ask him about his decision process.