When I was a freshman at Duke, Alex Rodriguez showed up at a basketball game out of nowhere and sat a couple rows in front of me to watch Trajan Langdon, with whom he'd played Minor League ball. A-Rod had already had a couple of really good seasons for the Mariners, though nothing like the Bondsian numbers he'd put up a few years later. That day, he hung out with students, joked around with Dick Vitale and enjoyed the game like the rest of us.
Three years later, A-Rod signed a $250 million contract with the Rangers and steadily became warped by fame and money, destined to become an enormously talented and eccentric caricature of a superstar. Far gone were any vestiges of the kid who jumped up and down when Shane Battier took a charge.
I've long been fascinated by the change that takes place when someone reaches levels of fame and wealth that most people only dream about. Does Michael Jordan ever look at pictures of himself inexplicably brandishing an umbrella in his dorm room and become a bit overwhelmed by what he has become? Or is he simply too preoccupied with cursing his imaginary adversaries, getting drunk off expensive liquors, running a terrible basketball team and wearing hideous outfits?
Over the years, Kanye West has crossed over into that rarified air. It's hard to imagine as recently as 2007, when he went head-to-head in record sales with a seemingly more popular 50 Cent and won, Kanye was actually something of an underdog. Last Friday night, during his solo show at Revel in Atlantic City, I marveled at the superstar Kanye West has become, at the expense of a decent chunk of his previous persona and humanity.
*****
To attend a Kanye show is to immerse yourself in the world of bombast and ballast that he has deigned for himself. Amid billowing smoke and flashing lights that evoked a 2008 Obama campaign speech, Kanye rode a hovering platform over the audience to the stage. He rapped in front of an enormous gothic backdrop reminiscent of the moving, living wall sculptures in Devil's Advocate behind Al Pacino, another gentleman who tends to chew on the scenery. Most of the crowd drank beer; absinthe seemed more appropriate.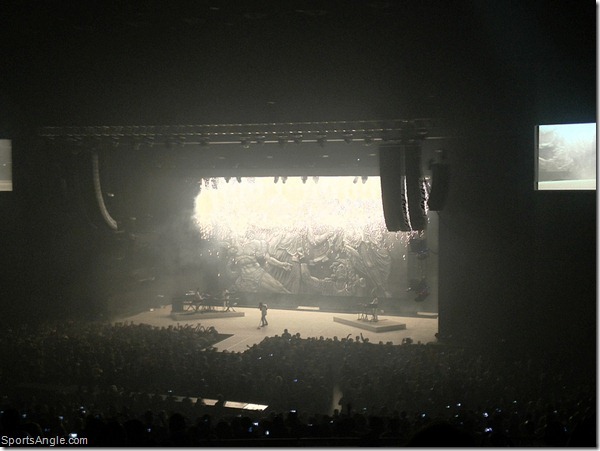 "As a man, I am flawed," Kanye assessed on stage Friday. "But my music is perfect." That can't be quantified, though I think you can make a fair case for Illmatic. But striving for flawlessness as fastidiously as Kanye does is impressive in itself, likewise his earnest belief he has achieved it. Even the songs you might personally find to be a misstep – the unfortunately titled "Drunk & Hot Girls" and "See You in My Nightmares" come to mind – are polished to a perfect sheen. His songs quickly become recognizable en route to iconic, evidenced by most of the audience happily muttering along with his lyrics.
Speaking of which, the crowd matched the vibe at Revel, Atlantic City's newest casino gambit: enthusiastic, ostentatious and a bit overreaching. The women at the show all wore their steepest stilettos, tightest dresses and most dour expressions. The guys were primarily guido types in tank tops or button downs, or suburbanites adorned in Watch the Throne tour shirts. (I can't front, I wore my finest LeBron James t-shirt and sneakers.) One basic-looking guy clumsily snorted cocaine off a credit card in a men's room stall while wearing a white t-shirt and khaki shorts. For the most part, the show attracted the sort of people that would aspire to be invited to the sort of party Kanye West would attend, but have to settle for a vicarious glimpse of the life he leads.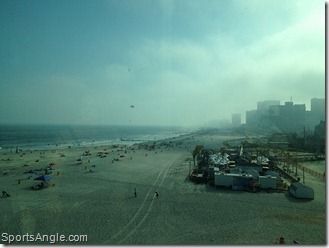 As such, you don't necessarily share the experience with Kanye the performer, so much as you watch from across a figurative moat as he flexes his talent for his own entertainment, and yours by extension. Kanye seemed existential rapping obliviously while aboriginal and ballet dancers leaped across the stage and fell at his feet. The only guest was Pusha T, who rapped his part from "Runaway" – which was fine, that verse is great.
Kanye seemed to lose steam toward the end of his 2 ½-hour set, and I was probably the only person there to relish three consecutive songs off 808's and Heartbreak. But most of what he tried worked very well, and the concert was a perfect centerpiece of an early birthday gift for my fiancée. Before heading to Revel, we had dined on sushi at a spot we love while overlooking the ocean, a view straight from the page of your favorite author, if you will. If we couldn't explicitly experience Kanye's version of the good life, his concert was the centerpiece of a perfectly reasonable facsimile.
*****
Amid all the dancers and pyrotechnics, the moment that resonated for me the most was Kanye's final song, "Hey Mama," which served to dedicate the show to his late mother.
Check out how much Oprah fawns over Kanye
It reminded me of when I first saw him perform that song, about five years ago on the Oprah show. The middle-aged women in the audience – and my mom, watching on television with me – absolutely adored him. He brought his mother (and Oprah) on stage to dance with him, and his smile was about as genuine as I've ever seen. It was really great.
On Friday, as the crowd began filtering out in search of whatever thrills a poor man's Las Vegas had to offer, I thought about that night's baleful version of "Hey Mama," which rippled the curtain just long enough to offer a glimpse at the man behind it, someone permanently scarred by the death of his mother, who deep down would probably rather be liked than respected. Someone who'd rather boast of being an "international asshole" than actually have become one.
The Revel show was incredibly entertaining, everything I've come to expect from one of our generation's avatars of superstardom. But I can't get out of my head the image of Kanye West dancing with his mom on the Oprah show. And I can't get past the notion that perfect music or not, regardless of the opulence we vicariously relish, there's no substitute for that perfect moment.