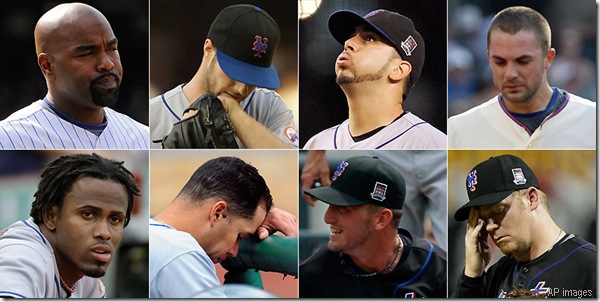 Never have I seen a team as cursed as this year's Mets. Don't get me wrong, they've brought it on themselves in certain ways, and GM Omar Minaya's press conference where he called out a reporter will go down as one of the most notorious moments in New York sports history.
But it's simply incredible to see a team completely decimated this way by injuries. It's sad to see during the first season at a new stadium. They're resembling the early-90's version of this team in terms of the product they put on the field, but those teams weren't ravaged by injuries as much as what we see here.
It's almost like the movie Final Destination, where some sort of bad karma is picking off the Mets one by one. I'm not quite sure what they did to deserve this – Minaya's conference came after the majority of these injuries – but God help me if I ever do the same.
To recap the grim details, here are the various appendages that have malfunctioned:
Even Mets cult hero Endy Chavez suffered a season-ending injury, though he was playing for Seattle.
And now today, David Wright gets nailed in the head by a Matt Cain fastball, landing him in the hospital with a concussion. He was the last man standing, and you had to figure he was a  marked man. He even saw it coming. Two days ago, Wright said this about the potential to use more effective batting helmets:

"I'm not worried about style or looking good out there. I'm worried about keeping my melon protected.

Are you kidding me?
I've never seen a team torn to shreds by injuries quite like this. Consider that if you include Wright, the Mets' four best players, setup man, No. 3 and 4 starters, and most promising rookie pitcher and position player – plus Nieve and journeyman Ramon Martinez – have all been significantly injured. Remarkable.
That said, the Mets built a team around four core players, plus Johan Santana. If even one got injured, it would create major problems. And now all four of them have. Meanwhile, Delgado was no spring chicken, Beltran had knee issues as recently as two years ago and Reyes had a tendency early in his career to have leg injuries that stick around forever.
In addition, the World Baseball Classic did a number on the roster. Delgado, Beltran, Wright, Perez and Putz all played. That's over a fifth of the Mets' roster that didn't get to properly ramp up to the season, and is now on the shelf. I don't think it's a coincidence in the least. (Though you can't blame Wright's injury on the WBC, you can perhaps wonder if it had at least something to do with his eight home runs.)
Francisco Rodriguez, Alex Cora, Nelson Figueroa and Fernando Tatis were also among the Mets who played in the Classic, though none have been hurt – except Cora, but he's not a key member of the team and is back now. That said, Tatis hasn't been nearly as good as he was last season and Rodriguez has tailed off markedly after a fast start.
The fact is, nobody will have sympathy on the Mets, who have the highest payroll in the Senior Circuit in an attempt to cover up a farm system that was woefully underprepared to replace injured stars, though I'm not sure any organization in baseball could have handled this.
You have to think things will be better for the Mets next season, at least on the injury front, though every time someone stubs a toe next year, the sky will be falling all over again by extension. The whole series of events demonstrates a team that probably has to just clean house and start over to a large extent.
But until then, the Mets have to hope that whatever cosmic forces they've unleashed on themselves get it all out of their system before fall turns to winter.
I can see it now: Johan Santana's tragic snowmobile accident…