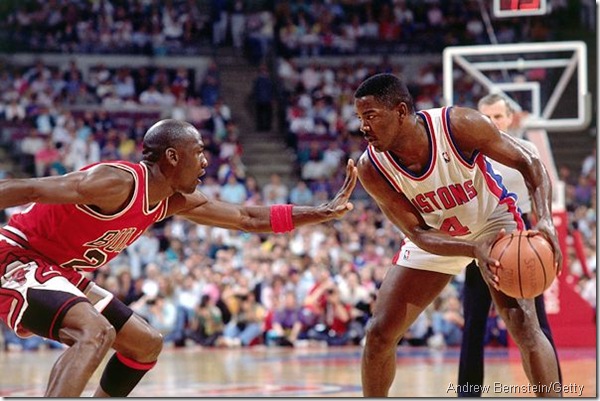 Note: The following is this site's debut from Frank Pepe, who is the world's foremost expert on sneakers, Canadian sports and hip-hop. He's as elusive as Keyser Soze, and about twice as lethal, but we're ecstatic to have his unique take on things here at the site.

I have two jobs now, but when I was flat broke I spent my money on Jordans. 
I didn't line up Saturdays to buy new pairs, but my eye was to the release board. Now I've all but retired from the game, and it's come down to occasionally checking NiceKicks.com, they of the well-intentioned Asics collaborations and Phil Jackson videos. Amidst the colorful detritus and anachronistic mistakes that line this year's new releases, one of Brand Jordan's latest retros has been made much odder than normal. Keeping in line with much of this year's crop,
it's a Jordan I. Keeping in line with a number of classic retros — the Olympic VIIs, a player exclusive II or two, a bootleg or three — it's navy and blue. These Jordans, however, are done up in Pistons colors.
 
Such a sacrilegious shoe doesn't surprise me. Sloppily reconstituted retros litter Nike's recent history and worse, my closet. Ill-executed re-curations have been all but law these last five years, and are so unavoidable that even the most stringent traditionalist has now a pair of
orange, burgundy and elephant print-camo Air Trainers. Even Air Max loyalists twinged when the Jordan I lost its top two eyelets and became a mid-top. With the rise of these sacrilegious retros, there has been less and less attention to detail — two words: PSI markings, where are they — and my wallet is more and more thankful. These ill-conceived retro campaigns have let Vans in the pantry, but it's still Nike or Other. This Nike, at first glance mistaken like so many others, might actually have a theme.  An early Jordan, it also fits into the early part of Michael's career arc.
With apologies to John Starks, looking back on Michael Jordan's unbelievable career — to simply call it a career would be insulting — the Pistons may have been his only challenge. The Bad Boys teams of the late 1980s kept the man we all agree became the best basketball player of all time losing and miserable for the better part of three years. With every season Jordan finished early, a different part of his game was called into question. "He doesn't play defense," they'd say. "He doesn't pass."
Jordan gets 61: precursor to 'The Jordan Rules'
Things would change. Michael answered every one of his criticisms with improved play. No defense? He won the defensive award in 1988 (albeit before meeting Detroit in the postseason), and became the shut-down help defender of the '90s. Didn't pass? He went from 4.7 assists per 1988 playoff game, the year Chicago first lost to Detroit, to 8.4 in 1991 when the Bulls beat them. (This was as shooting guard, running a kick-out offense from the two.) Michael, never a slouch, improved once tested.
Said testers, as underrated and special a sports dynasty as they were, were done by 1991.  The Bad Boys would not win a playoff series as a team again. And while Detroit basketball later flourished, its storied alums did not. Bill Laimbeer may never get an NBA job*, John Salley was on "Best Damn," Dennis Rodman descended into fringe-hood, Joe Dumars drafted not even as Kevin Littlefield would, and Isiah Thomas, well, nuff said.
See, once they lost, Bad Boys were bad sports. They were eliminated, as teams tended to be come spring, but couldn't bring themselves to shake the Bulls' hands — mostly because of Jordan, who mostly won that series because of a better Bulls team. Some say Detroit may have gotten a fate they deserved, though the fate of Thomas — one of the best-drafting GMs up until his ouster, by the way — has been almost needlessly cruel.
The Jordan Rules in action — fascinating video
Jordan, no great sport himself, took Detroit's slight and ran with it, and once he started winning, he kept winning. Detroit's disrespect, and Jordan's losses at their hand, still likely needled him and spurred him even when he was making Finals shots over John Stockton. The Pistons cemented Jordan's killer instinct. Now, to be sure, he'd have been fine with or without them, or that killer instinct. He certainly had enough ability to limit "killer instinct" to the an impossible to prove platitude it is.
Jordan owed winning as much to Detroit as he did to Horace Grant and Pippen. While Grant and Pippen helped Jordan to another title — he already had an Olympic gold medal, remember — the extended winning, the rare success of complete and utter domination, came after Detroit. Jordan was always an excellent player, and never especially incomplete. His best season may have been 1988, when he had not yet faced the club in the playoffs. But Detroit was the axle on which he turned into an obscenely dominant player.
Jordan would only acknowledge the Pistons in the worst ways. He left Thomas off the Olympic squad, and was his usual grisly self to the rest of the 12-man roster. Word has it he even burned the promotional copy of Bill Laimbeer's Combat Basketball before his kids got to play with it. (Rumor is unverified.)
So while I'm sure Michael Jordan would not endorse anything endorsing the Bad Boys, it might just be Brand Jordan, who made him a god and rich beyond compare, that is now doing what he can't himself. Stepping in, with a shoe and nothing more, and giving long-deserved credit to those who made him become the most dominating force in sports in our lifetime. And one that would no doubt sell better than a Jordan with Horace Grant on it.
*As of the final editing, Laimbeer has taken an assistant coach position on the T-Wolves under Kurt Rambis. Outside The Lines just aired this earlier Monday afternoon. We should note this is after the shoe's announcement. We wish him the best.