Most everyone has some sort of demon that they carry with them, not necessarily on the surface. These aren't necessarily Norman Bates-type demons, Exorcist-style demons, but rather things that weigh on us daily that we have to overcome.
On the eve of the biggest fight in the career of both Manny Pacquiao and Miguel Cotto, the burdens that the two highly skilled fighters bring with them have become the story.
Some would tell you that the man better equipped to deal with his demons will be the winner. I don't believe that will be an issue. I do think one man has the edge stylistically that will help him overcome the other's physical advantages.
But until very recently, I thought the exact opposite. That's how close the fight is.
Pacquiao's ascent has been one of the most interesting angles in boxing in a long time. The mercurial Filipino marvel started his career at 112 pounds, and as his weight has increased, he has blossomed into, along with Floyd Mayweather, the best pound-for-pound boxer in the world.
If Pacquiao's style could be set to music, it would be "Flight of the Bumblebees." For me, it was love at first sight. At the bell, he would dart across the ring, throwing bombs from impossible angles, advancing with the speed and precision of army ants at a picnic.
He has the benefit of, in my opinion, the greatest trainer in the game. Freddy Roach is a boxing savant, wracked by Parkinson's Disease and a genius at watching tape, able to prepare fighters in the exact manner they need to be prepared. Pacquiao is the jewel of his stable.
As Manny has gained weight and experience, he has honed his lethal left hand and added other weapons to his arsenal.
But he's also gained fame – he's been name-dropped in a Jay-Z song and graced the cover of Time Magazine. And he's picked up an enormous entourage, which is almost like family at this point. And along with a huge fan base among American fight aficionados, Pacquiao has acquired the hopes and dreams of an entire country.
And therein lies the burden he brings to the ring tomorrow night. Manny Pacquiao is not only fighting for himself, and not just for his large collection of hangers-on. He's fighting for an entire country – 92 million people who live vicariously through the impish grin and fast hands of their favorite son. They say Manny could run for President someday, and I wouldn't bet against him if he did.
Pacquiao has attempted to lighten the mood, including his much publicized singing on the Jimmy Kimmel show. But even that relatively endearing performance reminded observers of what was at stake, as Filipino fans in the audience shrieked as if he were the fifth Beatle.
People wonder if the burdens of his fame have affected his focus, particularly because he mostly trained in the Phillipines. But I believe Pacquiao knows what's at stake here. Around 1.4 million people will purchase the fight, and if he wins, he'll fight Floyd Mayweather for what is undoubtedly an enormous purse, as his star power likely even exceeds Floyd's at this point.
As such, I expect Pacquiao – who has dealt well with pressure in megafights against Oscar De La Hoya and Ricky Hatton – to be prepared.
But I feel as if people forget that there's actually someone across the ring from him. Miguel Cotto is no joke, and he intends to prove that people are foolish to look past him:
I don't know what's in [Pacquiao's] mind. But once I beat him he can fight Floyd Mayweather all the times he wants.
Cotto obviously feels disregarded. Pacquiao gets the lion's share of the purse, and has become the mainstream star. Cotto's a brilliant fighter in his own right – witness his easy victory over Shane Mosley – but has easily taken second billing in the fight.
Cotto, the heir to Felix Trinidad as the premier Puerto Rican fighter in the world, has lost just once, but that loss was a brutal demolition at the hands of Antonio Margarito, who gave him a savage beating. However, that defeat was cast in a spurious light after Margarito was caught in an attempt to use illegal plaster-type hand wraps before his fight against Shane Mosley, who proceeded to destroy him.
The problem is that regardless of whether that loss was legit – and we don't know if it was or not, though I suspect it wasn't when I watch the sheer heaviness of Margarito's blows – there's also no telling how much psychological damage was done. It's akin to when a batter is hit in the head by a pitch and it damages his abilities, makes him skittish.
I was not impressed by Cotto in a subsequent fight against Joshua Clottey, in which he won a split decision. A bad cut might have been responsible for his less than brilliant performance, but the great fighters can deal with such adversity with a healthy measure of aplomb.
Teddy Atlas – an analyst I've met and have a great deal of respect for – believes that the Margarito beating has diminished Cotto. That's good enough for me.
I do believe Cotto is an excellent fighter, and until recently I thought he'd win the fight, primarily because of his size advantage. The fight is being held at a catch weight of 145, and Cotto is far more experienced and comfortable at that weight than Pacquiao. But many – myself included – thought the same thing about Manny's fight against De La Hoya, that Oscar was simply too big for him. And Pacquiao murdered him.
That said, De La Hoya had one foot into retirement at that point, and Hatton was lacking in defensive acuity. But both are world-class fighters, and Cotto has plenty of other stellar wins under his belt. (Erik Morales, Marco Antonio Barrera, Juan Manuel Marquez – to name a few)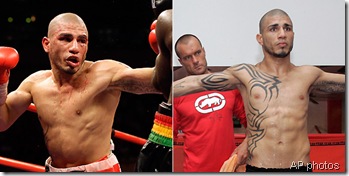 Now that I think about the catch weight, it could really hurt Cotto more. Pacquiao has shown no slippage in speed or strength as he has steadily moved up in weight, while Cotto generally fights at 147; the two pounds actually means an enormous difference in effort. I wasn't impressed with Cotto's physique on 24/7 – at right, compare him to how he looked against Joshua Clottey without a catch weight – and sometimes losing that amount of weight can hinder a fighter, can make him weak.
And what happens when Pacquiao swarms Cotto with punches, as he's wont to do? Will Cotto be able to handle it, or will the Margarito debacle create a defeatist atmosphere? We simply won't know unless we see it.
There's no question Cotto can win, despite Pacquiao being an overwhelming 3-1 favorite. Manny's popularity and name recognition have gone into creating those odds. Cotto is bigger and probably actually punches harder.
But I contend that Pacquiao's unique and – dare I say it – esoteric style puts him in good position. And I feel that Manny is better equipped to handle his demons – the potential distraction of a whole country living and dying on his every punch – than Cotto, who probably sees Margarito in his nightmares.
I believe it will be a close fight, because Cotto's too good not to make it such. And I can't see either fighter being knocked out unless it's a flash punch. I'll call it…
In a classic fight, Pacquiao takes an 8-4 decision.