As usual, my thoughts about the weekend's NFL games based on whatever I saw – I'm cheating by posting this "The Night Of," but it'll still be valid tomorrow afternoon.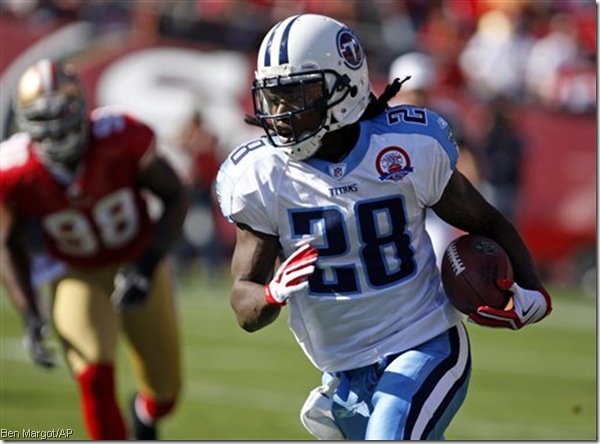 I'm in a fantasy football keeper league. Last year, I had the good fortune of drafting Chris Johnson, Matt Forte and Andre Johnson. As such, my partner and I came to a crossroads this year, and long story short, we ended up with Forte, Andre Johnson and Tom Brady.
With every week that goes by, I realize that we let the wrong guy go, which will haunt me for years. Lost in the uncreative media's need to embrace one guy – namely Adrian Peterson – as the best running back in the NFL is that Chris Johnson is quite possibly better.
It's been well-hidden by how horrible the Titans have been this season, but Johnson has been damn near unstoppable, and that's for a team that's now 2-6 and has had to play from behind for much of their games. Johnson's speed is his main attribute – he somehow famously ran a 4.23 40-yard dash at the Combine – but he's developed shiftiness that will allow him to be a solid goal-line back. He's also a decent receiver out of the backfield.
Through eight games, Johnson is on pace to run for just under 2,000 yards, and he's picking up steam, in large part to his propensity to break touchdown runs of up to 89 yards. Granted, his outstanding yards-per-carry, which is nearly 7, is buoyed by his many long touchdowns, but that shouldn't be held against him.
| Player | Att. | Yds. | TD | Y/C | Rec. | Yds. |
| --- | --- | --- | --- | --- | --- | --- |
| Adrian Peterson | 163 | 784 | 9 | 4.8 | 19 | 189 |
| Chris Johnson | 144 | 959 | 7 | 6.7 | 21 | 162 |
As long as the NFL can't process marketing two players – think about how long Ladainian Tomlinson was the only guy you'd see in ads – then CJ won't get the shine he deserves. It doesn't help that the Titans are putrid.
But as much as I hate to admit it – given my keeper league follies – Chris Johnson's going to be around a long time. And he's going to be a great one.
A few weeks after the Cowboys and Tony Romo were completely written off after Romo struggled mightily in losses to the then-hot Giants and undefeated Broncos. Since then, Romo has thrived; though he tossed his first interception in four games in Sunday night's win over the Eagles, he has nine touchdowns over that span. And the Cowboys look to have an edge in the division, after the fading Giants lost their fourth straight game, a heartbreaker against the Chargers. The Eagles are a game back and are obviously still a threat, but with the emergence of Miles Austin and the corpse of Roy Williams showing signs of life, it looks like the Cowboys have a good shot at making some noise. Could we use this as a reminder to not use a bad game or two as evidence that someone is finished? People jumped way too far to that conclusion with Romo, who's not trendy anymore but is still most likely a top-five quarterback in the league talentwise, and has clearly helped Austin break out. Reports of Romo's demise were obviously greatly exaggerated. But feel free to throw this back in my face when December hits (Romo's career numbers in the year's final month: 14 touchdowns, 19 interceptions)
The Giants are reprising last year's stunning late-season fade; they just started it earlier than last season, making it apparent that maybe the loss of Plaxico Burress wasn't the problem in 2008. After starting the season 5-0, they stumbled into their bye week with four straight defeats, culminating with a stunning last-second loss to the Chargers. It's become apparent that it was hard to know exactly how good the Giants were at first, given their victories over the less-than-fearsome foursome of the Raiders, Chiefs, Redskins and Buccaneers. But who would have expected them to go 0-4 in a far tougher stretch against four playoff teams? It doesn't get easier: They come back from the bye vs. Atlanta, at Denver, vs. Dallas and vs. Philadelphia. If there's a silver lining to be found, it's that Eli Manning has two whole weeks to get his foot healthy, if it really is still an issue (Sunday's loss featured his first QB rating over 61 in four games), and that three of those difficult games will be at home. But it's looking like as solid as they looked early, the Giants simply aren't good enough to compete with the other big-time teams in the NFL, and are actually looking like they won't even make the postseason, something that would have looked highly unlikely only a couple weeks ago.
It's time for me to admit this: The Bengals are for real. I've never doubted Carson Palmer, but I wasn't sure he had the weapons, or if their defense could stop anyone. It turns out he does, and they can, and the biggest surprise may be Cedric Benson, who put up 100 yards on the Ravens for the second time this season. The 6-2 Bengals – 4-0 in their division – play the Steelers next, which will be tough. But then they have three games against the Raiders, Browns and Lions, giving them a great chance to come out of that 9-3 and poised to secure a solid playoff position. It's hard to get used to the Bengals being good, but maybe HBO's Hard Knocks should have taught us something: When a team is having fun, it's a lot easier for them to win.

I'm a huge fan of Chad Ochocinco, and though he didn't do anything of note on the field, his latest stunt of having a dollar in his hand as a presumed bribe while the referees were reviewing a catch along the sidelines was outstanding. I think his antics take an often stodgy league and make it interesting once in a while; more power to him. This came on the heels of him sending deodorant to the Ravens' secondary to indicate, well, you can do the math. Here's Ochocinco on the attempted bribe on his Twitter, in a response to Trey Wingo:
lol, just having fun bud that's all, I was gonna give the dollar to the ref to call my catch in bounds<—just jokingly though
Give me the Steelers over the Broncos on MNF, even in Denver. I've thought for a while the Broncos aren't what they were cracked up to be, and I think a disciplined Steelers squad proves that. Let's go with 31-17.

Here's my latest top 10. Not much change up top, though that could change after MNF:

1. Saints (8-0) (Last week: 1) Spotted the Panthers 17-3 lead, then won: It's a trend.

2. Colts (8-0) (LW: 2) Survived furious Texans surge. Bob Sanders loss maybe an issue.

3. Vikings (7-1) (LW: 3) Next three: Detroit, Seattle, reeling Bears. 10-1 anyone?

4. Patriots (6-2) (LW: 4) Last week: "Dolphins won't be easy, Pats should win." Just sayin'.

5. Steelers (5-2) (LW: 5) Two weeks to prep for Denver – I like their odds.

6. Bengals (6-2) (LW: 7) LW: "Host hot Ravens team, could be trouble." Just bein' fair.

7. Cowboys (6-2) (LW: 9) Miles Austin: One catch, 49 yards, a touchdown. Making it count.

8. Broncos (6-1) (LW: 6) Gut check after awful loss to Ravens. I think they fail.

9. Cardinals (5-3) (LW: NR) Decimated the Bears. Don't sleep on defending NFC champs.

10. Chargers (5-3) (LW: NR) Good vs. Giants; if Denver loses, they're just a game back.