The highly anticipated war between Manny Pacquiao and Miguel Cotto went down on Saturday night pretty much as I expected, but it doesn't mean that Pacquiao's victory was any less striking or significant.
The Filipino whirling dervish dominated Cotto every which way, landing punches from all angles while darting in and out of the Puerto Rican fighter's wheelhouse. And though Cotto was able to do some damage, Pacquiao was just too precise, too quick, too powerful.
As close SportsAngle associate Rodge – a Cotto enthusiast – observed correctly, and as I feared would be the case before the fight, Cotto simply isn't the same dynamic fighter he once was. The brutal beating he took at the hands of Antonio Margarito took something out of him. The spark just isn't there. Cotto fought well enough to hang in for a while, but by the end of the fight, it was all he could do to get his hands up.
But I'm not sure a pre-Margarito Cotto could have stopped Pacquiao. This wasn't a matchup in which the superior power puncher prevailed. This was all speed, all the time.
Here's trainer Freddy Roach's take on the proceedings:
Manny's speed was too much. Manny's in-and-out motion was too fast. Manny broke him down. I knew when Cotto started backing up the fight was over.
And his achievements are marvelous – Manny won a world title at his seventh weight class, cementing himself among the greatest fighters of all time, no hyperbole. In the process, he has notched 11 consecutive victories, and they have come over impressive fighters – De La Hoya, Barrera, Morales, Hatton and now Cotto.
The man's legend continues to grow in leaps and bounds.
Simply put, Pacquiao is a joy to watch in the ring. Under the tutelage of Roach, he has gone from a hyperactive sprite to a complete fighter. He has gained size and strength while maintaining the speed and frenetic nature that made him such an enormous threat previously.
I think his most impressive feature is that he is practically indomitable. Time and time again, Pacquiao would take a shot that you'd expect would slow him down, but he pushed through to deliver crushing inside blows with his faster hands, leading to two knockdowns in the first four rounds and a bloody and beaten Cotto, who was forced to retreat in the later rounds, culminating in a 12th-round stoppage.
*****
So where do we go from here?
With Cotto, I really don't want to think that he's done at age 29. He's been such a great fighter to watch for me, since I was clued in to him by a fight fanatic at my gym back in 2004 who proclaimed him The Next Big Thing.
But I just don't know if he comes back from that Margarito loss. It wasn't so much that he lost, it was the brutal punishment he took, and the fact that Margarito was almost certainly cheating doesn't make a big difference in terms of the psychological effects. Cotto set the tone early while Pacquiao was feeling him out, but as the punishment mounted, it seemed that we had seen this movie before.
I tried to bring all I can for all these fans. It didn't go my way in this fight. The jabs I threw didn't do enough damage and I didn't protect myself enough. Miguel Cotto will always fight the best fighters in the world. And Manny Pacquiao is one of the best fighters, the best boxers I ever fought.
Cotto should not be ashamed of his effort, nor of losing to Pacquiao, who is looking like an all-timer. But we may have reached a ceiling for Cotto, and you have to wonder if he will ever win an all-out war again. He needs to take some time, regroup, get his mojo back against a beatable opponent, and then work his way back up to a championship level. I think it's possible, but I'm not sure it's likely.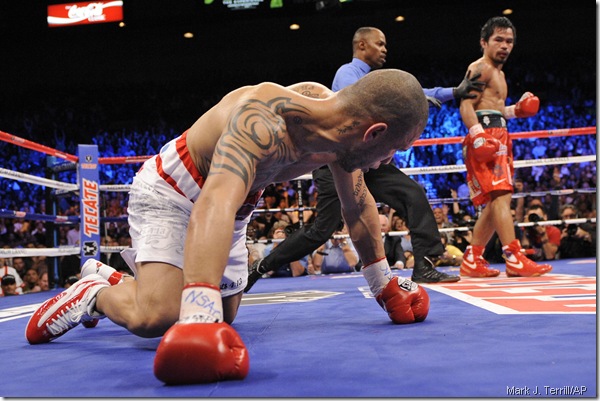 As for Pacquiao, everyone – boxing fans and casual observers alike – wants to see him fight Floyd Mayweather. Even Roach said, "I want to see him fight Mayweather" – and why wouldn't he? We're talking big money here. Over a million people ordered Mayweather-Marquez, and they project over a million to have ordered this fight. You do the math: As more people catch on to Pacquiao's burgeoning greatness, a fight against Floyd could potentially enter the neighborhood of the record 2.4 million that ordered De La Hoya Mayweather – I'd suggest around 1.5 million buys.
Given the money involved, I have to think Floyd would take the fight at some point. Though I used to believe Mayweather was simply too hard to hit and too technically sound, I believe we're seeing in Pacquiao a brilliant fighter who uses his blazing hand speed to do his talking. You have to think at the very least it's an even fight, and there's a chance that Manny is plain and simply better.
But all that can wait. For now, let's enjoy the fact that boxing finally has a standard-bearer that has made his fans, his family and his country proud. As much as he's accomplished, Manny Pacquiao has a lot to look forward to. And maybe, finally, so do fight fans.