I'll be honest, football took a real back seat for me over the weekend behind boxing and basketball. But let's give it a go. Consider this one to be "two afternoons after." As a result, short update this week.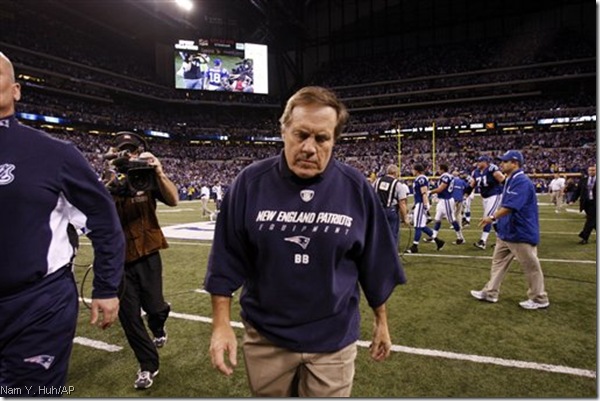 When someone who's generally regarded as an unlikable genius makes a decision that simply doesn't work out, the natural instinct is to jump all over the opportunity to pan him. That's exactly what happened to Bill Belichick this past Sunday.
I'm here to tell you that I had no problem with his decision to let The Great Brady attempt to complete a two-yard pass to win the game on 4th and 2. I thought it was the right move.
Yes, I know he gave Peyton Manning – the best player in the league – the ball on the Patriots' 30-yard line. Yes, I know the safe thing to do would have been to punt it to give him a longer field. And yes, I'm still fine with it.
You don't win three Super Bowls – and counting – by playing it safe all the time. In fact, you don't win in life like that.
To paraphrase twisted and insane genius Harold Lauder in Stephen King's magnum opus The Stand, you can change for the good of the world – or the world can change for the good of you. There are people who are content to simply sit back and let circumstance dictate their fate, and there are people who won't be satisfied until they control their own destiny.
Those are my kind of people.
Obviously, Belichick's move didn't work out. Brady completed the pass as planned, but the play was marked for only one yard. (As shown by the video below, it was very, very close) And Manning took the Colts 30 yards faster than you or I can execute a naked bootleg to the refrigerator.
But what Belichick was doing was attempt to take the ball away from Peyton. I'd say the only way you can guarantee that you're going to stop Manning is if he's not on the field. Some people tried to slant it as Belichick having no faith in his defense. Well, we've all seen Peyton carve up some pretty good defenses this year when his team needed it the most. 30 yards, 70 yards – I'm not sure it would have made an enormous difference.
What Belichick was actually doing was saying that he'd take his chances with his own guy, who happens to be one of the greatest quarterbacks of all time. What I always ask is: If this had worked, are we even having this discussion now? The answer is no.
And it's not like it was some ridiculous chance he took. It wasn't 4th and 9. It was a range in which Brady statistically probably has about a 2-in-3 chance of converting the first down. It just so happened he didn't.
Plus, Belichick was playing with house money. Even with the defeat, his Patriots have a commanding lead in the division. No other team in the AFC East is even over .500.
I'll guarantee you, put in that position again, Belichick would go for it again. Every time.
After all, why should he care about scrutiny? His success speaks for itself.
CJ update: Another week, another huge game for Chris Johnson, who we've taken to calling "All Year" around here. To be fair, Adrian Peterson had a big week too. But at this point, he's just keeping pace with the guy who we contend is the greatest running back in the NFL. Updated stats are below.

| Player | Att. | Yds. | TD | Y/C | Rec. | Yds. |
| --- | --- | --- | --- | --- | --- | --- |
| Adrian Peterson | 181 | 917 | 11 | 5.1 | 21 | 199 |
| Chris Johnson | 170 | 1,091 | 9 | 6.4 | 30 | 262 |

Back to earth in a hurry for the Broncos, who got beaten by the Steelers last week on MNF – as we humbly predicted – and then take one on the nose from the woeful Redskins this Sunday. It just goes to show you, if you try to canonize a team who's winning all its games and you can't exactly figure out why, this is going to happen. Kyle Orton as your quarterback, a defense playing way over its heads, a rookie coach… it all adds up to a team that's crashing to earth and destined to finish behind a hard-charging San Diego squad. 

We had a man on the scene at the Jets game – Tom, who is a frequent conspirator and occasional contributor to SportsAngle. The game, by the way, was a rather lousy display of football, but we care more about the shenanigans in the stands that Tom detailed for me via text message on location:
Hilarious development: Out of nowhere, Mark Gastineau climbs through the window of a luxury box, now three rows behind us. So of course, the entire section is flipping out and asking for autographs. A fat guy with a Gastineau jersey got it signed and now won't wear it, so he has on only a skintight undershirt.
I would expect nothing less from Jets fans.

This is going to get a full-blown expose at some point here on the site, but you can watch anything on the Internet now and nobody can stop you. A day after watching the entire Manny Pacquiao fight on some shady Web site – I was at work, otherwise I would have ordered it – I was able to watch the entire Dolphins-Bucs game. It's just gotten so that there's too much for the major leagues of sports to shut down. Of course, watching a grainy feed on my computer isn't the same as watching on my 52-inch television, but I didn't get the Dolphins in this area and they don't even offer the NFL package if you have cable instead of satellite. Justin.tv and stuff like that, they're wonderful for people stuck in spots where they can't watch big fights – or maybe who just don't want to pony up the $55. But this is a major threat to leagues and networks. We'll address this further later.
Speaking of the Dolphins, I know my team, so here's a pick for you for two days from now (!) – I'd expect the Panthers to win. Everything goes through Ronnie Brown for the Dolphins, and I don't think Ricky Williams turns back the clock without Ronnie there to attract the defense's attention. I certainly hope I'm wrong though, and it's certainly possible I am.
Here's my latest top 10:
1. Saints (9-0) (Last week: 1) Bush saves them, but how long can they pull vanishing act?
2. Colts (9-0) (LW: 2) Add another chapter to the Peyton Manning legend.
3. Vikings (8-1) (LW: 3) I'll reiterate: After Seattle and the Bears, Favre and Co. are 10-1.
4. Patriots (6-3) (LW: 4) I can't dock them. I still think they should have won.
5. Bengals (7-2) (LW: 6) Why not ahead of Pats? Still not sold they're a threat in the playoffs.
6. Chargers (6-3) (LW: 10) Don't think he's fixed forever, but new father LT2 looked inspired.
7. Cardinals (6-3) (LW: 9) We know Warner is good, but Beanie Wells turning into a force.
8. Steelers (6-3) (LW: 5) Beat weak Denver team, lost at home to Bengals. Not the same.
9. Cowboys (6-3) (LW: 7) Still think they're good, but Romo's roller-coaster continues…
10. Texans (5-4) (LW: NR) Love that offense. Hot Titans and Colts at home next two weeks.