(Note: I originally wrote this during the fall in conjunction with the release of "More than a Game," but while writing about the Primetime Shootout this weekend, I grew nostalgic for the greatest high school performance I had ever seen at the 2003 Shootout. I usually don't re-up posts, but indulge me here. Stuff's about to get crazy with LeBron as July 1, 2010 approaches, but I contend that this game in Trenton was a snapshot in time that will never be duplicated.)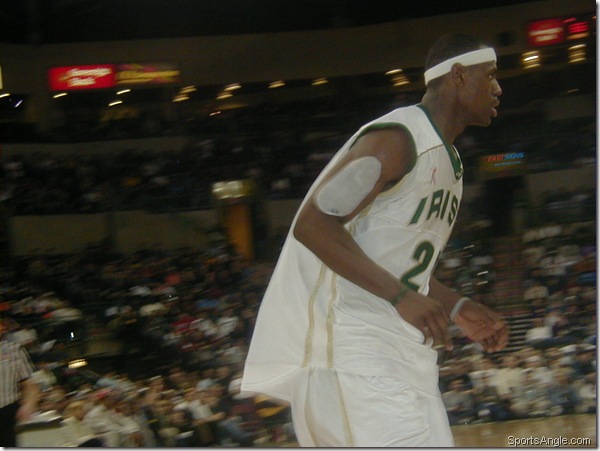 There's a movie that came out in theaters this weekend that I can't wait to see. It has extra meaning to me and I find it particularly inspirational. I'd go as far as to go on record and say it's the feel-good movie of the season.
Obviously, I'm talking about Zombieland, with the great Woody Harrelson.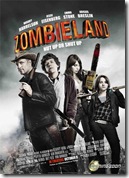 Okay, I admit, I'm just kidding. Though I do plan to see Zombieland, I'm referring more to More than a Game, the documentary chronicling St. Vincent-St. Mary's, the high school team that featured a young man named LeBron James. Considering my personal experience with that era of his life, the movie holds extra meaning to me.
As you may have noticed, this site has covered LeBron pretty closely – from his impending cataclysmic free agency, to his relationship with rappers, to his complete dominance of the media. Well, that's not new. Long before SportsAngle's hiatus, when LeBron was still technically in high school, we decided to follow him every step of the way.
It was a rare opportunity to get in on the ground floor and see a legend develop – like seeing Jordan hit that shot against Georgetown in the Finals and watching him all the way through his shot over Bryon Russell… or I guess, his last game with the Wizards.
Back in 2003, LeBron James was a phenomenon such that he was pushing the pros to the background on SportsCenter. Every move was scrutinized, including the fact that he took a gift of a pair of throwback jerseys – Gale Sayers and Wes Unseld, if I recall? At least make the suspension count and take a Strawberry jersey – and was suspended from his SVSM team.
Hypocritical, no? With all the money he was making for everyone involved – his high school team, prep ball in general, ESPN, Sports Illustrated – what's the big deal? He obviously wasn't going to go to college; the rules were and should have been blurred. As LeBron pointed out:
I just feel like LeBron James has a big bull's-eye. I can't do kid things. I've got to stay focused and do the right thing.

Of course, it was a symbiotic relationship. LeBron was getting what he needed as well: publicity and the proper start toward superstardom.
Regardless, the right thing for everyone was to let him play, and LeBron, Hummer and all, was reinstated just in time for his game against Trevor Ariza's Westchester team at the Primetime Shootout in Trenton, N.J., which a few of us from the site had already made plans to attend.
So I ended up kneeling on the baseline as if in worship, watching a Hall of Famer in a high school kid's body – except that wasn't even close to true, since he had the body of an NFL tight end. An arena that had a couple hundred at best the next day – for Sebastian Telfair and Lincoln – was jammed to capacity with about 12,000 fans that included Cleveland Browns receiver Kevin Johnson. I looked to my right and saw LeBron's mother bouncing up and down, shrieking: "We going to the bank! We going to the bank!" (True story – though she wasn't yet to the point of picking fights with opposing players.)
Okay, that's not exactly Spike Lee, Denzel, Jay-Z and Woody, but the vibe was clear: This was like a pro game, complete with the full complement of national media. Most of the reporters had a grand time blustering to me about LeBron's shortcomings – his jumper, his defense, etc. To me, this was akin to theorizing the Mona Lisa is flawed because she's only half-smiling.
You could tell that LeBron wanted to do a little something extra for his first game back from suspension to show everyone what they had been missing. So he scored 52 points, his first time over 50. Against Ariza – now one of the best defenders in the NBA – and the No. 7 team in the country.
In a game with eight-minute quarters.
The moment that crystallized to me what he is came at the end of the first quarter. He had already scored 15 consecutive points when he received an inbounds pass right before the buzzer, took off from one leg and calmly banked in a halfcourt shot.
He then pumped his fist once and strode to the bench as if he had tossed a balled-up pair of socks into a laundry basket. I had never seen a player with his natural talent, nor had I seen a player more at ease with his physical genius, and that was at 18.
I hadn't had enough, so I took a train to Washington to see the Jordan Capital Classic. It was more of the same – media fervor mixed with irrational skepticism. I had John Feinstein tell me pointedly he was "there to see everybody but LeBron." I mean, get over yourself. I'm sure there was a Patriot League event somewhere he could have attended instead.
The sky was the limit back then. And it still is. We've seen what he can do in the pros, but you get the feeling he's only scratched the surface. He has championships to win, records to break, a country to bring to its knees. We're in a golden era for him.
But a big part of me longs for the high school LeBron.
The same weekend as Michael Jordan's final appearance in the NBA All-Star Game, tens of thousands of people and dozens of reporters sold out a high school game in Trenton. That is simply unheard of.
Nobody really knew what was going to happen that day, but there was such a feeling of wonderment and anticipation. Anything was possible. And I think you'd be hard-pressed to find someone in attendance who was let down.
I haven't yet been to one of his pro games. What he's doing in the NBA is unique, but not on the level of what was going on with him in high school. It was perverse to the point that it was like a movie. And now it actually is a movie.
I'm glad More Than a Game came out. The farther we get from those days, the more people forget about what transpired when he was barely old enough to drive that much-maligned Hummer. Hopefully this movie helps everyone remember.
As fascinating as LeBron's life is now, we've never seen anything like those high school days. And we most likely never will again.