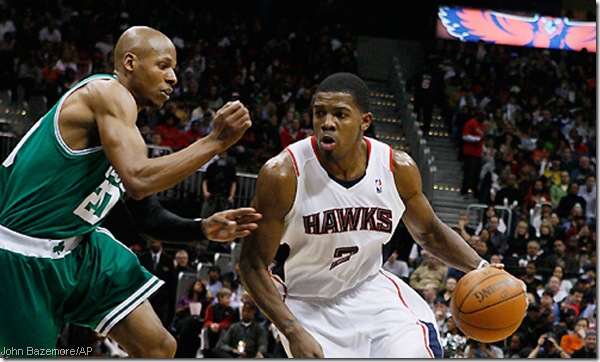 Let it be known that I love it here in New Jersey. North Jersey to me is like Mississippi to Faulkner. It's a part of the fabric of my life, woven into everything I do.
I'll almost certainly never leave Bergen County, but if I did, the only other places I've considered living are Miami, Durham and Las Vegas, though in recent years I have cultivated a fascination with Los Angeles despite never having been there.
That said, after my second visit this weekend, I came away with real respect for the city of Atlanta. I'm not convinced it makes my short list, but much as I feel about all things Jersey, Atlanta has a manner and rich heritage all its own that give it a fascinating cultural identity, and a refreshing perspective and passion for sports.
I planned this trip a few months back with some work friends who happen to be fellow pro wrestling enthusiasts, so we decided to get tickets to the Royal Rumble. I'd previously been to Atlanta last June to sightsee and go to a couple of Braves games, but being there with two natives of the city helped me actually learn a bit about what life is like down there.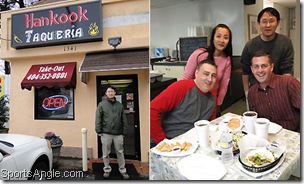 Among the local flavor we sampled was a Korean taco place (?), the CNN Center, Olympic Park and Atlanta's finest, uh, gentleman's establishment. I also had the pleasure of meeting Jeff Francoeur, the nicest guy in the universe. Amazingly, I'm now an apologist.
Given that one of the guys on the trip came down from Boston, we hit up the Hawks-Celtics game on Friday night. And with the Hawks going for a season sweep of a team they have a lot of recent history with, the turnout was pretty good. I can't exactly say the place was jumping – the atmosphere was relatively subdued considering the situation – but the fans had a lot of love for the team, which pulled away late for its fourth victory over the C's this year.
I just wonder how long it's going to stay that way. Of the fans wearing jerseys, about 90% of them featured franchise player Joe Johnson, who almost certainly won't be back in Atlanta next year. (Incidentally, the other 10% included my Josh Smith jersey) Johnson, one of this summer's most coveted free agents, has expressed displeasure with the presence of gunner Jamal Crawford, who has been brilliant off the bench, and Johnson is set to cash in big-time with some team that misses out on the LeBrons and Wades of the world.
Don't get me wrong, the Hawks' cupboard wouldn't be bare if he left. Mike Bibby may be getting older by the minute, but Smith is a physical beast who is likely to continue to get better, while Al Horford cracked the All-Star Game this year. They need a point guard, which is doable. But they do take a huge hit if they lose Johnson. And if the Hawks regress somewhat, they'll be left with a small contingent of die-hard fans who live and die with the team, but a lot of the casual support from the community will likely dry up.
That said, I've always heard about how lousy Atlanta sports fans are, but I think they get a bad rap; I found them to be sort of like the fans I found when I visited Miami. They may not sell out the building all the time, but when they get something to root for, they turn out. And in terms of sheer passion, the die-hards have a fierce civic pride for anything that defines their city, as demonstrated by the "Vickophants" – it's an established term down there – who still flood the local sports radio stations with praise for their self-immolating hero.
Indeed, there are still plenty of people down there keeping a flame for Mike Vick, as evidenced by the support he got in a convoluted Matt Ryan-Matt Schaub-Vick debate I heard on the radio. Instead of looking at it that they were choosing to support a sadistic criminal, it's more that they're loyal to a guy who captured their imagination, took on the identity of the city and gave them some moments to remember. (Note: This is certainly not to say I support Vick, who I find despicable. It's more an understanding of how Atlantans can possibly still do so)
The vibe was the same at a Georgia Tech basketball game – props to the ticket agent who demonstrated some true southern hospitality by handing over four tickets out of the blue. And the support for the team was the same as for anything Atlanta. Derrick Favors, Gani Lawal and even Glen Rice Jr. were treated as native sons – especially Favors, who has the look of a physically dominant player once his body fills out a little more and he adds some muscle.
Sidebar: I was also impressed by Rice, who shot 6-for-6 and scored 15 points, albeit against a completely overmatched Kentucky State team. The relatively explosive Rice has a markedly different game from his father, in terms of that he can actually dunk. (This is coming from a guy who still has a Knicks Glen Rice jersey hanging in his closet)
The main point here is that though he probably won't do this, Joe Johnson would do well to give it some thought before he automatically becomes a LeBron consolation prize in some other city. For one, the Hawks are legitimately good enough to compete for championships right now with the team they have. If that truly is the goal, and if the money is in the same ballpark, why not stay?
Because if he leaves, he's simply not going to get the support he gets right now in Atlanta. The fans may not turn out in the same quantity, especially when their teams are struggling, but they love their heroes when things are going well. Johnson could approach Vickian levels if he bucks the odds and stays.
And if the past weekend was any indication, a career-long love affair with the people of Atlanta is not such a bad thing to call one's own.