Here are some reactions to this weekend's football action, a little belated because of a rare vacation to the Jersey Shore, where I didn't actually have Internet access. As such, I missed out on a lot of people complaining about the Mets' inability to sign Jon Garland, of all people. It was bliss.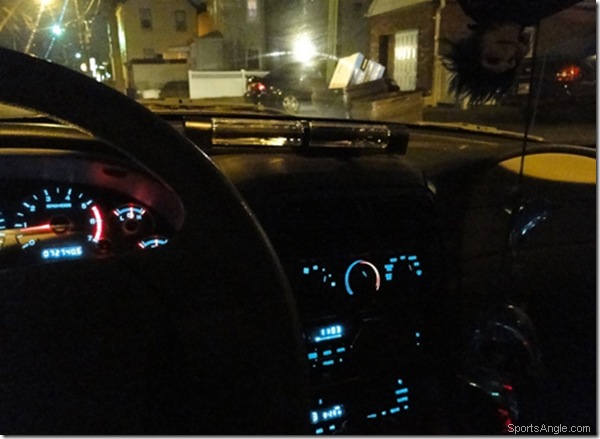 I've always been a radio guy, dating back to my high school days of calling the WFAN overnight shows, which actually provided a distinct preview of my sleeping habits later on. I later had the privilege of hosting my own sports and heavy-metal music shows – I was far better with sports given that I actually know very little about heavy-metal music.
To me, there's just something about the medium that technological advances can never replace. In a world in which our senses are consistently flooded to where there's very little room for introspection, radio maintains some of the simplicity that you simply can't manufacture. To me, there's beauty in throwing your voice into the ether, with no inclination of who may be listening or what reaction you're eliciting.
As such, I have a fondness for listening to sports on radio. I believe the pace of baseball makes radio a perfect tapestry for the sport, as the best broadcasters allow room for the listener to fill in the imagery themselves. Though I don't believe basketball translates, I think football is a sport that works well, as one of my fondest football memories is courtesy of Marv Albert calling Monday Night Football.
So after watching the entire Colts-Jets game and the majority of the Saints-Vikings game, I decided to hit the road. I had planned an escape to South Jersey to recharge my batteries, and rather than waiting until after the games, I decided to take the opportunity to listen on WFAN to the fourth quarter and overtime – which actually lasted about 75% of my trip – while watching the miles melt away in a sea of headlights on the Parkway.
Vikings call — this one details running room
Of course, absorbing a game this way has its flaws. I didn't see Brett Favre's final interception of the season – not that I desperately needed to witness it or anything. But I did strip myself of the opportunity to realize that Favre had running room ahead of him, something the announcers failed to tell me, until friends told me about it later. Your eyes become the commentators' voices; you paint your mental picture based on what they tell you. While certain nuances become more evident, others are lost in translation.
But the benefits far outweigh the negatives. If you've been reading my (admittedly uninformed) football articles, you'd know that it's not a sport I have a vast amount of knowledge about. I prefer to focus on the experience. Football has become such a cultural phenomenon, with fantasy leagues and Monday Night bar specials and the whole world stopping for the Super Bowl. My goal for this season was to experience it in a variety of ways – like, for example, by watching with Lawrence Taylor.
And one way I've always loved to experience football is on radio. I bet some would say I "missed the end of the game" because I didn't actually see it as it happened. But I'd contend that I gained far more than I missed by giving over the end of an important game to a medium that has been around far longer than I have, and thankfully, shows no signs of being swept under in the constant quest for progress.
If Kurt Warner truly does retire on Friday, which he apparently will, we lose a player we definitely took for granted. When healthy, Warner was able to play at a higher level than most could have imagined after he was undrafted and began his career playing Arena League football. I've always liked Warner myself, and it's been stunning to see the second crest of his career after most thought he was trending straight downhill after his tenure with the Giants ended. To see him make the Super Bowl with the Cardinals – of all teams – gave extra justification to his resume, indicating that he was capable of doing it without all those weapons he had on the Rams. Brady and Manning got all the headlines this past decade, and it's hard to argue with that. But Warner won two MVP Awards and a Super Bowl and set all sorts of records in the process, seeming like a genuinely good guy for his work on behalf of disabled children. I don't hold his vocal manifestation of his religious beliefs against him. He didn't attract the attention of Favre and will leave the way he showed up – quietly – but he helped define this era as much as many of his flashier counterparts, and did it in a highly professional manner.

I made the observation a few months back that Peyton Manning was the best player in the sport – that his skills had remained top-notch while he was mentally on top of his game. As such, even as the Colts took an early shot from the Jets on Sunday, Manning didn't panic, knowing he had the tools and the presence of mind to bring his team back. The Colts had it relatively easy, playing two Wild Card teams at home en route to the Super Bowl, but they still had to get the job done, and there was little doubt in anyone's mind that Peyton was the man for the job. He's had better teams than this, but he's never been better than this, which is why you have to think the Colts are a solid bet to win it all.

After the Jets lost, Rex Ryan said his club was "the biggest show in town," indicating that they had surpassed the Giants in that regard. While Ryan accomplished a great deal in his first year, the toughest thing to do is build on a season like this – there's potential for a step back next season regardless of Mark Sanchez's improvement. Everything broke right for them this year. And besides, the Jets will always – always! – play second fiddle to the Giants, at least until they win it all. I remember when the Yankees were eliminated in 2006 and the Mets advanced to the NLCS, and the local papers had articles discussing how the Mets were now the biggest show in New York, the more exciting brand. And that lasted what, a week? And now the divide is bigger than ever. I understand the stadium will no longer have the Giants' name on it, but the Jets have a long way to go before they are considered more compelling than their neighbors. Two years ago, the Giants were beating the Patriots in the greatest Super Bowl of all time. And now the Jets are the biggest show in town? Hardly. I like what Ryan is doing with that franchise, and he usually backs up his bluster, but one year does not institute a power shift and erase four decades of New York football hierarchy.
Last week: 2-0 (against the spread) Playoffs: 5-5
It was pretty obvious what was going to happen in the Colts game. I did pick the Vikings to win, which was wrong (though it shouldn't have been), but with a spread of 4, I'm going to call that a win since it would have put money in my pocket. I'll reiterate that I don't actually gamble, with my 0-4 second round the obvious evidence why that's the case. I'll give my thoughts on the Super Bowl closer to the game in case Peyton Manning gets abducted this week or something.