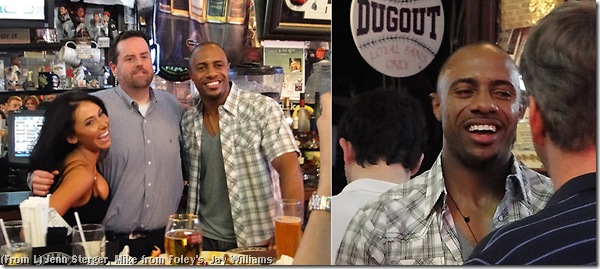 I will forever associate the month of March with Jason Williams circa 2001, the mercurial Duke guard with a gunslinger's swagger to go with his incredible talent, limitless potential and unparalleled work ethic.
And when he sits back and recalls his history with the best time of the year in college hoops, it puts him back in game mode.
"A couple weeks ago, I literally got chills," Williams said Saturday night. "I got chills. It's always like that. It's always this time of the year that makes me the most excited."
Nine years later, March is still Jay Williams' time. Williams has transitioned into an excellent analyst for ESPN's college basketball telecasts; his superior court vision now allows him to break down the action better than most could, and he works just as hard at that as he did on his three-point shot.
And in what comes as no surprise to those of us who got to know him at Duke and who came to recognize him as a total class act, Williams is using his notoriety and networking ability to help give at-risk youth opportunities that they wouldn't normally have.
I had the chance to catch up with Jay at a charity event for his Rising Stars Youth Foundation at one of my favorite bars, Foley's on 33rd St. in New York City. Jay served as a guest bartender, and the proceeds from the drinks went to Rising Stars. He was also spreading the word about the Foundation's gala dinner on April 27 at the New York Athletic Club.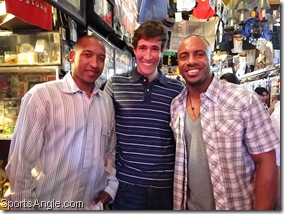 If Foley's was any indication, the gala dinner will be an enormous success. Those of us who went to Duke were ecstatic to see Knicks guard Chris Duhon stride in wearing his trademark grin to reunite with his Duke backcourt mate and to support the cause. Jennifer Sterger of FSU Cowgirl and NY Jets on-field host fame – and the host of an upcoming show on Versus called The Daily Line – helped Jay tend bar and mingled with the attendees.
"Jay and I actually met through mutual friends at ESPN," Sterger told us, "and he's a super-nice guy and I believe in what he's doing, so it was kind of a natural thing to come out."
The stars will be out on the 27th as well. In addition to Sterger, Jay said that New York Giants Michael Strahan, Justin Tuck, Jesse Palmer and David Diehl will be there, and that he hopes to have Dick Vitale and other ESPN colleagues attend.
The main purpose of Rising Stars is to create academic and athletic programs designed to give kids a positive influence in their lives that they might not have had otherwise. Williams added that the long-term goal is to build a charter school in Harlem to continue promoting the Foundation's core values.
"My mother and my father were great, and I'm so thankful for them," Williams said. "But not a lot of these kids have a mother and a father who were there. And even if they do, sometimes it takes that third party to really make a difference, to kind of be that third ear, that third sounding board for advice."
*****
Jay, for his part, was a hit with everyone in the bar – hanging out, reliving old times, cracking jokes. Same great sense of humor, same fun-loving nature. A winner, like he's always been.
Which brings us back to that championship run in 2001, when Jay reached the pinnacle of college basketball. I wondered what it was like for him the night before the title game against Arizona, sitting in his hotel room —
"Pacing," corrected Jay, who stayed up most of that evening watching tape of Gilbert Arenas and thinking back to his days as a kid on his backyard court in New Jersey, envisioning that moment coming to life someday.
As my hands are on my knees and I'm looking at these two guys getting ready to tip the ball, all of a sudden, this song pops in my head – (sings) The ball is tipped… And I'm like, 'Oh my God, I'm living this experience.' … Literally, I can't tell you about the first five minutes of the game because I was in shock. I was in awe. And all of a sudden, we win the game, and I was crying hysterically because that one shining moment was our shining moment.

And it's such a special feeling, man, it's so rare. So unbelievably rare.
*****
We all remember what happened right after Jay's first year in the NBA playing for the Chicago Bulls. I still remember seeing the news on ESPN about his accident and feeling terrible that this had happened to an inherently good person with such a great spirit, someone who deserved every bit of success that his skills could afford him.
But the game isn't something he needed to be successful in life.
"Basketball is something that I happened to be really good at, and I really appreciate you saying I was great at it, and I appreciate everyone's opinion," Williams said. "I thought I was good; I could always get better. I had to work harder.
"But basketball is such a small part of who I was as a person."
Though it's clichéd, I really have come to believe that everything happens for a reason. Perhaps this is what Jay was meant to be doing all along – using his burgeoning media career to position himself to make a real difference in children's lives.
We don't always find our calling right away. Sometimes things have to be put in our path to test us, and help steer us in the right direction. You live and learn.
And as magnificent as Jason Williams was as a player at Duke, and as much promise as he showed in Chicago, he's taken what life has given him and has become a success in a manner far different, and arguably better, than he ever could have on the court.
"You know, for me, with the way my life has really worked out, the one thing I was very fortunate to have was a mother and father who were there to push me to be better," Williams said. "Now that I'm in a position where I can provide this for young kids, whether it's in urban areas or the suburbs – so many kids out there are at risk.
"And to put something together like Rising Stars, where some people were able to help me out through my process, is something that I feel can make a difference.
"And I think that's what our overall goal is."
___________________________________________________________________
If you'd like more information on Jay Williams' Rising Stars Foundation, visit their site: http://www.jaywillrisingstars.org/
For more information on the gala dinner on April 27: http://www.jaywillrisingstars.org/events/fundraisers/invite_2010.pdf