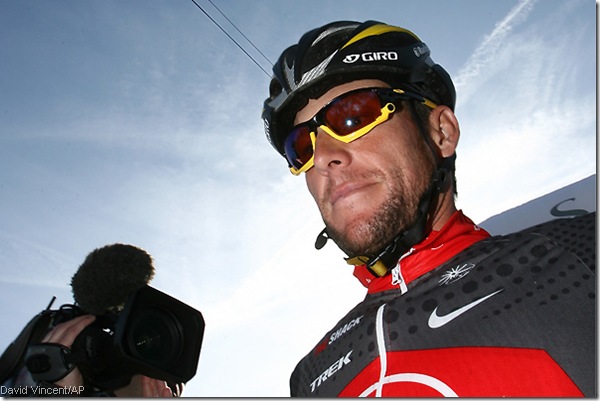 For some time now, I've been a huge supporter of Lance Armstrong. I've worn one of those yellow bracelets for six years – long after it stopped being trendy – because I truly believe in the things he stands for.
That's why it's always been so awkward internally for me to suspect this whole time that he was on illegal performance enhancers during his times of greatest glory.
I just hope if that's the case, that nothing comes out during ace PED investigator Jeff Novitzky's upcoming investigation, ignited by Floyd Landis' explosive accusations.
Too much is riding on it, and not just for Armstrong.
Armstrong brought up Landis' credibility, which obviously isn't high considering the motive his jealousy constitutes, and the fact that he lied about his own drug use for years after testing positive, even going as far as to write a completely fabricated book decrying the process.
But with Novitzky involved, the game has changed. Novitzky busted Balco, he took down Kirk Radomski. I read Radomski's book; Novitzky doesn't mess around, and his involvement could not have gone over well in the Armstrong camp.
Now obviously, I have no substantive information of any sort, nor would I want to have that. I have no Brian Cushing-esque first-hand accounts, no overwhelming physical evidence.
There's just a nagging feeling for me that logic dictates one of the greatest athletes of our generation, who accomplished preternatural feats of stamina and toughness, couldn't have accomplished it without some sort of boost.
Most people know I'm an Armstrong fan, and I've frequently been asked my opinion on this subject through the years. At first, I denied vehemently that he would have done anything of the sort, citing the belief that someone who survived cancer wouldn't want to willingly put anything foreign in his body to mess with his body chemistry further.
Besides, as I would generally point out, Lance has accurately described himself as the most frequently drug-tested athlete in America. You'd have to think with all those tests, at some point he'd slip up if he was doing something.
But I've studied Armstrong extensively; you'll find no fewer than five books by or about him on my bookshelf. And if there's one common thread in every publication, it's how competitive and meticulous he is. If there's a mechanical or even psychological edge out there that would gain him even a half-second per mile, he would find it.
This takes nothing away from the things on the surface that made him great. Lance had the best team around him of both hand-picked domestiques to ride with, and the best coaches in the world planning his race strategy. He had the best minds in the world scientifically engineering his equipment. He left no stone unturned. And he was naturally gifted with otherworldly lung capacity.
It's not so far-fetched to think that the same attention to detail that was applied to his diet and his output of physical energy during training – they constantly measure and chart the wattage his body expended – could potentially have been applied to what top-level cyclists do.
Which is? Covertly administering blood transfusions to boost his red blood cell count and allow his blood to carry more oxygen to his body, and using the drug EPO as a masking agent.
Let's face it, we know by now that if an athlete is smart about things, he can beat any test they come up with. People who make a business out of benefiting in some way from illegal substances constantly stay ahead of the curve, figuring ways around drug tests just as fast as they come up with new ones. It's highly possible to know exactly when to cycle on and off, and what to do to get it out of your system.
And we know now that this is a sport in which almost everyone was on something. It became like baseball, where we knew people were using steroids, but we didn't know just widespread it was. As a graphic in this week's Sports Illustrated shows, on Lance's nine-man team in 2003, three have been banned, three have been accused by Landis and one was cleared after an investigation.
A good portion of his team was doping. His main rivals were doping. (Tyler Hamilton, Landis, Alexander Vinokourov, Jan Ullrich, and on and on…)
And Lance beat all of them seven times in a row. That's over 14,000 miles of dominance over a sport that was rife with cheaters.
Either Lance was simply that much better than everyone else, most of whom were on performance enhancers of some sort – for seven consecutive years – or he was doing what he had to to stay ahead of the curve.
The big problem here if Lance was doping is that he means so much to so many people. You have a nation of cancer survivors that have looked up to Armstrong for beating the disease, subsequently dominating his sport and then raising millions and millions of dollars for cancer research. It would be a crushing blow to Armstrong, but more importantly, to his many disciples.
Personally, I've worn his wristband all these years because he's inspired me athletically; I read books on Armstrong to put myself in a winning mindset the nights before my two marathons, and I wore a LiveStrong shirt for both races. I was extremely proud that my first race, New York in 2006, was Lance's first race as well. I bought commemorative Armstrong Nikes the next day to celebrate.
And I believed in his fight against cancer, and still do. Both of my grandfathers had cancer, and one died. Everyone has had to deal with it in some way.
That is why as my own skepticism has grown over the years, I continue to hope that nothing substantive will ever be revealed about Armstrong. Much like some of my other favorite athletes who I've wondered about – Mike Piazza comes to mind – I'd just prefer not to know.
If Lance Armstrong cheated to win some or all of his seven Tour de France championships, the end result was the creation of a persona that gave so many people hope. Does that result justify any extent of means?
I'm actually not sure. I'd lean toward yes. 
Armstrong used his success for so much more than simply personal gain; he did so much for others in both tangible and non-tangible ways. There's no question the good he has brought to the world is the best indicator of the human being he is.
So I'm going to hope that if Lance was doping, that somehow Novitzky can't prove that.
Even if his body was tainted all those years – and I'm not saying it definitely was – I believe it's of vital importance to too many people that his impact or legacy not be tainted as well.