I haven't been around here as much I'd like to be lately, though that will change – my day job has taken up a slight bit more of my time given that I've been covering the events leading up to tonight's Yuri Foreman-Miguel Cotto fight at Yankee Stadium, which has been great.
I'm not sure if the fight will be great, but Top Rank's promotion has been excellent, and I'm hoping enough people turn out that this will be a profitable venture that will lead to more stadium fights in the future.
For the record, I think Cotto's a shot fighter, not that Foreman has the punching power to knock him out, so it's a smart fight for him to take. There's minimal risk of some sort of flash knockdown or hellacious beating, and Cotto has the opportunity to win a championship.
I do think it goes the distance, and I think Foreman probably frustrates Cotto with his speed in enough rounds to earn a decision. It's pretty tough to call, though, and I think the most important factor is that the rain holds off, as scattered thunderstorms are predicted starting at around 8 p.m. in the Bronx.
Assuming it doesn't pour, I think the novelty of the evening and the involvement of Cotto will carry the night. The crowd, which is sure to be highly partisan toward Cotto, won't exactly care if this is Graziano-Zale.
Following are some choice quotes about the fight that I haven't used from some of the people I talked to:
Top Rank promoter Bob Arum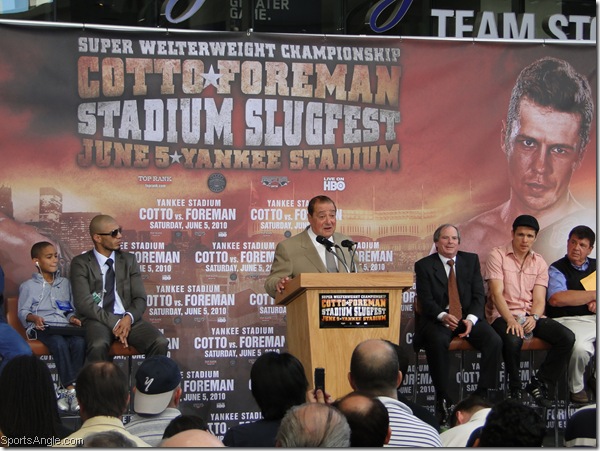 So we put the ring in right-center field, we put 10,000 seats on the ground, and using the stands along the first-base line and in the bleachers for 20,000 additional seats, and it works out really well. As soon as Thursday's game is over, and God, if it goes into extra innings I'm fucked, but as soon as the game is over, they lay everything down. The unions have been having Christmas parties the last two weeks, because they have overtime, double time – because they'll have to work through the night to get it done.
[The Norton-Ali fight in 1976] had a bad taste because of the police strike. Also, Steinbrenner was furious because we fucked up his infield and it was during the season. It was the end of September. I don't know if the Yankees were like competing, but still, they had to play the game, and the infield – the balls, I remember, were taking bounces, I mean, we really screwed up the infield.
They have special boards down and everything. And remember, the grass then was natural grass. This grass looks like natural grass and may smell like it, but it's not quite natural. And if anything gets screwed up on any little portion, you just pull up the patch and put another patch in.
DiBella Entertainment president Lou DiBella
I was in Dallas for Pacquiao and Clottey. And honestly, it was a pretty mediocre fight, but if you were there, it was a good event. The fights weren't great, the undercard wasn't great, the main event didn't turn out to be very competitive, but the atmosphere was so cool and people were so jacked up to be in Cowboys Stadium and experience the whole vibe of it that it elevated the night. I think there's a novelty to the first fight in the new Yankee Stadium. And I think that Arum's going to capitalize on that novelty. You know, it's before Puerto Rican Day Parade weekend, there's a big Puerto Rican population in the Bronx, so I think you should get some bulk in terms of numbers in the Puerto Rican community. I don't expect them to buy the most expensive seats; we're talking about the Bronx, not Westchester. But Yuri's appeal to the Jewish community – I think Yuri hasn't been in the big spotlight before, but his manager, Murray Wilson, who runs Campagnola Restaurant, is very tied in to the New York Jewish community and I expect that he's going to bring a lot of people out to Yankee Stadium. I think it's going to be a little bit difficult for religious Jews to come out to the ballpark because it's basically beginning of summer and sundown is pretty late, but I think you'll still have a nice representation.
I promoted the first fight of any promoter I can think of in recent years at a New York baseball field when I did Keyspan Park. I did the first title fight there in years and years and years. I did Camacho Jr. and Leija and there was Kirk Johnson. I'm a big Mets fan, so I would love to promote something someday at Citi Field.
[The Keyspan Park card in 2001] was a good success. We had a great crowd, and we had fireworks over the outfield walls at the end of the fight, and it looked great on TV. I mean, it wasn't a huge economic success, but it was a great success from a crowd standpoint and how it appeared on television.
I think they're focusing really on the popularity of the fighters, and there has been a lot written about Yuri being a rabbi. The proximity of the Puerto Rican Day Parade, they have a lot of angles. I think the history of the old Yankee Stadium, going back years and years and years, and boxing certainly bears mention and it's going to get some attention. But boxing already has a much older demo. What boxing has to do is energize younger fans. We gotta get people under 35 to Yankee Stadium to watch the fights. I don't think there's anything wrong with pointing out the history, and I'm sure there will be articles done and potentially given to that, but I don't think that with this marketplace that's really what we need to do. We need to market it to younger people.
Gabriel Montoya, MaxBoxing.com
To bring those people back, ultimately it's the product. Is it a good fight? Personally, I don't think it's a very good matchup. Yuri Foreman is a technical fighter who likes to move a lot, who has eight knockouts, which means he doesn't really go in for the kill. And you have Cotto, who's a very slow, plodding guy. You look at Pacquiao-Clottey. They called it an event, when back in the day, if it was a good matchup, they might have called it the superfight, or the war, like Hagler-Hearns.
Tony Paige, WFAN overnight host
Cotto has always done well right before the Puerto Rican Day Parade, and boxing has always been an ethnic sport, so you have a Puerto Rican against an Orthodox Jew, and you might get a good crowd. I thought they'd do 30-35,000, which is what it's set up for, but I've heard they've sold 30,000 tickets already. You got a week to go, and you've got the walk-up which people always count on. And it's so funny that just a few years ago the Bronx was this "dangerous place" and nobody wanted to go there, and the Yankees were going to move, and now the Yankees are drawing 4 million people and they've got luxury suites and fancy restaurants. I grew up not too far from there, so I'm glad to see that's been taken out of the equation by what a horrible neighborhood it is. It isn't a horrible neighborhood; people just want to see a winner, whether it's the Yankees or a great boxing match.
I know there were some fights out at Shea Stadium in the 60's, I think Emile Griffith and Nino Benvenuti might have had one of their fights out there. There was wrestling at Shea Stadium, and I really for the life of me can't think of what the fight was before the Ali-Norton fight. Bob Arum's already talking about he might bring a fight out to the Meadowlands Stadium, which is a new venue, Cowboys Stadium has already done Pacquiao-Clottey, they're in the running again to do Pacquiao-Mayweather if they ever get that done. I just think we're a greedy culture that if somebody else is successful, and I've got the same product or venue, why can't I have it too?