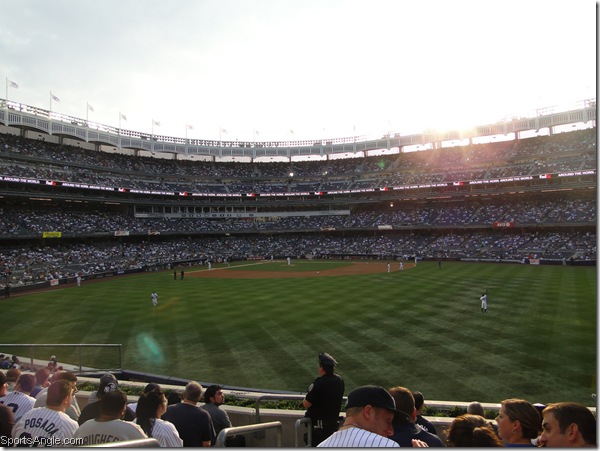 After being impressed with Yankee Stadium during the Cotto-Foreman fight last week, I wanted to see it for its designed purpose: a baseball game. So I made my way to the Bronx for my first Yankees game at the new Stadium in a World Series rematch against the Phillies on Wednesday.
Unsurprisingly, my opinion was much the same as it was for Citi Field, which I found to have none of the soul of Shea but 10 times the commerce, and therein lies the flaw in the "event" culture they've created:
You can sell the experience, but you can't control the outcome of the game.
I sat in the bleachers last night, which is probably the one part of the new Stadium where the atmosphere reminds you that you are indeed at a stadium. And the vibe was pretty good for a while. The bleacher roll call where they chant players' names until they're acknowledged is admittedly pretty neat; likeable lummox Nick Swisher turned and offered a full salute. And there was some guy in a Wild Thing Rick Vaughn jersey, always a terrific choice.
But then A.J. Burnett took the mound without any of his best stuff, and was hit hard by a Phillies lineup that hasn't done that to anyone recently. Meanwhile, with the exception of a massive home run by personal favorite Robinson Cano, the Yankees couldn't do anything against 100-year-old Jamie Moyer.
And just like that, the vaunted atmosphere at the Stadium dissipated completely. You could have heard a syringe drop. Then the silence was replaced by a constant stream of profanity.
Those people paid a lot of money to curse off their team. With a $1.3 billion ballpark complete with Hard Rock Cafes and such, and a cavalcade of high-priced stars with big personalities, the Yankees have succeeded in making their games into a New York event to see and be seen at, much like Broadway plays and movie premiere parties. And the tickets are priced accordingly; even the cheap seats really aren't very inexpensive.
I rode the bus yesterday with a family from Pittsburgh on their first trip to New York, and they asked me what they should do and see. I'm a baseball guy – I'm paid to be, sort of – and without hesitation, I told them to visit the discount Broadway ticket pavilion in Times Square. And my logic is that if you're going to put down some decent money to see a show, you want to know exactly what bang you're getting for that buck.
Broadway plays are consistent. You know it's going to be exciting, and you're going to see the resolution you're intended to see. It was impossible for me to walk out of "Phantom of the Opera" and feel that it wasn't worth the money. Last night, despite the contest moving at the glacial pace that most Yankees games do, there was little excitement until the ninth, when Jorge Posada came up as the tying run and struck out to end the game.
None of these are new ideas, but if you have a family, the money you spend will be ridiculous, and it would seem even more so if the game is lousy. For your standard family of four, any sort of decent seat will run you about $200 right there, food will probably cost another $40-50 – beer alone costs $10 domestic and $8.50 imported, which seems backwards – and souvenirs and clothing aren't exactly cheap. Throw in tolls and parking, and you might as well skip the game and take your entire clan on a short vacation.
Don't get me wrong, there's obviously still something very cool about going to a ballgame. The opportunity to see stars like Jeter and A-Rod, two New York institutions by this point, is always nice. Personally, I think there's never a bad time to boo the loathsome Shane Victorino and wretched Chase Utley. And they really do win much more often than not at the Stadium – 23 of 30 this year before dropping the last two to the Phillies.
I remember my first game at Shea vividly as one of my fondest memories from my childhood. I would imagine that there were some kids at their first game on Wednesday, and regardless of how terrible Burnett was, they're always going to remember it as being special. They'd better, considering the fourth mortgage their father had to take to bring them to the game.
It's just that the Yankees aren't the Harlem Globetrotters – though when the Orioles are in town, it can definitely feel that way. They're going to lose once in a while. Not every game is going to be a good one.
Believe me, as a Mets fan, I'm fully aware that as in life, there are no guarantees in sports.
But for the cash it requires to go to a game at the Stadium? It'd be pretty great if there were.