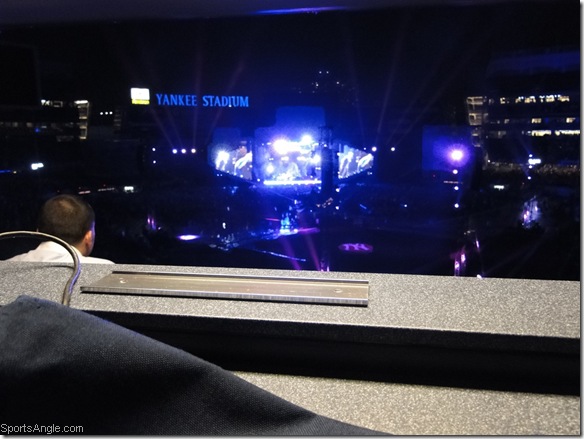 I never used to understood why Jay-Z was always in "best rapper alive" conversations, since I didn't think his skills were on that level. I thought that maybe it was like Lil' Wayne, where he said it so much himself over the years that people eventually just assumed it was true.
Then on Monday, after all these years, I saw him live for the first time at Yankee Stadium, the show he co-headlined with Eminem, which I had the opportunity to write about for my day job.
To paraphrase Yuri Foreman two days before he fought there, Yankee Stadium is really big.
But Jay-Z has made himself even bigger.
It's funny, because for a long time I refused to even listen to Jay-Z. I'm a Nas fan, and I was put off by their feud at the early part of this decade. I didn't like Jay going at him while his mom was dying, I thought Nas lyrically dominated him, and "Super Ugly" was a desperate, pathetic maneuver, compounded by the humiliation of Jay's mom forcing him to apologize.
Over time, as the two of them allowed their wounds to heal, I decided to try listening to Jay. And I liked him; there's an inherent coolness to his music that makes it perfect to drive around with. But to me, it was still more pop than hip-hop.
And maybe that's the point. I don't think, as Jay famously claimed, that he could rhyme like Talib Kweli if he wanted to, though he could have undoubtedly made somewhat less commercial music than he did if he actually wanted to. But then he wouldn't have sold out the Stadium the other night, or have even been on the marquee.
Jay-Z is widely respected regardless in the hip-hop community, and beyond – LeBron James, Amar'e Stoudemire, Kevin Durant and a host of other NBA players went to the show. It's this simple: Jay's money and power makes him what everyone wants to be.
He doesn't work for people anymore; they work for him. Companies fall at his feet with endorsements, eager to be aligned with someone who's successfully transferred himself from the streets to the suburbs. Your mom knows Jay-Z, and probably thought he was funny on Letterman.
Jay-Z is 40, which should logically make him passé in a landscape that constantly searches for The Next Big Thing, but he's made himself ageless by simply being cooler than everyone else. Not good looking in the traditional sense, he still landed the consensus "hottest girl in the game." He rebounded from Kingdom Come a misstep in which he came off as out of touch, to prove with The Blueprint 3 that he's more relevant than ever.
The simple fact that he was chosen for the first concert at Yankee Stadium shows where he's at. You think Steinbrenner would have let an ex-drug dealer have such an honor? I'm not so sure, but Jay's mutual association with the Yankees is symbiotic in that somehow, they raise each other's cool factor. It was no coincidence that when Jay lucked into a Yankees World Series title, "Empire State of Mind" become the first Billboard No. 1 song of his career presumably at least in part because of his involvement with the ballclub.
His live performances are really what sets him apart, as they are plain and simply epic. To look around during his set on Monday and see the power he has was remarkable. An entire stadium reacting merely to the first note of his beats, rapping along with his highly recognizable punchlines. He got 50,000 people – at a hip-hop show – to sing along with the guy from Coldplay. Is there anyone else who can pull that off?
Every guest he called out was cool by association. Beyonce? We love Beyonce. Swizz Beats? Sure, why not. Drake and Kanye West have buzz to begin with, but they seem even that much more significant when they're deemed worthy of doing a couple songs with J-Hova.
For that matter, Eminem, too, was brilliant in his own unique way. I've been a fan of his since college and have been fascinated with his evolution. From the horrorcore-esque rhymes of The Slim Shady LP all the way to the soul-baring missives in Recovery, Eminem has vacillated between a lunatic, an inspirational underdog and an unmitigated train wreck. After all these years and personas, he seemed clean, focused and intense. He attacked his verses with ferocity, belying his own 38 years of age, and connected with the audience more than he ever has.
But despite that I'm far more a fan of Eminem, this was clearly Jay-Z's night.
In what came as a bit of a relief to me, Eminem had the ability and desire to carry a show at Yankee Stadium. But Jay-Z made the Stadium melt away.
I'm watching Mike Francesa's show right now on location from the Stadium, and it strikes me how mundane it looks compared to a week ago. Last Monday, I no longer noticed the foul poles, the pitcher's mound with the Yankees' interlocking NY on it. It was just Jay-Z on stage, playing the songs we all knew, as mammoth panoramic screens and a live band added to the experience by contributing vivid landscapes and soundscapes to match his collection of hits.
Eminem made people nod their heads; Jay had people literally dancing in the aisles, including the usher in our section. He was like the Rolling Stones up there, weaving through his immense catalogue with a rock concert feel, perfectly at home in front of 50,000 people.
I never got where Jay-Z came off comparing himself to Michael Jordan all the time, but I do now. I remember watching Jordan feeling right at home scoring 55 points in the Garden right after he unretired. On Monday I witnessed Jay-Z gazing off the stage at 50,000 people in his hometown for a historic concert, knowing he's right where he belongs.
Sometimes I wonder if the hustler of his youth is still in there somewhere, a bit amazed at what he sees in front of him. But I think that history is far suppressed at this point, for the sole reason that it has to be for him to achieve what he does. You can't think. You just do.
On to the next one.
*****
Here are some of my favorite images from Monday's show.
Driving up to the Stadium for the show. I, uh, almost hit a cop car while taking pictures. The key word there is "almost."
Setting up the stage for the show.
One of the merch stands. I'm not sure why this came out fuzzy, but I apologize. I particularly like the Hitchcock-esque Jay-Z shirts.
Personal favorites J. Cole (right) and B.o.B. were warmup acts. B.o.B. was fine, though I thought J. Cole could have come off much better. I saw him at RutgersFest and he was great.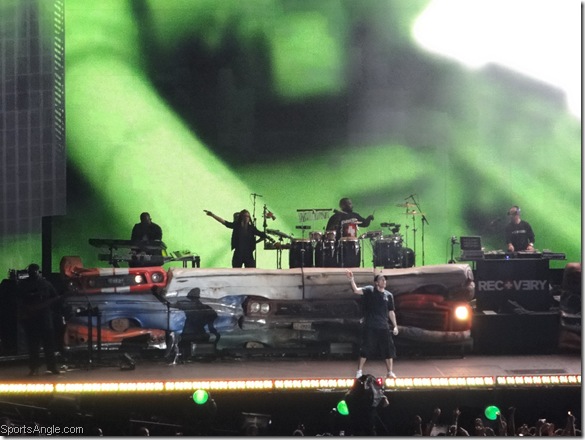 I don't have a ton of pictures of Eminem, since I was unable to take them from the press box, which is where I watched his set. Honestly, I was so proud of him. To go from where he was not so long ago, strung out on pills and dealing with the death of his best friend, to being a part of a night like this – I can't even imagine the emotions he had that night.
Em leaves the stage.
They put up a 10-minute countdown clock before Jay-Z's set. It felt like New Year's Eve.
The Stadium had that big-event feel.
Jay had a full orchestra behind him, with enormous screens setting the stage and the mood.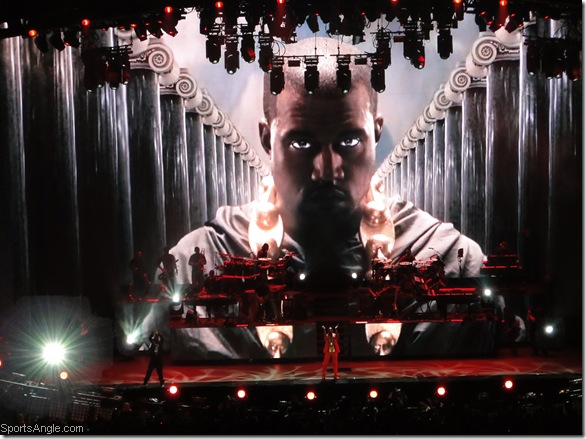 It shows how confident Jay is that he brought out a heavyweight like Kanye West one song into his set. Like, where do you go from there? Kanye received an enormous ovation, unequivocally positive.
It's funny how Jay went from a mentor to Kanye to a competitor. I kept wondering if they would play "Big Brother," which of course they didn't.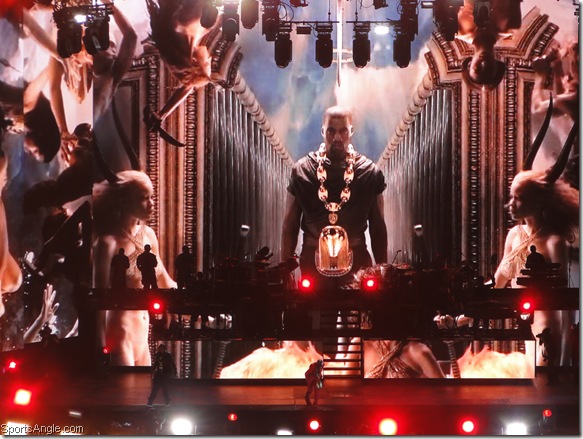 I don't know, I think all that talk about Kanye's ego is completely blown out of proportion.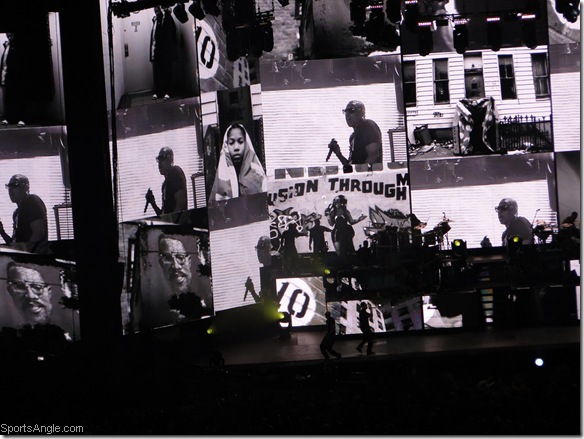 99 problems. They broke into the Linkin Park version of this in the middle.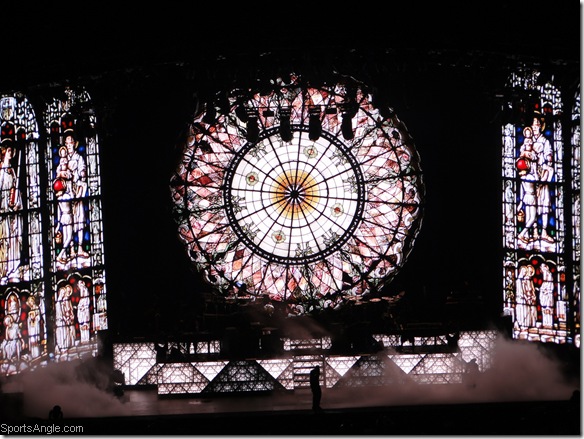 The sets were simply incredible, and the enormous screens in the back were a great idea. It allowed the backgrounds to be swift and changeable, while still giving it a cinematic feel.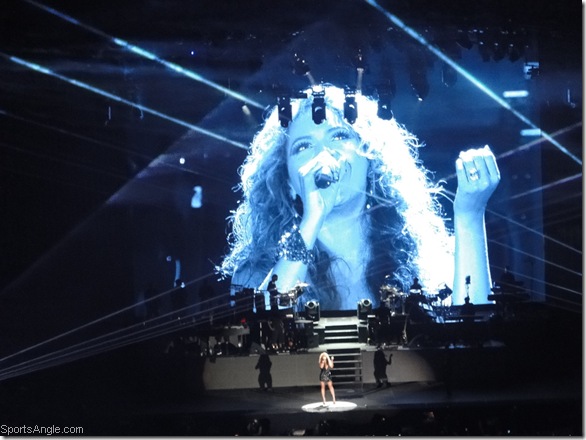 Beyonce came out to a very warm reception to sing the hook on Young Forever. Mr. Hudson, whoever that is, totally got robbed.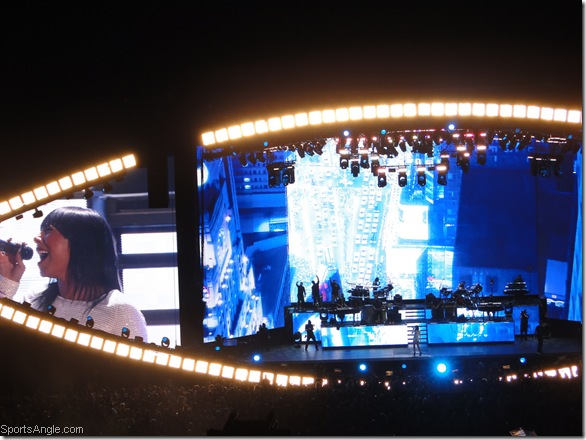 Empire State of Mind was a fitting closer. Of course, he played another half hour after that.
Even Jay must watch this back and think of how cool the presentation looked.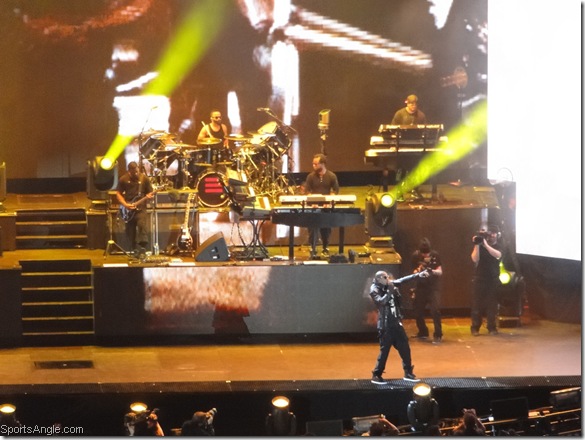 Jay thanks the crowd. Even for a guy who's done everything, been everything, this had to be an enormous personal accomplishment for him that nobody can ever take away.