Again, later in the week working better, because of baseball and LeBron starring in the best Nike ad in years. It may become a trend. My usual reminder: I'm a football layman.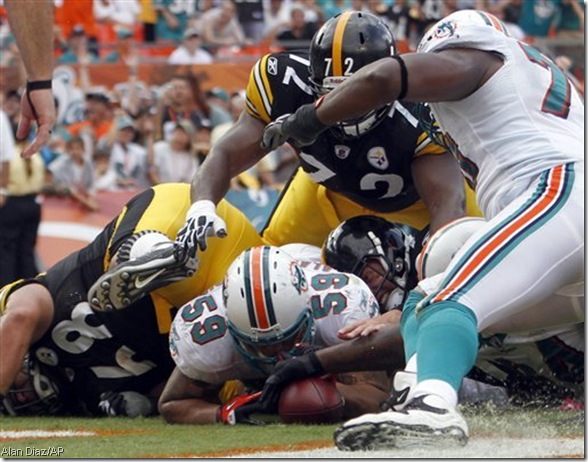 When I showed up at work on Monday, one of my co-workers said, "Obviously, you're going to write about instant replay this week." Well, yes, but not in the way he was thinking
As a Dolphins fan, I do think they got shafted, much the way the Lions were in Week 1 when some obscure rule wiped out what was obviously a Calvin Johnson touchdown. They forced a fumble by Ben Roethlisberger before he crossed the plane of the end zone, and then Ikaika Alama-Francis recovered the ball and came away with it after the pile was sorted out.
And the referees said they couldn't figure out who recovered it. I mean, that's crazy. Anyone with eyes saw Alama-Francis with the ball.
But you can't just roll over at that point. There's still a game to win.
You can't blame the refs when you have multiple opportunities to win and don't take advantage. The Dolphins forced two turnovers in the Steelers' first two possessions and came away with field goals both times when even one touchdown could have put a metaphorical foot on the Steelers' throat, especially considering Miami had kicked off to begin the game.
In addition, after the Steelers' touchdown was nullified, they retained possession and lined up for a field goal. Inexplicably, the Dolphins called a time out, their last one of the game, which constitutes baffling inability to manage the clock. Even with that faux pas, they still had about 2 1/2 minutes left with which to drive for a field goal, with a locked-in kicker who had already made five on Sunday.
The Steelers – strong against the run, not so much against the pass – were beat up and had two starting defensive ends knocked out of the game. So of course, Miami ran it on first down for two yards, rushed to get a play off before two-minute warning and threw an incompletion and completed a two-yard pass, before Henne's final attempt harmlessly landed on the field.
It was hands-down the Dolphins' worst possession of the game, and it was fairly evident that they were rattled by the referees' decision.
But you just can't let that happen. The referees' decision was a bad break, but obviously they had other opportunities to win the game.
It's not just in football; in life, you can't just blame someone else when adversity hits. You have to rise above it, figure out ways to overcome it. Then at your postgame press conference, you don't have to complain about how the refs blew the call, you can discuss how you don't need to rely on referees to win a game, you can do it yourself.
Some say this was a big loss for the Dolphins and their playoff loss.
I look at it differently. I think it was a telling loss.
*****
As for the ruling itself, they obviously got it wrong, but they were playing by the letter of the law. That doesn't mean that law is sound. Instead of being in a rush to blow the whistle, the referees should take their time and get it right, especially at the end of the game. Let the play finish, see who has the ball, and then if it's determined that he had the ball stripped before the end zone, you know who has it. If it's determined that Roethlisberger crossed the plane before being stripped, then it's a touchdown. I don't think this is a flawless plan, but it's a heck of a lot better than having a team force a fumble, recover it, and not be rewarded for it.
I happen to like Tony Romo, and I felt pretty bad for him on Sunday night, watching him attempt to get back in the game with a broken clavicle. I've always liked Romo's game, and I've thought that playing under a microscope in Dallas has not been good for him. I feel like he can handle it, but that it becomes the proverbial "quicksand" as referred to by Footsteps Falco in The Replacements when a team gets off to a slow start, as Dallas did this year. There will be major changes with the Cowboys next season, and though I like the idea of Romo being there, he may just need a change of scenery, though I feel like there's a chance he may be a lightning rod wherever he ends up.
*****
Here's my personal Top 10 this week.
1. Jets (5-1) (LW: 1) – Presumably Darrelle Revis got healthier during bye, which can only help.
2. Steelers (5-1) (LW: 2) – That's what good teams do: Win games they should have lost.
3. Patriots (5-1) (LW: 6) – Winning like they used to, without huge weapons. Starting to like it.
4. Giants (5-2) (LW: 5) – Probably not as good as they look now, but may be class of NFC.
5. Ravens (5-2) LW: 3) – Should have lost to Bills, but they're no pushover with Fitzpatrick.
6. Colts (4-2) (LW: 7) – Even banged up, they'll get revenge on Texans for Week 1.
7. Falcons (5-2) (LW: 8 ) – Near-loss to Bengals after 24-3 lead a shock to system.
8. Titans (5-2) (LW: 10) – Not a title contender with VY at QB, but Britt looks like major threat.
8. Falcons (4-2) (LW: 4) – Upcoming schedule looks favorable. One touchdown for Turner.
9. Eagles (4-2) (LW: NR) – Losing Desean Jackson hurts, but Kolb is who they thought he was.
10. Eagles (4-3) (LW: 9) – Not giving up on them with Vick back after bye and wide-open NFC.
*****
Here are 3 picks for Week 7.
LW: 2-1 (Hit on Chiefs, Patriots; missed Saints)
Season: 12-6.
1. Rams –3 vs. Panthers – Won last 3 at home, Matt Moore not a savior for Cats.
2. Lions (-2.5) vs. Redskins – They hang around every game, and Stafford returns this week.
3. Cowboys (-6.5) vs. Jaguars – Kitna or not, there's talent here, and Jags can't stop anyone.