Since our name kind of sounds like an offshore gambling site anyway, I love that SportsAngle has added gambling lines to its oeuvre, with my 12-6 NFL record supplemented by our new associate Nick Benvenuto providing college football picks. Nick had a solid 2-2 record his first week, so all you really would have lost would have been the vig. (I think that's what it's called?) Regardless, I'm glad to have him aboard, and below is this week's installment of The Weekly.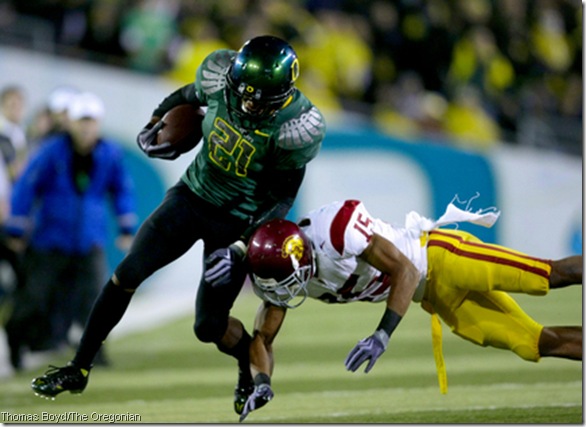 As Halloween looms over this upcoming college football weekend, The Weekly is haunted by the ghosts of past losses — none more haunting than the one suffered last weekend in the Baylor-Kansas State game. 
In his many years at Kansas State, head coach Bill Snyder is no stranger to meaningless touchdowns at the end of games, as he's notorious for running up the score when possible. But this Saturday's meaningless touchdown came in a much different situation.  With Baylor leading, 47-35, Snyder's Wildcats went 13 plays and 90 yards to score a cover-killing touchdown with just seven seconds left in the game.
The Weekly was a Baylor cover away from our third straight winning week, which is encouraging in some respect.  Let's see if we avoid the late game stumbles and get back in the black this week…  
Last Week: 2-2
SportsAngle record: 2-2
Season: 14-18
All-Time: 134-123-6
Oregon (-6.5) at Southern Cal, 8 pm
When in doubt, take a home dog, but unfortunately for the Trojans, there's no doubt here. The Ducks are averaging almost a point per minute with their version of the spread offense. Head coach Chip Kelly's offense is pretty simple in some respects. They get the football to their playmakers in space, and they do it better than everyone else, and they do it with elite athletes.
What really sets Kelly's offense apart is their tremendous pace.  Oregon's offense is moving faster than any offense in college football history, getting snaps off every 15 to 20 seconds. This is particularly bad for USC. The most glaring Trojan weakness is their lack of depth thanks to the recent NCAA sanctions. Oregon's offense has already worn out much deeper defenses, outscoring their opponents in the second half  by an amazing 156-23 margin this season. 
Look for the Ducks to hammer away with their special spread option game…
Oregon 55 – USC 24.
*****
Missouri at Nebraska (-7.5), 3:30 pm
LETDOWN ALERT!! The Tigers are coming off an incredible emotional high and this is a beautiful letdown spot.  Columbia was electric last Saturday night, as Missouri stunned then No. 1 Oklahoma, giving the Tigers a 7-0 start to the season.  Don't underestimate the effect a game like that can have on a team, it's draining.  Not only is it draining, but now they have to go on the road into a brutally hostile environment. Good luck. 
Missouri QB Blaine Gabbert isn't great when pressured, completing only 41 percent of his passes against the blitz. Look for the Blackshirt defense to generate pressure creatively, since their front four hasn't proven they can do it on their own. Weekly Favorite and Nebraska QB Taylor Martinez should be able to wear away at a defensive front that is going to seriously miss DT Dominique Hamilton, who's out with a broken ankle. The combination of Martinez with his complement of downhill runners will be too much for Mizzou to overcome. 
Nebraska 34 – Missouri 20.
*****
Auburn at Ole Miss (+7), 6 pm
It's going to be a shake up Saturday. Listen, Auburn is good, even really good.  They aren't great. Cam Newton is a special player, but there's going to be a time when he's not going to be perfect. He needs to be perfect for this team to be really good. 
Enter Ole Miss. Sure, they're on a two-game losing streak, but those were a pair of tough road games at Alabama and Arkansas where you can say that they held their own. The friendly confines of Oxford are going to be a breath of fresh air for the Rebels.
Veteran QB Jeremiah Masoli really looked like he finally hit his stride last weekend at Arkansas. He's a dynamic quarterback with plenty of big-game experience from his days at Oregon.  He also has a wide receiver named Ja-Mes Logan to throw to, which has to be a positive, right?
Look for the Ole Miss defense to be able to slow down the Auburn running game, as they were able to do against Alabama's power run game.  Houston Nutt is 3-3 against top ten teams in Oxford, he's good for one of these upsets every year. 
Ole Miss 32 – Auburn 29.
*****
As always, until next week…
Many Hundos.
-Nick